The Worth of an Elephant
In our gradual awakening to the idea that we must protect the elephant from enslavement and cruelty, it may be possible to hear echoes of other dawnings of conscience.
READ MORE...
ALL THE NEWS
April 23, 2015

The Elephants have been enjoying their Spring enrichment treats out in the habitat.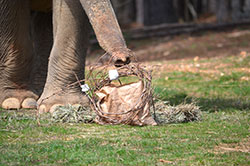 READ MORE...