Half the World's Wildlife Has Vanished Since 1970
Over the past 40 years, human activity has exacted a devastating toll on the planet's wildlife population.
READ MORE...
ALL THE NEWS
October 28, 2014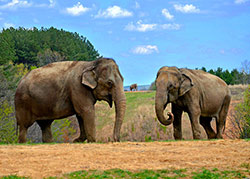 After spending 60 days in "quarantine" –on 16 acres of forest, ponds, and pasture– Sissy and Winkie have been spending the month of October, with its mild days and cool nights, stretching their legs and exploring less-traveled areas of their 2100-acre preserve.
READ MORE...