The Elephant Sanctuary Welcomes Rosie and Sukari
The Nashville Zoo announced on November 9 the permanent retirement of all three of the Zoo's female African elephants to The Elephant Sanctuary in Hohenwald, TN. After successful transports last week, Sukari, 31 years old, and Rosie, a 44 year old, have now joined their Zoo mate, Hadari, in Sanctuary.
READ MORE...
ALL THE NEWS
February 5, 2016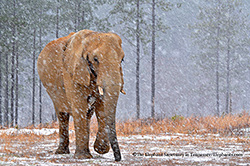 Snow Days at The Elephant Sanctuary
READ MORE...