Asian Ele-Diary 2009
December 30, 2009
On this cold evening the caregiver decided to take extra precaution to keep the 3sums' barn toasty warm by plugging a drainage hole with hay. When the caregiver checked on the girls only a few minutes later, she noticed that the drainage hole was open. Again she re-plugged the hole with hay - this time from the outside so as not to draw attention to the area. As the caregiver was approaching the door to go back into the barn she looked and saw the hay was disappearing right before her eyes, it was being pulled inside the barn! When she opened the door she saw Miss Lizzie standing near the back of stall, innocently munching on a very fresh pile of hay. She was wearing a very suspicious grin on her face, of course. When the caregiver went outside for a third attempt to plug the hole, she felt the hay being pulled away as she was plugging the hole. She grasped the hay tight and said, "Miss Liz!" There was a dead silence and then the hay that was being pulled went limp. Lizzie had been discovered, so the case of the disappearing hay was solved and Lizzie was off to see what new mischief she could get into.

December 23, 2009
Even though the evenings are chilly, some of our December days have been absolutely stunning. Late afternoon today, just after Tarra and Bella appeared back at their barn, I stood in the woods observing the majesty of this place. The trees were alive with all manner of birds and insects making noises that could be easily heard but more deeply felt by closing your eyes, allowing yourself to drift with the breeze. Silent thunder, the familiar earthly vibration brought me from my daze to the sheer joy that only this vision could bring; Sissy and Winkie moving at a brisk pace, eyes wide with pleasure as they made a bee-line toward me. There were all manner of noises and tears as we greeted. Hearing the rumblings of a reunion, Tarra and Bella quickly joined us. For quite some time we intertwined trunks and hands. I received tender pets as I gave Winkie her favorite of all favorites—a tongue rub. Sissy stood close by, gently extending her foot pad, reassurance elephant-style as Bella barked, demanding her fair share of affection. It was glorious!
The joy lasted for nearly an hour. As the sun began to set, it was time to part. Joy overflowed in the form of warm tears and urgent caresses; parting is always such sweet sorrow. As our eyes met we held the glance and knew, all is well. Tarra, Bella and Sissy turned in the direction of the barn as I slowly turned in the other, holding my hands to my chest in the effort to keep this cherished feeling in my heart. When I turned for one last glance, my heart stopped; tears spilled down my face in a flood and breathing was impossible. With Tarra and Bella already out of sight on their way to the barn and Sissy standing in the middle of the path facing home, Winkie was on the path only a few feet away, following me. I bowed my gratitude to her and urged her to head on home with the others and promised that we would spend time together again soon.
December 4, 2009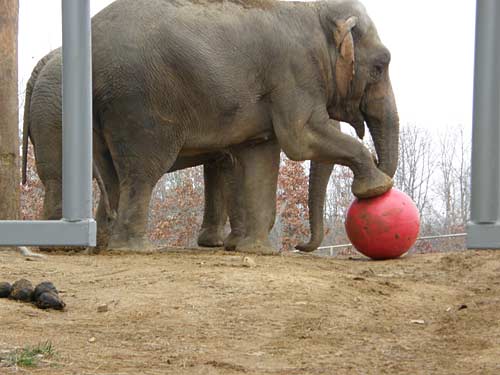 There can never be too much playing for Misty and Dulary.
November 26, 2009
Minnie has been having a blast with her ele-sized ball. She spends hours entertaining herself, and boy, what a fabulous endorsement she is providing for this indestructible ball. Check out the fun a viewer captured from our EleCam.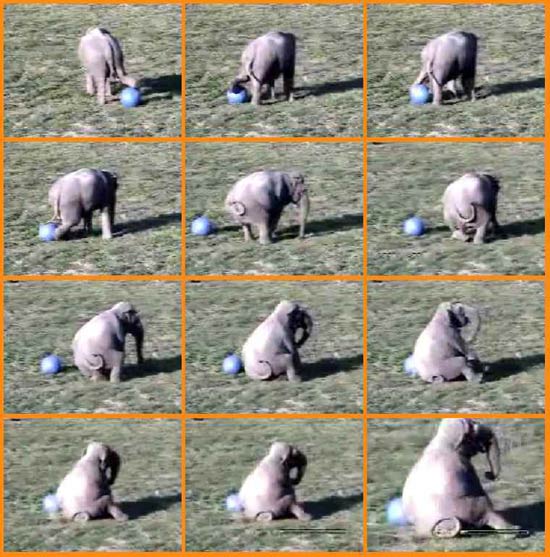 October 28, 2009
As the new fence project continues Minnie finds every reason to be silly. Her antics catch the fence crew off guard; who would imagine an elephant could have so much fun shoving her face into the mud?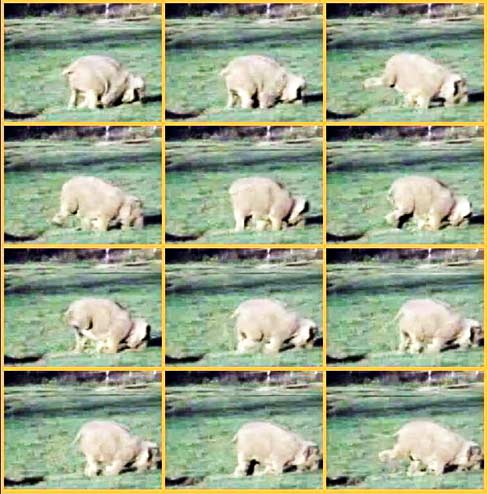 October 3, 2009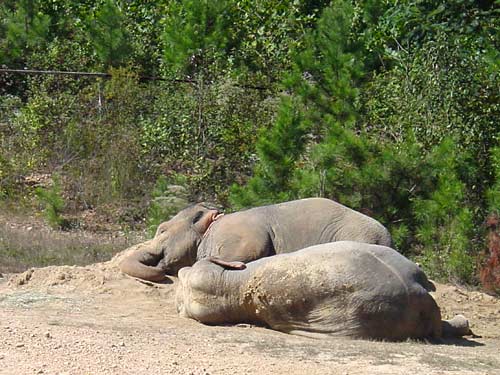 Guess who? Naps are a luxury that these girls cherish!
September 30, 2009
We can never really know why coincidences occur, but over the years many significant coincidences have occurred at the Sanctuary. Most of these coincidences involve dates, such as an elephant passing on the same date another elephant or caregiver passed. Elephants passing on a caregiver's birthday, or other significant day. There is no explainable connection, but it definitely makes you think, such as, if Bunny were alive we would have celebrated her ten year anniversary yesterday. She is often on our minds but yesterday there was a collective consciousness around our dear Bunny. Lots of people were thinking about Bunny, reading about her on our web site, and reminiscing about her life and the love she shared with everyone who knew her. Even the caregivers reminded the other elephants that "Bunny arrived ten years ago today, we sure miss her".
This morning when the caregiver brought breakfast to the girls in the habitat, Shirley and Tarra were found at Bunny's grave site. They had not visited the site together since Bunny passed and had not been back on their own in several weeks. Coincidence? Most likely, but who can be sure. If dates hold such meaning in our culture who is to say that dates don't hold meaning in other cultures as well. Namaste sweet Bunny.
September 29, 2009
Oh, Bunny! What a loving lady she was. When Bunny and her sisters would hide in the habitat playfully watching their caregiver drive back and forth tracking, Bunny would always be the one who let out that signature squeak, the give-away, telling the caregiver, "Hey, we're over here...hee hee!!! Her silly head shake and ear tickle, was so much a part of Bunny. She would invite the affection and show her caregivers exactly how she liked to play. And gentle—Bunny was as soft as a feather when she was affectionate. She had been loved her entire life, a precious gift for an elephant who spent her entire life in captivity. When Bunny moved from the Mesker Park Zoo, her friends, family and keepers mourned her departure but rejoiced at her good fortune. Bunny always had a playful twinkle in her eye and a huge open heart for everyone, especially her sisters. She is dearly missed.

September 11, 2009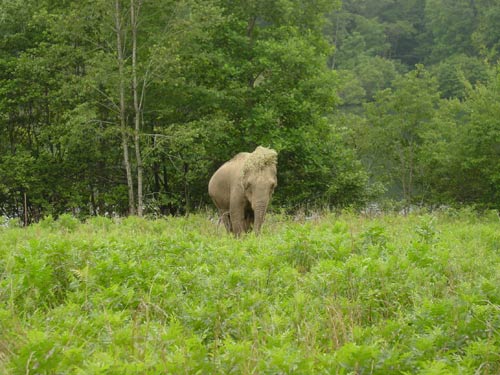 Not a day goes by that we are not reminded of Jenny's joy for life and her love of Sanctuary life. Her smiling face is a reoccurring image in our minds, and we cannot help but feel a tug our hearts whenever we see Shirley and remember the special relationship they had with each other. Jenny, we miss you.
August 11, 2009
Tina was a soft and gentle soul. Captive born at the Portland Oregan Zoo, she was sent to live in Vancouver British Columbia at a very young age. Like so many zoo facilities, Tina lived in a seriously impoverished space that did not begin to meet her physical and psychological needs. Over the years she developed quite a fan club, becoming a local celebrity. When the community finally realized that Tina's living conditions were actually the cause of her terminally diseased feet, they rallied in support of moving her to the Elephant Sanctuary.

Although her time with us was short, she blessed us beyond measure and we are eternally grateful to have cared for her.

Namaste, sweet Tina.
July 6, 2009

Tarra, Shirley, & Bunny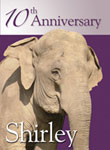 Ten years ago today Shirley arrived. No one could have imagined the impact this amazingly wise and compassionate elephant would have on our growth and knowledge. Shirley continues to be the matriarch of our family even though at this point her family appears fractured. Now that she has recovered from her deep sorrow of losing both Jenny and Bunny, she has quite a job ahead of her.
Bringing all of the elephants together to live like a family is what Shirley does best, and we know over the next several years Shirley's wisdom will be spread across all of the elephants and caregivers alike. We can't wait to see what will develop from her efforts.
Shirley, Tarra and Bella continue to be constant companions, soaking up the sun, savoring the wild weather and enjoying every inch of their habitat.
June 15, 2009
Silly Billie-Sue! Spring has brought out a lighter, more playful side of Billie-Sue. For the past couple of days she has been seen and heard dashing into the pond, trumpeting and thrashing around in the water, and just as energetically dashing back out of the water to play in the sand pile.
Today the elecam caught the rare and hilarious sight of Billie-Sue running from the pond, dripping wet, and discovering the swinging gate as she ran to meet up with Frieda. The open gate has been in that same position for months but today, for what reason we don't know, Billie decided the gate was the perfect toy. She spent quite some time opening and closing the gate, less than gently, and had a blast doing so. We are happy to provide whatever behavioral enrichment these girls want and today it seems that a simple swinging gate did the trick!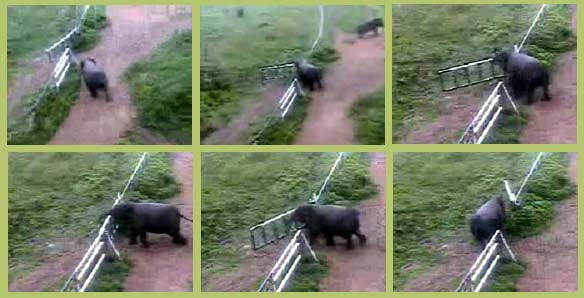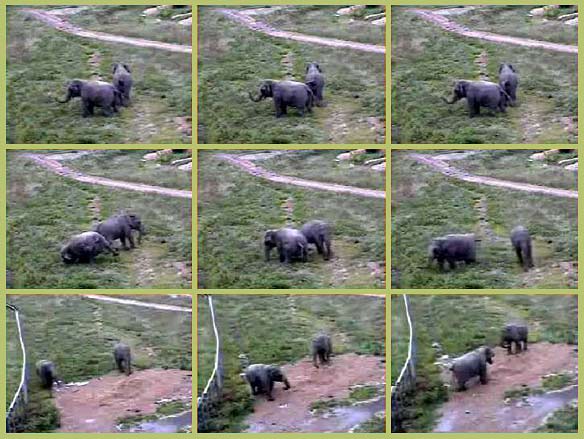 June 14, 2009
Shirley is really doing well. She has been spending all of her time with Tarra, putting in miles every few days as she moved throughout the habitat. She left the northern area where Bunny was buried and traveled down to the lake, spent time in the left and then right field with Tarra and Bella, and then climbed the hill up Lake Road in the direction of the barn.
Tarra and Bella returned to the barn a few days ago to spend time with Misty and Dulary, who have been entertaining themselves with morning baths in Dulary's pond. After a few hours Tarra and Bella were discovered back with Shirley in the woods on the way back to the lake.
Shirley and Tarra are seldom separated for more than a few hours. Shirley naps several hundred feet off the road in the woods and does not even bother to get up when the 4-wheeler approaches with meals. She knows the caregivers are persistent and will not leave the area until she is located and fed. When Shirley does rise, she has sleepy eyes and a mat of grass stuck to the side of her face; the give-away that she has been sleeping. Shirley is no longer carrying a heavy burden; she is soft and calm and appears to be moving through her grief well.
June 8, 2009
Tarra made a rare appearance at the barn today and headed straight for a reunion with Misty and Dulary. It has been a few weeks since they have seen each other and all seemed pleased to be together. By 10pm Tarra had returned to the habitat to meet up with Shirley who had made her way to the lake. They were both found in left field by the lake contently grazing away.
June 7, 2009
Shirley continues to teach us volumes about life and death, inspiring us once again. After a few days of self imposed isolation Shirley and Tarra are back together again. Shirley hiked a few miles to the lake and then the blackberry gauntlet to meet up with Tarra; they met each other half way. Tarra, true to nature, wanders off in search of adventure daily with gal pal Bella at her heals but spends a great deal of time each day communing with Shirley. For the past few days Tarra has remained with Shirley forgoing her adventures for the time being. This can only be good for the both of them and an obvious change is evident in Tarra who seems to have grown up over night. Being Shirley's sole companion currently has affected Tarra in ways that will continue to shape her as an individual, encouraging her to move past her cherished position as the pampered child to the more appropriate equal. Shirley is a great mentor and Tarra appears to be receptive to learning more about what it means to be an elephant in an elephant community.
May 24, 2009
Last night was the first time in several weeks that Tarra left Shirley. Prior to Bunny's death Tarra stayed with her sisters 24/7, a bit contrary to her nomadic tendencies. After Bunny passed, Tarra remained with Shirley who appeared to bring comfort to our aging matriarch, but last night Tarra and Bella set out for the lake. Shirley remained in the area that she, Tarra, and Bunny shared prior to Bunny's passing. This morning when the water wagon was taken out, Shirley was found sleeping in the shelter a grove of oak trees, nearly hidden from view. She drank and rumbled a little bit and then began to graze on the sparse grass growing in the shade created by the trees. Shirley was subdued; a slight heaviness seems to weigh on her still.
May 20, 2009
Many of you have been asking about Queenie and Zula's necropsy results. In Queenie's case her gross evaluation uncovered only the smallest clue of a twisted gut; one small area in the intestinal tract that had a slight discoloration. She was not impacted and everything else about her intestinal tract looked normal. Queenie had no organ or intestine problems, no disease process and once the necropsy samples were processed the cause of death was determined to be a twisted gut.

Upon gross evaluation during Zula's necropsy, the focus was drawn to the condition and function of her heart. Just as with Queenie's necropsy no disease process was found, nor indication that any other organ was problematic. Zula's cause of death was determined to be a pre-existing heart problem.

May 17, 2009
It is still difficult to believe that our sweet Bunny is gone. Shirley and Tarra continued their vigil from a distance during Bunny's necropsy today. As we expected, upon gross evaluation Bunny showed no signs of disease. She had some arthritis in her hip joint which would be expected with an elephant of her age, but overall nothing could be found that would suggest that Bunny was suffering from a disease. This information was quite comforting; knowing that Bunny lived a full life and died due to the natural aging process makes her passing a little easier to accept. A full necropsy report will be submitted to the Sanctuary once all of the samples have been processed. Namaste dear, sweet Bunny, and our gratitude for your wisdom in taking Ned with you.
May 16, 2009
The experience of losing an elephant is difficult even when, like Bunny, they have lived a relatively long life and enjoyed years at the Sanctuary, but losing two of our precious elephants so close together is devastating. We worry about the other elephants, the ones that are left behind, concerned about how the impact of the loss will affect them.
Ned's passing is especially difficult because of the amount he suffered throughout his young life, how much he missed out on and how little time he had in sanctuary. A part of us is relieved because he no longer will experience the abdominal pain that plagued him for so many years or worry about how horrible he might feel tomorrow. No one would begrudge him letting go of his diseased body even if it meant we never again could be so fortunate as to watch him glide through the pasture or camouflage himself in the woods behind his barn. He deserves to be free from pain.
Ned's necropsy was performed today by the expert team from Georgia State University. Upon gross examination it was found that Ned suffered a multitude of problems, all centered on his abdomen. The most obvious of his problems lay in his intestinal tract which was seriously diseased with ulcers, much like the ulcers humans develop, and scaring in the area where most of his nutrients would be absorbed if his tract had been healthy. Although Ned did have a scant 4 handfuls of sand in his gut, sand impaction was not one of his conditions. The further into Ned's intestinal tract the team worked, the more amazed they were by the damage they found. A full necropsy report will be issued to the Sanctuary once all of the samples are processed, but stress is believed to have been a factor in the disease of Ned's intestinal tract, long-term stress. Another very troublesome finding was the condition of Ned's pancreas. Before he died our vet team suspected that Ned might be suffering from a diseased pancreas and prescribed diet recommendation to address such a condition. Upon necropsy the team explained that Ned had suffered from his condition for a long time and that by the time he arrived to the Sanctuary his condition was terminal.
Luckily he was able to live his last few months under the attention of caregivers and veterinarians and savor what little time he had left. Ned was one lucky boy to be surrounded my so many people who sincerly cared about him, including the thousand of supporters who loved him unconditionally from afar. Thank you.
May 15, 2009
Ned was with us such a short time and now he is gone. When he crossed over there can be no doubt that he was in the company of his sister-elephant Bunny who passed away only 12 hours before him. Although these two deaths were unrelated on a physical level, on a deeper level they could not be more related. Ned passed away at 3:47am CT in the company of a caregiver. He passed without a struggle, just two deep breaths and a sigh and then he was gone. We feel cheated by the little time we had with Ned but cherish every single moment we were allowed to care for and get to know this most amazing boy/man elephant known as Ned. We love you Ned, Namaste sweet boy.
May 14, 2009
Bunny has blessed this planet with her presence for fifty-seven years. Her humor and gentleness has touched literally thousands of people. In Evansville, IN she was friend to three generations of families that grew up knowing Bunny. Today Bunny left us to join those who have gone before her. Her passing was beautiful to behold. Caregivers held the space for Bunny to transition in her own time her own way. Being present during an elephant's transition is indescribable, a cherished gift; always a profoundly touching experience. With a caregiver at her side Bunny took two long breaths, closed her eyes and passed. Namaste sweet Bunny. The joy you brought can never be measured; your wisdom always remembered.

Ned's condition has worsened. He cannot rise and he has not eaten or drunk since he lay down on Wed morning. He cannot rise and he has not eaten or drunk since he lay down on Wed morning. The fluids he is receiving are helping to keep him hydrated, but unless he finds the will to rise he will pass. He received antibiotics and steroids today which seemed to bring him more comfort. His pain meds are given at three hour intervals. We will continue our vigil.
May 13, 2009
Every day that Ned is with us is a gift, of that we are sure. To look upon his emaciated body, to know that no matter what he eats he experiences difficulty digesting and absorbing nutrients is difficult to do day after day. Every day feels like a stolen one for him. This morning when caregivers entered Ned's barn, he was lying on his side on the floor in obvious discomfort. Throughout the day he was made comfortable with fluids, pain meds and an anti-inflammatory. The vet team struggled to determine how to help Ned since his condition remains undiagnosed, so we tried to mask the pain and get him back on his feet. He remains under constant veterinary care and 24 hour caregiver's supervision.
May 12, 2009
Bunny, true to her nature, is moving slowly in her process, spending less and less time consciously with us and more time in a deep sleep. Her fluids have been reduced to a slow drip to allow for an intravenous port for her pain meds. She continues to breathe through her trunk but also has begun to snore periodically. Caregivers are doing their best to hold silent vigil so that Bunny can slip away when she is ready. We honor her process and know that this is Bunny's passing which will be done in her time, in her way. Shirley and Tarra continue to remain close and are at peace. Seeing Tarra and Shirley share this experience is a gift for all of us. We know that both are helping each other and we cannot help but recognize the gift this is for Tarra, having Shirley lean on her in this emotional way.

May 9, 2009
Bunny rested peacefully through the downpour early this morning, her personal tent protecting her from getting drenched. She remains present and calm. The fluids she is receiving are not enough to sustain her but just enough to keep her comfortable. Many thanks to all of Bunny's extended family in Evansville, IN who have sent kind words of love and support as their dear Bunny prepares to leave this world.
May 7, 2009
Bunny rested comfortably last night, sharing her resting place with her caregivers. All awoke to find that Bunny had silently collected some caregiver cloths and blankets which she had "too cute to describe" tucked up under her chin. She is present and pain free; we could not ask for more.
May 6, 2009
Last Saturday, Bunny, our second to the oldest elephant, resident of the Sanctuary for the past ten years, lay down in one of her favorite areas of the habitat for the final stage of her life. She is now passing. Shirley, her best friend, and Tarra, her little sister, have been keeping vigil while Bunny is tended to 24/7 by veterinarians and caregivers. Her process is being honored as part of the natural cycle that it is.

Bunny is the first resident of the Sanctuary to die of natural causes; old age, a gift and a phenomenon for any elephant living in captivity. Bunny's passing is not made easier on her family because she has lived a full life, but we are overjoyed that she spent her golden years in a place that she adored, surrounded, cherished by loving individuals; elephants and humans alike.

Bunny is still with us, though she is slowly waning. She is receiving fluids, pain meds, antibiotics, and homeopathic remedies under the authority of her veterinary team.

Her greatest love at the Sanctuary was being outdoors where she has chosen to be in the final stage of her life, in a beautiful valley beside a babbling brook with a huge blue sky overhead.
We honor Bunny's process. She will be supported through this process until she determines that it is her time to go. Throughout this process her veterinary team will ensure that she experiences no pain.

April 30, 2009
It was dark and raining and time for the 10pm feed, but Lottie and Minnie were nowhere in sight. Then a familiar sound was heard coming from the upper pond—splashing at 10pm? In the rain? Who could that be? If the elecam had night vision, viewers would have seen a hilarious sight of Minnie and Lottie splashing around in the pond, plunging their heads deep underwater with their tail-ends breaking the surface. The harder the rain fell, the more excitedly they played. It remains an unexplained phenomena why elephants prefer playing in their ponds during the worst weather, but this preference is shared by all that live at the sanctuary, especially Minnie and Lottie.
April 25, 2009
On this day in 1996 Barbara arrived at the Sanctuary, our second elephant and the one who would teach us to think with our hearts. She continues to be a cherished inspiration, missed but never forgotten.
...Namaste dear Barbara.
April 23, 2009
We had a scare this morning when a caregiver found Tarra frantically racing up and down a hill where Bella was in some sort of trouble down in the gully. The thick vegetation prevented the caregiver from seeing what, if anything, was wrong with Bella, but by the looks of Tarra's behavior there was need for concern. Dense overgrowth and a seriously steep incline made access to Bella nearly impossible. Luckily, within minutes Bella appeared crawling through the briars. She ran right toward the 4-wheeler and tried to climb on board. Her white coat had a few spots of fresh blood. At first it appeared that Bella may have been bitten by something large, maybe a coyote.
With Tarra still in a nervous frenzy, Bella was whisked off towards the barn for a closer examination. What a relief to discover that Bella's wounds were minor and most likely caused by discarded barbwire that we find periodically. Unfortunately, the past land owner used barbwire, and although we have scoured the property clearing the potentially dangerous fence material, we obviously missed this piece. Luckily for Bella, she had only three small wounds that will heal fine.
Tarra was very excited to see her dear friend hours later when Bella came riding up on the 4-wheeler.
March 29, 2009
Liz and Frieda have been enjoying the truckloads of sand that were dumped in their yard recently. Together they have almost completely flattened what once was a mountain of sand and find it really comfortable to sleep on.

Liz & Frieda
It is always shocking to be abruptly distracted from the task at hand by the sudden awareness that one of our beloved elephants passed on this exact day. Such was the experience today, the 1st anniversary of Queenie's passing. Her departure was unexpected and although she left us quickly it took us a great deal of time to accept the loss. Today, as we care for the DIVAS, the elephants that were Queenie's best friends, we are forever grateful to have such a sweet connection to our dear departed friend.

Queenie, Minnie, & Lottie
March 5, 2009
Today we x-rayed Dulary's toes. She was amazing as usual—responding to verbal requests followed by rewards of praise and chunks of carrots and apples. Dulary cooperatively allowed us to x-ray all ten toes on her front feet. She seemed to enjoy the procedure while Misty watched attentively from the adjacent stall.
X-rays help us to monitor an elephant's foot health, a valuable tool in the fight against osteomyelitis, the captivity-induced disease that kills a high percentage of elephants living in zoos and circuses.
We are pleased to report that Dulary got a clean bill of health. Her toes are perfect!
February 15, 2009
Hopefully some of you were watching the elecam at dusk tonight as Minnie engaged in her latest activity….white tail deer chase. The deer are smart and only let Minnie get close enough to think she can catch them, and then they dart away. She was seen this evening chasing seven wild deer across the pasture, one at a time. The deer make as much a game of it as Minnie. They know her well and have learned that if they split up, one can be playing chase with Minnie while the others eat the bits of grain left behind from the elephant's 5PM meal. Now that the weather has warmed up, the girls are receiving their evening meals in the habitat. As soon as the deer ran off, Minnie entered the barn with a bellow and her signature trumpet – long and breathy. All of the girls exploded in vocalization; the barn rattled from the volume. Minnie appeared to be quite pleased with herself, as were the white tail deer who silently reappeared in the pasture to finish eating the remaining grain.
January 7, 2009
Ned is doing great! He has stabilized, enjoying his specialized meals, eating all of his oatmeal and today demonstrated that he has finally developed a taste for pedialite! He is eating his hay in a normal constant manner and remains calm and curious.

Meanwhile in the adjacent barn, Debbie has found her playful side. She discovered Minnie's suspended toy and spent a half hour bashing it around; she and Ronnie had a blast. Each time a caregiver appeared with the camera in-hand, Debbie would freeze like she thought she might be doing something wrong. But soon she was crashing around, showing off her athletic skills in full view of the video camera!


January 5, 2009
Tarra and Bella in the barn

By the volume of emails we have received, it seems everyone was watching CBS news over the weekend. We have been flooded with high fives and uncounted media offers from viewers who saw Tarra and Bella on the Friday night CBS Evening News with Katie Couric and CBS News Sunday Morning. The piece was wonderful, causing another wave of conscience-raising. This time the subject was not about the deprived lives of elephants living in captivity, but rather about the enormous depth of emotion experienced between Tarra and her dog Bella.
Since Bella and Tarra's recent television exposure, a lot of people have asked how the spinal injury happened. When Bella was found in a shallow ravine in the elephant habitat, unable to walk, she was rushed to the veterinary hospital. X-rays revealed that she had sustained a spinal injury. The absence of deep tissue damage and puncture wounds led the veterinarian to surmise that Bella's spinal injury was the result of an awkward twist, most likely sustained when she was running and jumping over something. His explanation seemed quite plausible since Bella has been observed on many occasions running off into the woods in hot pursuit of something, jumping over numerous fallen trees and navigating around the huge depressions left from their exposed roots. The good news is that Bella has recovered from her injury.


YouTube Video : Tarra & Bella

Video from CBS News