African Ele-Diary 2009
December 27, 2009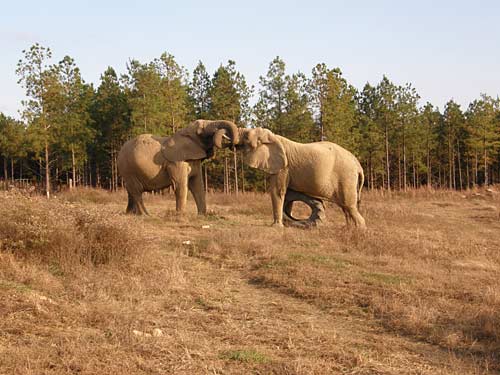 This photo which was taken last month clearly demonstrates that Tange has figured out how to maintain custody of the infamous "tire".

These past few days have been warmer and wet, good weather for the girls to be outside enjoying their tire. Tange maintains her title as "Tire Queen", effectively keeping the tire for herself most of the time. Yes, there are other toys but much of the fun is keeping one for yourself. Tange has figured out how to balance the tire upright, on the treads, a talent that many of the elephants develop after long hours spent getting to know their tire. Of course tires are not new to Tange. When she lived at the zoo she would slip a large tractor tire all the way over her head, wearing it like a necklace, always appearing quite proud of herself. Sometimes when Tange has the tire, Flora will find something else to play with, like an uprooted Cedar bush or large fallen log. Flora enjoys the challenge of dislodging anything from its footing.
November 15, 2009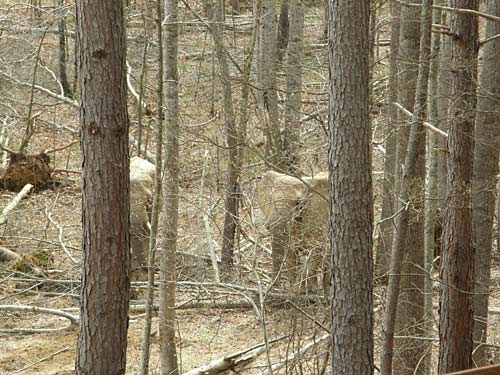 Look closely: can you find them? Amazing, isn't it? When they stand still, it seems the girls blend right into their habitat. Exploring their world together, Tange and Flora continue to flourish. The woods are full of adventure, and from the looks of it, an easy place to hide!
August 24, 2009
Tange found a great toy but could not keep it a secret for long. Flora soon appeared to inspect it and later was seen playing with the giant tire as well.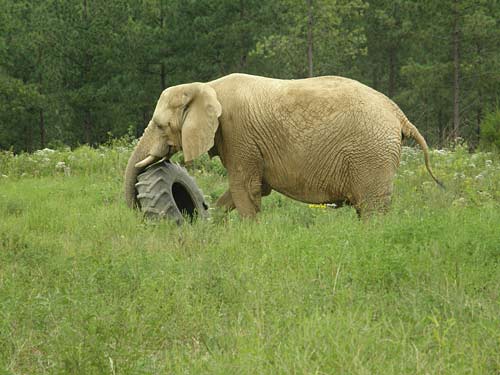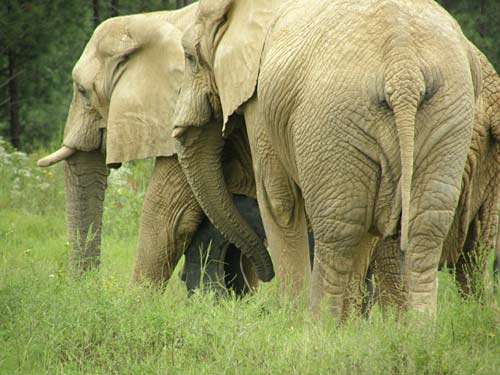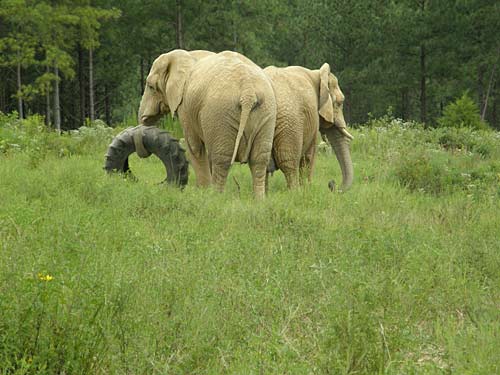 August 23, 2009
Life is good and trees are tasty. Tange and Flora are seriously enjoying the lush vegetation that is abundant in their habitat, and true to their species, trees are still their favorite snack.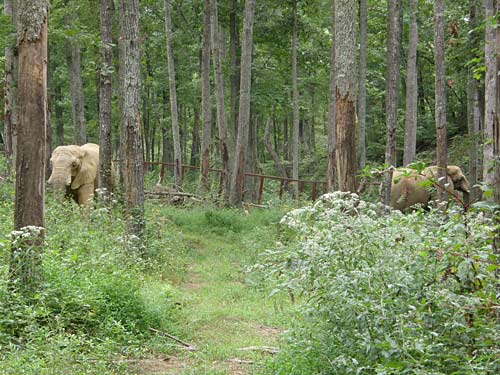 August 22, 2009
Yes, elephants lie on their sides when they sleep, but they also "cat nap" in a standing position. The best way to tell if elephants are napping is to look at the last few inches of their trunks. Not surprisingly, each elephant is unique in its trunk position while napping, but they share a napping commonality that includes standing nearly perfectly still, eyes closed, head a little drooped, and the end of their trunk totally relaxed on the ground, like a wet noodle—as Tange is demonstrating for you in this photo!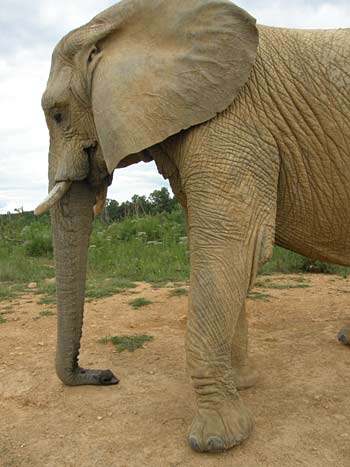 May 20, 2009
Many of you have been asking about Queenie and Zula's necropsy results. In Queenie's case her gross evaluation uncovered only the smallest clue of a twisted gut; one small area in the intestinal tract that had a slight discoloration. She was not impacted and everything else about her intestinal tract looked normal. Queenie had no organ or intestine problems, no disease process and once the necropsy samples were processed the cause of death was determined to be a twisted gut.

Upon gross evaluation during Zula's necropsy, the focus was drawn to the condition and function of her heart. Just as with Queenie's necropsy no disease process was found, nor indication that any other organ was problematic. Zula's cause of death was determined to be a pre-existing heart problem.

March 13 , 2009
Flora and Tange are inseparable. Their relationship continues to deepen, which brings joy not only to each other, but also to everyone who cares about their well-being. Today when they dug up a tractor tire from the mud, sharing the popular toy was a challenge. Flora had it first, of course, but Tange had her chance to play with it as well. It seems that every game has a common goal...to win. Flora made every effort to smash the tire against the pipe corral. You would not think of a huge tractor tire as squishy, but that is what it looked like under Tange and Flora pressure. They had a blast!
January 23, 2009
Dirt + a winter rain = luscious mud; perfect for afternoon playtime. Flora and Tange never let a good mud wallow escape them. Today they literally immersed themselves in the gooey fun!
January 20, 2009
A personal note from Sandra
It's been over a week now since Zula passed away, it feels like yesterday.
How do elephants deal with losing a loved one, how does Tange deal with losing her best friend?
I believe that elephants have a much deeper understanding of life then we do.
I've been fortunate enough to witness elephants being born. First time mothers and aunties who were baby's themselves when rescued from a cull, so how do they know what to do with their new born calves? They kick them gently when the calf needs to get up, they put the calf in the center of the herd when danger is approaching. How do they know what to do? Is it their instinct, their intelligence?
Is it this same instinct and greater intelligence that makes them much more capable dealing with the death of a loved one then we are?
Putting my arms around Tanges trunk and looking up into her wise big brown eyes I feel the vibration of her deep soft rumble. I know she's hurting, but there is this calmness about her that is nurturing. She is teaching us to accept death as much as you would accept life.
Zula's grain bucket was always half full, never half empty. She took the positive way in life. If she couldn't climb that hill today, she would try it again the next day. The last year Zula has climbed hills with amazing grace and ease. She would never give up and knew that one day she would climb any hill she wanted to. We should honor her by trying to climb our hill of acceptance, because we know that's what she would do. It's not easy, as it still hurts so much. But with little steps and the elephants as our teachers, we too will climb that hill with grace.
Sandra de Rek
Lead caregiver of the African elephants
January 14, 2009
Tange and Flora have spent the past 2 days in each other's constant company. They were not present during Zula's burial, but afterwards had access to Zula's resting place. Footprints in the dirt around Zula's resting site confirm that Zula's sisters have already visited. Today, Tange and her caregiver went out together to visit Zula. Tange was tentative and smelled around the area. Later Tange and her caregiver went into the woods to sit and spend some quite time near Zula's gravesite. Tange was relaxed, staying in the area eating her hay until her caregiver headed back to the barn, at which time Tange followed her.


January 12, 2009
Our necropsy team from the University of Georgia arrived at the break of dawn. Along with Dr. Mikota, Dr. Scott and Sanctuary staff, the team outlined the procedure emphasizing their condolences for our loss. Each procedure objective was accompanied by a request for permission to remove the specific sample, the team members so cognizant of the impact the invasive procedure would have on the loved ones left behind. The team's sensitivity allowed us all to come together for a job we know was vital and heartbreaking.

Zula had already been placed in her grave in the heart of the habitat. The necropsy procedure took all day and will surely provide us with the answers we so need. The testing and reporting could take a few months to be compiled. A summary of the result will be posted.

As the sun set, the team gathered all of their belongings, sweeping the area clean of any sign of our presence, leaving Scott to ceremoniously cover Zula's body in her final resting place.
January 11, 2009
Leave a Tribute to Zula
It is with great sorrow that we report that today we lost another of our precious elephants. Even if we were prepared for the loss, even if we had received some advance notice, the shock and sadness would not be diminished. But the suddenness of Zula's passing has shaken us to our core. Zula, "big sister" and dearest friend to Tange, the nurturer, mature and kind, known to be gentle to everyone she ever met, left us tonight just after 11pm. By all accounts she was healthy and thriving when shortly after entering the barn for an evening meal she was found lying on the floor, struggling to rise. With her caregivers and vets at her side, Zula received emergency medical care in an effort to relieve her anxiety, encourage her to relax and regain her strength, and enable her to rise. When it was determined that the next step would be to hoist Zula onto her feet, she took her last breath and passed away. Zula's sudden death leaves us with more questions than answers. The deep sorrow is felt by caregivers and elephant family alike. Zula remained in the barn with her sisters while arrangements were made for her necropsy and burial.