Bunny is Passing
2009-05-06


From the Sanctuary
May 6, 2009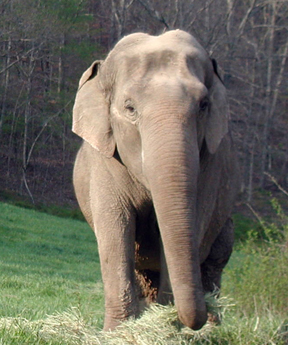 Last Saturday, Bunny, our second to the oldest elephant, resident of the Sanctuary for the past ten years, lay down in one of her favorite areas of the habitat for the final stage of her life. She is now passing. Shirley, her best friend, and Tarra, her little sister, have been keeping vigil while Bunny is tended to 24/7 by veterinarians and caregivers. Her process is being honored as part of the natural cycle that it is.

Bunny is the first resident of the Sanctuary to die of natural causes; old age, a gift and a phenomenon for any elephant living in captivity. Bunny's passing is not made easier on her family because she has lived a full life, but we are overjoyed that she spent her golden years in a place that she adored, surrounded, cherished by loving individuals; elephants and humans alike.

Bunny is still with us, though she is slowly waning. She is receiving fluids, pain meds, antibiotics, and homeopathic remedies under the authority of her veterinary team.

Her greatest love at the Sanctuary was being outdoors where she has chosen to be in the final stage of her life, in a beautiful valley beside a babbling brook with a huge blue sky overhead.

We honor Bunny's process. She will be supported through this process until she determines that it is her time to go. Throughout this process her veterinary team will ensure that she experiences no pain.