African Elephants Adopting Surrogate Relatives to Replace Those Killed by Poachers
2009-07-15


Telegraph.co.uk
July 15, 2009
By Richard Alleyne, Science Correspondent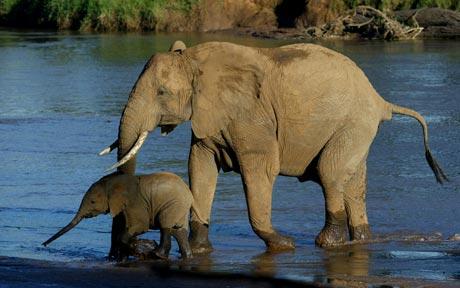 A study of 900 elephants in the Samburu game reserve in north Kenya by scientists
who observed them for five years identified the phenomenon. Photo: AP
Elephants have historically lived in separate herds and do not mix with others that have no genetic link to them – but for the first time different herds have been seen to be joining together.
The unlikely alliance is helping them survive after decades of illegal killings have threatened the existence of the species.
A study of 900 elephants in the Samburu game reserve in north Kenya by scientists who observed them for five years identified the phenomenon.
The biologist Dr George Wittemyer, whose findings are published in Proceedings of the Royal Society B, said: "The maintenance of elephant social complexity in the face of human pressures speaks to the importance of both family and friends in this species."
Wild elephants form matriarchal family groups which travel, forage for food, and socialise together, producing one of the most complex social organisations found among animals.
They maintain a hierarchical structure similar to that of humans with families nested within extended families, within clans.
Dr Wittemyer, of Colorado State University, said: "Such relationships are typically genetically based. Among the Samburu elephants, however, the genetic underpinnings have been eroded by high degrees of illegal killing.
"Despite this human driven pruning of their social tree, these elephants formed novel bonds with non-relatives to rebuild the nested structure."
Dr Wittemyer says elephant society is organised as a matriarchy, with a core group of maybe ten animals led by the eldest resident female.
That core group is together virtually all the time, travelling over considerable distances, stopping to dig water holes, looking for fresh foliage to uproot and devour.
"This hierarchical complexity is rare among animals and, as such, an examination of the factors driving its emergence offers unique insight into the evolution of social behaviour," said Dr Wittemyer.
The Samburu elephant population suffered exceptionally high rates of poaching during the 1970s, when the population is purported to have fallen by about 85 per cent.
Dr Wittemyer said: "The well defined hierarchical structure found in Samburu was not strictly genetically based, with non relatives comprising groups across social tiers.
"As the maintenance of elephant hierarchical sociality does not necessitate genetic underpinnings, direct benefits can be surmised to be substantive forces driving the formation of complex, hierarchical social structure among elephants."