State of Tennessee, Lewis County and City of Hohenwald declare October as Elephant Awareness Month
2009-09-28


Hohenwald, TN — September 28, 2009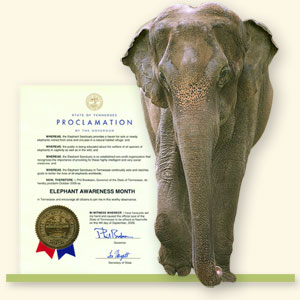 In recognition of the commitment, perseverance, and milestones achieved by The Elephant Sanctuary in Tennessee, which is entering its fifteenth year in operation, the State of Tennessee, Lewis County and the City of Hohenwald have declared October 2009 as Elephant Awareness Month.

A proclamation signed by Governor Phil Bredesen states: The Elephant Sanctuary in Tennessee continually sets and reaches goals to better the lives of all elephants worldwide.

City and County Proclamations were presented and signed today by City Mayor Don Jones and County Mayor Kenneth Turnbow to Sanctuary Co-Founders Carol Buckley and Scott Blais.

"We greatly appreciate the honor from the State, Lewis County, and Hohenwald," said Carol Buckley, Sanctuary Executive Director. "As we enter our 15th year of operation we are even more dedicated to our goals to better the lives of these extraordinary animals, while educating the public about just how intelligent, sensitive, and social elephants truly are."

All citizens are encouraged to observe October as "Elephant Awareness Month" by striving to help raise awareness and educate others about the crisis facing captive and wild elephants.

In support of this recognition, The Elephant Sanctuary in Tennessee will bring their educational outreach booth to the Celebration of Cultures at Centennial Park, Nashville, on October 3, as well as to Hohenwald's Oktoberfest Weekend, October 9 and 10.

A highlight of Elephant Awareness Month will be Sanctuary visits to several classes in the Lewis County schools which will include all the Middle School classes of grades 6-8, and the Lewis County High School science classes. The Elephant Sanctuary in Tennessee annually sponsors two classes at Lewis County Elementary, which will also have visits from Sanctuary co-founder Carol Buckley: Jessica Miller's 3rd grade and Kim Wilson's pre-K classrooms

Operating on 2,700 acres in Hohenwald, Tennessee, The Elephant Sanctuary in Tennessee www.elephants.com has been developed specifically to provide a place for traumatized elephants to recover from the debilitating experience of captivity.
The nonprofit organization, accredited by The Association of Sanctuaries and licensed by the U.S. Department of Agriculture and the Tennessee Wildlife Resources Agency, is designed specifically for old, sick or needy elephants that have been removed from zoos and circuses.
To find out more about the plight of captive elephants, and to monitor the progress of the residents of The Elephant Sanctuary in Tennessee, please visit our website at www.elephants.com. To read visit Elephant Awareness Month.