Police in Kenya Seize Bangkok-bound Ivory
2009-09-30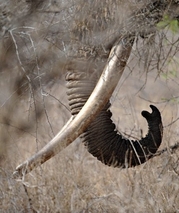 NAIROBI (AFP) - Kenya police are looking for the people behind a shipment of 684 kilogrammes of ivory seized at Nairobi's main airport and destined to Bangkok, a police official said Wednesday.
The elephant tusks were discovered at Jomo Kenyatta International Airport on Tuesday during a nighttime cargo inspection.
"The consignment was intercepted as it was about to be transported out of the country. No person has been arrested," said the official on condition of anonymity.
"We are now looking for the owners or people who were transporting it," he added. "We know it was headed for Bangkok, but we want to know the exact destination and the people who were going to receive it."
Kenya Wildlife Service spokeswoman Kentice Tikolo confirmed the seizure.
In July, authorities intercepted 16 elephant tusks and two rhino horns being illegally exported to Laos from Mozambique.
Kenya outlawed poaching and the reckless slaughter of wildlife in 1977, but allowed controlled culling and harvesting of game meat. In 2003 conservationists managed to have the activity banned completely.
But poaching for elephant and rhino tusks has been on the rise in Africa since the partial lifting in 2007 of an international trade ban to allow a one-off ivory sale to China and Japan by Botswana, Namibia, South Africa and Zimbabwe.