Elephants Roam Free in Middle Tennessee Sanctuary
2009-10-04


By Cindy Wolff, Memphis Commercial Appeal
October 4, 2009
HOHENWALD, Tenn. — Most of the locals haven't heard the trumpeting or seen the massive animals that can stand 12 feet tall and weigh thousands of pounds.
Here in Hohenwald, a small city outside Nashville with a population of about 3,800, residents know world-famous elephants roam just outside of town.
But that's all they know.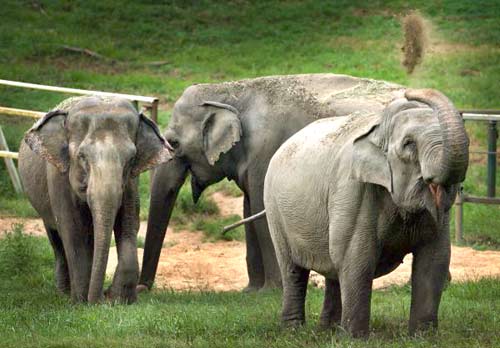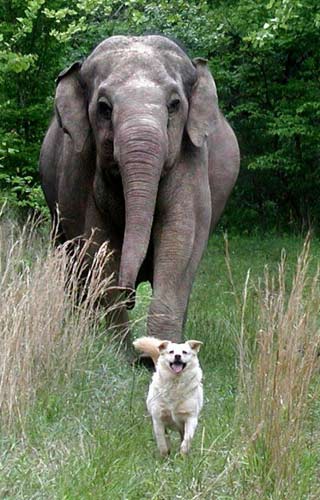 There are no signs with elephants on them. No arrow directs tourists. No vista offers a view of the majestic herds of elephants living free in Tennessee.
But 15 elephants are tucked deep into 2,700 acres in Lewis County, which is named after famous explorer Meriwether Lewis, who is buried there.
"People who come through here want to know about the elephants," 70-year-old James Cotton said, sitting at a table at Nick's Main Street Market, where locals gather to drink coffee and catch up.
"My wife works at the bank and people call there all the time from everywhere," Cotton said. "This couple called from New York. She told them it wasn't open for visitors, but they came to town anyway. You can't see them (the elephants) off any road. All they probably saw were trees."
And that's how co-founders Carol Buckley and Scott Blais intended it.
A CBS News story earlier this year, which became a popular clip on YouTube, spotlighted an unlikely pair of friends at the sanctuary, an elephant and a dog. The story caused a stampede of attention worldwide for the sanctuary, located about 160 miles east of Memphis.
Fourteen years ago, Buckley and Blais who worked together with Tarra Productions, a company Buckley founded for her elephant Tarra, decided to dedicate their lives to providing sanctuary for sick, elderly and needy elephants. They started with about 200 acres outside Hohenwald and have steadily increased in size through the years.
Tarra became the first free-roaming pachyderm in Tennessee. Then came Barbara, Jenny, Shirley and Bunny.
Buckley's journey from elephant handler to caregiver began with Tarra. She learned to train Tarra from old-timers. Hit her with a whip, with a hook. Be dominant.
And that's what she did for years, traveling with circuses and shows. One day, she looked in those brown eyes and realized she could never hit Tarra again.
"I just couldn't live that way anymore," Buckley said. "It felt wrong. Tarra was this gentle creature who only wanted to love and just be an elephant."
Buckley borrowed $25,000 and bought Tarra. Anytime a circus or zoo or anyone else will give them an elephant, they take it. It's not Africa or Asia, where elephants are indigenous, but the rolling hills of middle Tennessee are pachyderm paradise, given their former lives in chains.
Through the years, 24 elephants have lived and died at the sanctuary. All except one were female. Older elephants travel in packs of females, Buckley said. The sanctuary took in one male, Ned, who was confiscated by the U.S. Department of Agriculture. He was sick and lived there only six months before he died.
The perimeter is secured with chain link and barbed wire. Gates open and close only by a keeper's hand.
The Elephant Sanctuary doesn't seek out elephants by filing lawsuits or buying them. Blais and Buckley try not to be judgmental or political about zoos or circuses.
They see their role as simply a soft place for 8,000- to 12,000-pound animals to land.
When a baby elephant died at the Memphis Zoo in July after her mother, Asali, accidentally gored her, the sanctuary took some heat from animal rights groups for not condemning the zoo.
"That's not our role," said Buckley. "Of course we were upset that the baby died. If the mother had lived with a herd of other females who had babies, she would have known there was no need to try to help her baby stand up. But that's not how she lives. It was a tragedy. The zoo keepers feel bad enough. Why add to their misery?"
The sanctuary had its own tragedy in 2006 when keeper Joanna Burke was killed while tending to Winkie, an elephant whose eye was injured.
Blais was with Burke. Winkie knocked Burke down with her head and stepped on her. Blais was injured trying to save Burke.
At the time, some expected the sanctuary to euthanize Winkie, but that thought never crossed the owners' minds.
"It was an accident," Buckley said. "The last thing Joanna would have wanted was for an elephant to lose its life because of her."
Burke's parents allowed her to be buried at the sanctuary.
But some people are frustrated that it's easier to see the Hope Diamond than the Hohenwald elephants.
After the story about Tarra and her friend, a yellow lab mix named Bella, Disney pitched a movie, either starring the pair or using a trained elephant and dog to portray them. People wanted to write books. The co-founders turned them all down.
"It just went against everything we were about," Buckley said of the movie. "We don't want them to use trained elephants and we don't want Tarra and Bella to perform. It defeats our purpose."
So they opened their sanctuary up via their Web site. It provides a diary about the 15 Asian and African elephants that lumber through the woods and up and down the gentle slopes. They stationed "Elecams" throughout the landscape.
A handful of media visits get the green light every year, only because it's necessary for fundraising. The sanctuary operates solely on donations.
To satisfy the curiosity of tourists, the sanctuary recently announced plans to build an education gallery, visitor's center and gift shop in downtown Hohenwald.
The sanctuary has 78,000 members, who regularly donate and watch on the Internet as the elephants play, toss dirt on their backs and trumpet to each other.
No standing on each other's back or balancing on a stool for these elephants. No pretty girl in a tutu and feathered hat will ride on top. They won't ever again trot tail-to-trunk in a circle in the center ring of a circus.
The lucky ones that make it to the sanctuary will live the rest of their lives doing as they please.
BEST FRIENDS
"Tarra and Bella, The Elephant and Dog who Became Best Friends," is available for $17 on the sanctuary's Web site elephants.com.
Go to the Web site and Click on "Elecam" to watch the elephants.
Donations can be sent to The Elephant Sanctuary, P. O. Box 393, Hohenwald, Tenn. 38462.
See the CBS segment about Tarra and Bella on YouTube.