Charity Gift Guide: 10 Charities to Support This Holiday
2009-12-02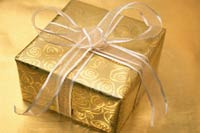 When looking at gifts for this holiday season, why not consider an alternative gift? Which is really a code for giving to charity. But for those of you wary of just handing money over to some group which may use most of it for administrative costs, here are a couple of ways to ensure your money is doing concrete good.
We've compiled a list of 10 charities which tell you flat out where your money is going. Their websites are very clear and give a direct way to contribute to specific things. If nothing on our list appeals to you, GlobalGiving connects you to hundreds of charities, organized by type, and lists with each one amounts and what that money is used for. If you want to check up on a charity's administrative costs or efficiency, you can go to Charity Navigator or GuideStar and see the operational budget of pretty much every charity. These are our favorites:
1. Kiva got a lot a press when it launched, due to its microfinance structure. It's not rated on Charity Navigator, since it hasn't been around long enough, but what qualifies it for this list is not only that it helps get local entrepreneurs off the ground, but that it also allows lenders to connect with specific individuals through the profiles listed on the site.
2. Bat Conservation International lets you adopt a bat. Bats have a bad rap, but they're awesome animals and important to the ecosystem. For $25, Bat Conservation International gives you a plush bat and uses the proceeds to help protect bats.
3. Reading Reform Foundation is specific to New York, but its goal is to improve how reading is taught in public schools. Gifts range from $150 (in-school training program materials for one classroom teacher) to $12,500 (train one classroom teacher for the school year), with a membership costing $25.
4. The Wildlife Center of Virginia lets you adopt a specific education animal or sponsor and animal in need. And who doesn't want to help out an opossum or a snake? (Fine, they also have owls and eagles, for those so inclined.)
5. Malaria No More fights a disease which kills between one and three million people a year. Malaria No More lets you purchase mosquito nets to protect families when they sleep, each one costing $10.
6. Oxfam Unwrapped is run by uber-charity Oxfam. It allows you to buy any number of things, costing pretty much any amount of money, to help out with a number of world-wide problems. Also, it has the most enthusiastic description of a can of worms ever.
7. The Elephant Sanctuary provides a home in Tennessee for elephants, often those who became too old or too sick for zoos and circuses. You can sponsor an elephant, feed them for a day, or purchase acres for the sanctuary. Plus, they have an EleCam, where you can watch the elephants!
8. Alternative Gifts International lists specific projects being run by charities across the globe. You can pick a specific project and see what your money goes to. The contracts the charities have with Alternative Gifts International guarantees that 100% of the donation goes to that project.
9. Heifer International is another animal-based one, but it's not saving endangered animals. Instead, you can buy farm animals for disadvantaged families. They also give plants and sustainable agriculture education to the families.
10. Become a Drug Dealer has, in addition to an awesome name, a simple premise: $1 a day can pay for AIDS medication. Part of Keep a Child Alive, Become a Drug Dealer allows the typical monthly donation of $30 to pay for medication for a child suffering from AIDS in the developing world and also sells t-shirts that say "Drug Dealer" with proceeds going to their campaign.