Ivory Trade Fact Sheets 2010
2010-01-29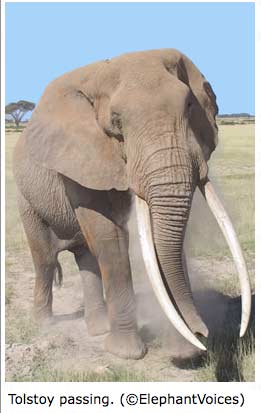 At every meeting of the Parties to the Convention on International Trade in Endangered Species, CITES, debate surrounding trade in elephant products tends to dominate discussions. The meeting in Doha from March 13-25 will be no different. This year's debate is particularly fraught because poaching has increased markedly and because it pits neighbouring countries Kenya, against trade, and Tanzania, pro-trade, against one another.
ElephantVoices is part of a group of like-minded NGOs and individuals working under the name of the Kenya Elephant Forum (KEF) to provide strategic information to a group of African nations (elephant range states and Parties to CITES) known as the African Elephant Coalition.
During January 2010 the Kenya Elephant Forum produced five Fact Sheets to be used to help strengthen the African Elephant Coalition's case in the ongoing debate.
Below you will find the fact sheets as pdfs. Please feel free to pass them on to your colleagues, to your friends, to the media, to decision makers - cross-post and share! Help us spread the word! Share page on Facebook!






PUBLICATIONS
---
COMMENT FROM THE ELEPHANT SANCTUARY:
Many of our colleagues in Africa are working together to provide accurate information and spread the word about the devastating effect of poaching and the ivory trade before the next meeting of CITES on March 13-25. Check these fact sheets from elephantvoices.org http://www.elephantvoices.org/elephant-interests/ivory-trade-fact-sheets.html as well as this petition: (http://www.thepetitionsite.com/1/no-more-trade-in-elephant-ivory) sponsored by the David Sheldrick Wildlife Trust. Warning, some graphic images.