Sale of Elephant Tusk Stockpiles May Encourage Poaching, Experts Worry
2010-03-12


By Sandi Doughton
Seattle Times science reporter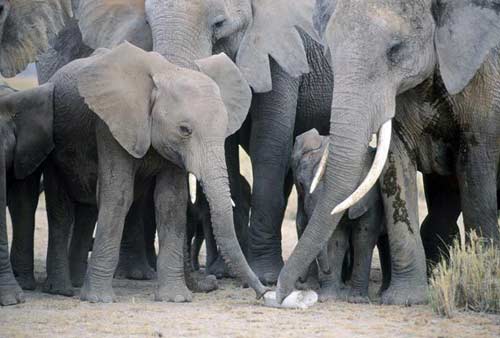 Today, ivory sells on the black market for about $900 a pound.
Elephant experts from around the world are joining a University of Washington scientist in calling for a moratorium on legal ivory sales, to protect elephants from being slaughtered for their tusks.

UW conservation biologist Sam Wasser has been using DNA analysis of seized ivory shipments to track the thriving black market. His research shows poachers are killing more than 8 percent of the world's elephants each year.

The African nations of Zambia and Tanzania are petitioning an international regulatory body for permission to sell stockpiles of tusks worth nearly $18 million. But in a commentary published Thursday in the journal Science, Wasser and his 26 co-authors argue that legal ivory sales can provide cover for illegal sales, and may actually increase the rate of poaching.

Also, Wasser's analyses show that the bulk of the black market ivory seized by law-enforcement officials over the past several years originated in Zambia and Tanzania.

All sales of elephant ivory were banned in 1989. At the same time, African nations stepped up game patrols. As a result, poaching levels plummeted.

But money for enforcement programs dried up after a few years. Growing demand for ivory in Japan and China drove prices up, and poaching levels have been climbing for most of the past decade, Wasser said.

The Convention on International Trade in Endangered Species (CITES) has allowed nations to sell stockpiled ivory and use the proceeds for elephant conservation.

Several of those previous sales were followed by spikes in poaching, as the organized crime rings that control the black market take advantage of legal sales to sneak their products into the international market, Wasser said.

"We really need to stop and get things back under control before we think about allowing any trade in this species," he said.

CITES will consider the petitions from Zambia and Tanzania in a meeting that begins Saturday in Doha, Qatar.