The Elephant Sanctuary Welcomes Rob Atkinson as CEO
2010-09-07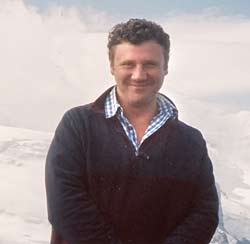 Robert Atkinson, Head of Wildlife for the United Kingdom's Royal Society for the Prevention of Cruelty to Animals, was announced today as CEO of the Elephant Sanctuary of Tennessee.

Rob comes to the Sanctuary with a background of over 11 years as the Head of Wildlife for the United Kingdom's Royal Society for the Prevention of Cruelty to Animals, and brings a wealth of knowledge in animal welfare, research and policy.

Born on a farm in rural England, Rob grew up around animals and knew very early he wanted to focus on a career which involved working with them. In pursuit of this goal, Rob took a degree from London University in zoology and then worked through his Masters and a doctorate at Oxford before focusing firmly on animal welfare.

At the RSPCA, Rob and his team tackled a variety of animal welfare issues. Under Rob's leadership the focus of wildlife rehabilitation shifted, giving it a more ethical and science-based approach. Rob's team helped bring an end to the cruel sport of hunting wild animals with dogs and advocated greater protection for animals used in entertainment.

Eight years ago, Rob started a movement that brought the welfare problems of elephants in zoos in the UK to the public's attention. This work has resulted in 25% fewer elephants in the UK's zoos and 28% fewer zoos keeping elephants.

It was during this time Rob first learned of The Elephant Sanctuary in Tennessee. After hearing about a place that was trying to give elephants "the chance for peace and to allow them to simply be elephants," he knew he wanted to visit. Rob describes his first trip to the Sanctuary: "I flew from England to Nashville, arriving late at night, and hired a car. I'd never driven on the right side of the road before, or in a car with an automatic gearbox, and was completely baffled by American road signs! Somehow, after eighty miles of nervous driving, I found my way to Hohenwald and to the Sanctuary. It was all worth it. I was struck by the clarity of mission and commitment, and I was completely convinced that if elephants have to be kept at all, then this was the only way."

Rob said that on his most recent trip to the Sanctuary, he was convinced that every single member of the staff cared passionately about elephants, and that staff whose duties did not call for interaction with the elephants had the same degree of devotion as that of the caregivers. "An organization whose mission is so clear and so deeply held in the hearts of all employees cannot fail."

When Rob assumes his role as CEO in November, he is excited by the opportunity to live once again in the countryside among the friendliest people he has met. Rob believes the move to Tennessee to be huge but one that he looks forward to, as "the Sanctuary's work is so intensely close to my heart."

Summing it up, Rob stated: "The Sanctuary's mission to provide a refuge for distressed elephants is wonderfully worthy in itself. Through education and through providing a living, breathing example of how animals can be valued and protected, the Sanctuary is a role model for peaceful living. It's a champion of freedom, of life. I'm extremely proud to join their cause."
###