Bones Unearthed in Franklin, TN Yard May Be Mastadon
2010-10-20


Bones unearthed in Franklin yard may be those of mastodon
State prehistoric archaeologist hopes location will be a resource site on National Register of Historic Places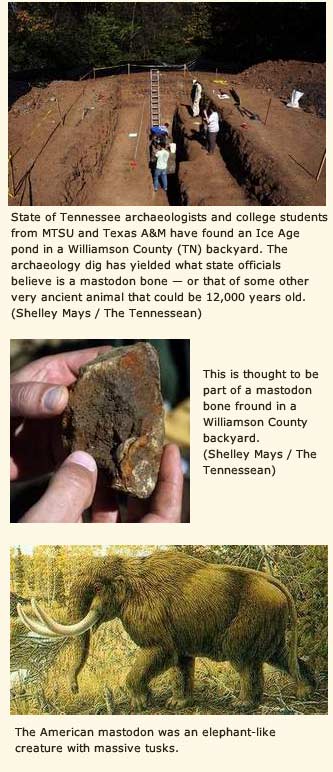 FRANKLIN — Past the driveways and decorative mailboxes of a quiet Franklin cul de sac, the ancient bones of what's likely a mastodon and the tools of prehistoric America are seeing sunlight for the first time in thousands of years.

Since last week, a team of archaeologists and Middle Tennessee State University students has hewn a trench about 10 feet deep into the cool clay of a suburban Williamson County backyard, bringing out bags of bone fragments and stones once used perhaps as axes or other implements.

Those bits and pieces — some no bigger than a coffee cup, others smaller than coins — are a once-in-a-lifetime discovery, revealing the historical importance of the Middle Tennessee region to understanding prehistoric man and his world.

"People overlook Tennessee when it comes to archaeology," said Tanya Peres, MTSU associate professor of anthropology. "There's some really amazing archaeology here. Maybe this is the kind of thing that will get into schoolbooks."

The team has likely found bones belonging to a mastodon — elephant-like creatures with massive tusks related to wooly mammoths. If the dig's findings are authenticated, state Prehistoric Archaeologist Aaron Deter-Wolf hopes to snare a designation for this site on the National Register of Historic Places as an archaeological resource. Only a handful of sites in North America have been known to have mastodons.

Deter-Wolf beamed Monday morning as he clutched a fossilized bone, its porous marrow hard and flinty.

"There's a limited number of animals that were alive 12,000 years ago that could have had bones this big," he said. "Odds are really good that it's mastodon."

Pond existed

Also among the bones were flakes of stone scored to make a tool of some kind likely made by hunters.

It was here near the end of the last Ice Age, that a pond existed that drew animals, including a mastodon, which probably was killed here by hunters, Deter-Wolf said.

If the bones prove to be a mastodon's, it adds more importance to land that has twice yielded archaeological treasures. Archaeologists found several bones along a stream near the site in 1977. Then, in 1994, archaeologists unearthed mastodon bones and more than 30 stone tools nearby.

None of the work today would be possible if not for homeowner Paul Litchy who bought his land in 1998 not knowing about its ties to prehistoric history. Litchy, 60, a part-time instructor at Vanderbilt University, heard a speech by former state archaeologist Nick Fielder that mentioned the earlier dig and recognized the land.

"I think the area (Fielder) was talking about is my backyard," Litchy said.

Litchy's neighborhood is located off Bakers Bridge Road adjoining the Nashville Golf and Athletic Club.

Funded with a $9,600 grant, the work has been rewarding for students such as MTSU anthropology major Kevin McDaniel, 26, who's spending his fall break slowly picking through clay for bones.

"It really makes you step back and think that 'OK, so we're digging things up that are tens of thousands of years old," he said. "It really makes you feel a little bit smaller."