Lily Tomlin Speaks Up For Elephants
2011-01-17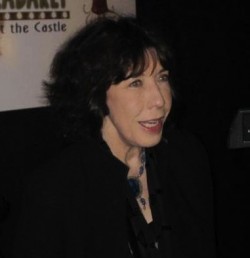 I always enjoy hearing how celebrities use their fame and money to give back. It's even better when the celebrity is a fellow Michigander, like Lily Tomlin.

Tomlin has chosen to devote her spare time in a crusade against elephants in captivity. And on January 20th, she will speak on behalf of the new documentary Elephants and Man: A Litany of Tragedy. The film covers the history of elephants in captivity and exposes the cruelty that is at the center of this history. You can watch the film on YouTube, split into seven segments, but prepare yourself for the graphic content.

Throughout the years, Tomlin has spoken out against zoos housing elephants. She fought against the $42 million enclosure at the Los Angeles Zoo, championed a quest to relocate an elephant at the Dallas Zoo, and has joined the battle to urge Seattle's Woodland Park Zoo to remove their three elephants.

Friends of the Woodland Park Zoo Elephants applauds Tomlin's concern for the three elephants: "Science, compassion and common sense obligates us to release the elephants." The Elephant Sanctuary in Tennessee is 2,700 acres of habitat that is proposed to accommodate the elephants.

Whether or not animals in captivity provide educational advantages is a source of great debate. Yet it's hard to ignore Tomlin's comparative argument: "Kids have never seen a dinosaur but they know as much about dinosaurs as they could possibly know about any animal in the zoo."

Elephants are highly intelligent and social animals. The majority of zoos in the U.S. have realized that they cannot properly attend to the needs of animals that frequently travel up to 30 miles a day in herds.

Yet there are some zoos that continue to house elephants and acquire new ones; elephants have always been a lucrative way to sell admission. The Los Angeles Zoo went through with their expensive exhibit expansion, despite several lawsuits. And regardless of pleas from Tomlin and others, Seattle's Woodland Park Zoo continues to defend their choice to display elephants.

While most of us will not be able to attend the documentary screening in Hollywood, we can still follow the lead of Tomlin and the other celebrities in attendance. Zoos are no place for elephants, even the highly accredited zoos.

Tomlin has not given up on those elephants she advocated for in previous years. We can pledge to educate ourselves and speak up for zoo elephants, too. Join Tomlin and the Animal Legal Defense Fund in telling Seattle to remove the elephants at Woodland Park Zoo.