Trees for Trunks!
2011-02-25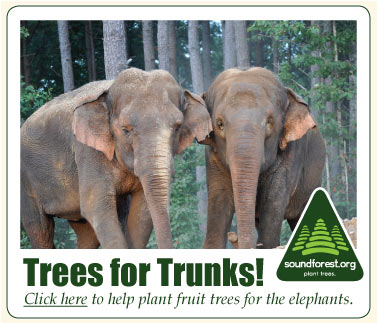 The Elephant Sanctuary in Tennessee has partnered with another 501(c)3 organization, SoundForest.org, for a "Trees for Trunks" campaign. With a $35 donation made through www.SoundForest.org, donors can sponsor the planting of a fruit tree at the Sanctuary. Fresh produce accounts for about 25 of the 150 pounds of food an elephant consumes every day. A single fruit tree can yield up to 5,000 pounds of food in 25 years.

"We strive to be environmentally conscious, from our eco-friendly elephant barns to solar-powered Elecams, and being able to grow produce on site is consistent with that goal," said Sanctuary Co-Founder and Director of Operations Scott Blais. "The Sanctuary is delighted to partner with an honorable organization like SoundForest.org. They are very motivated to make a difference."

In January, SoundForest.org visited the Sanctuary to plant apple, pear and plum trees, and will soon return with more varieties, including bamboo and fig trees. An apple tree can produce between 100 and 210 pounds of food a year, and pear trees produce between 170 and 200 pounds. In addition to economic advantages, having the nutrition-rich plants on Sanctuary grounds reduces fuel consumption.

"We are excited about the benefits the trees will have for the elephants and for the environment," said Thomas Solinsky, founder of SoundForest.org. "Sustainability and treating the earth with respect make sense. Planting trees will keep nature functioning at its best, creating a 'sound' and healthy environment for all of us."

Through "Trees for Trunks," donors have the opportunity to plant a fruit tree in his or her name, or in honor of another individual or group. As the tree grows, SoundForest.org will send the donor updates and images of the tree, as well as its GPS location to locate the tree using Google Earth. All types of trees are important in the Sanctuary's habitats because, in addition to diet, they can be used for shade, browsing, and as enrichment toys.

Founded in 2008, SoundForest.org serves to make a positive difference in the world by planting trees and educating people about the benefits of trees. In addition to "Trees for Trunks," the organization manages other projects, including "SoundSchools" to help schools become eco-friendly, and "Recovery Fundraising" campaign to help replant rainforest trees in areas devastated by natural disasters. To date, they have planted nearly 4,600 trees, including 2,500 trees at Bells Bend Park in Nashville, Tenn., following the destructive May 2010 floods.

To plant a tree at the Sanctuary through "Trees for Trunks," please visit this link.