Welcome Center Now Featuring Winkie and Sissy During March
2011-03-08


The Elephant Sanctuary is pleased to announce the Welcome Center in downtown Hohenwald will feature two of their residents, Winkie and Sissy, during the month of March. A photo exhibit featuring Winkie, Sissy and the other residents is currently on display.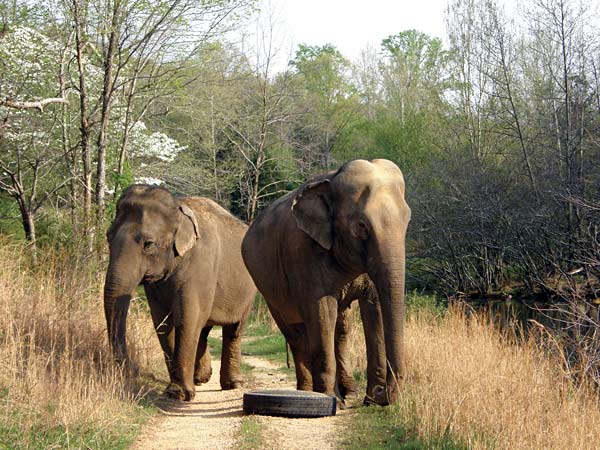 Winkie was captured from the wild around the age of 1 and sold into the exotic animal trade, which led her to the Henry Villas Zoo in Madison, Wisconsin. After 30 years the zoo elected to close their elephant exhibit and relocate their elephants, choosing the Sanctuary for Winkie. Winkie arrived at the Sanctuary in 2000. Her caregivers report Winkie likes to make a popping noise against her own trunk when she is feeling happy.

Sissy's captive life began as an attraction at Six Flags over Texas Amusement Park petting zoo. At 19 she was sold to the Frank Buck Zoo in Gainesville, TX. In 1981, a record flood there swept most of the zoo animals from their enclosures. Sissy was presumed dead, but when the waters started to recede, her trunk was spotted wrapped around a tree limb, sticking just above the water line. While she managed to survive, she suffered long-term trauma, including a fear of water. Years later Sissy was sent to the Houston Zoo, then transferred to El Paso Zoo, where in 1999 a videotape surfaced of a trainer beating her. Weeks later, city council voted to send her to the Sanctuary.

Sissy is almost always in the company of Winkie. No longer afraid of water, she often swims in the pond with Winkie in the summer.

The staff and volunteers at the Welcome Center invite the public to stop by the Welcome Center to learn more about Winkie, Sissy and the other resident elephants. Informal programs are scheduled at 1:00 p.m. on Saturday, March 12th and Saturday, March 19th with Scott Blais. Visitors may also enjoy viewing live video streaming of all three habitats at the Welcome Center thanks to the recent launch of the new digital Elecams.

The Elephant Sanctuary Welcome Center is open to the public on Thursdays and Fridays from 11 am to 4 pm; every third Saturday of the month from 11 am to 4 pm; other times are available by appointment. For more information, please call Lorenda Rochelle at 931-796-6500 ext. 105.