Welcome Center Features Tarra and Bella in August
2011-08-01


The Elephant Sanctuary is pleased to announce the Welcome Center in downtown Hohenwald will feature our Asian resident, Tarra, and her dog companion, Bella, during the month of August. The staff and volunteers at the Welcome Center invite the public to stop by to learn more about Tarra & Bella and the other resident elephants. A photo exhibit featuring the pair and other Sanctuary residents is currently on display. While at the Welcome Center, visitors may also enjoy live streaming video of The Sanctuary's three habitats.
The Welcome Center will feature opportunities for the public to meet some of The Sanctuary's caregiving staff at the following informal August programs:
Saturday, August 6, at 1 p.m. – Scott Blais, Vice President of Operations
Saturday, August 20, at 1 p.m. – Suz, Caregiver
The Elephant Sanctuary Welcome Center (27 East Main Street, Hohenwald, TN 38462), is open to the public on Thursdays and Fridays from 11 a.m. to 4 p.m. Summer hours have been extended to include every first and third Saturday of the month from 11 a.m. to 4 p.m. through August; other times are available by appointment. For more information, please call Lorenda Rochelle at 931-796-6500 ext. 105.

Tarra and Bella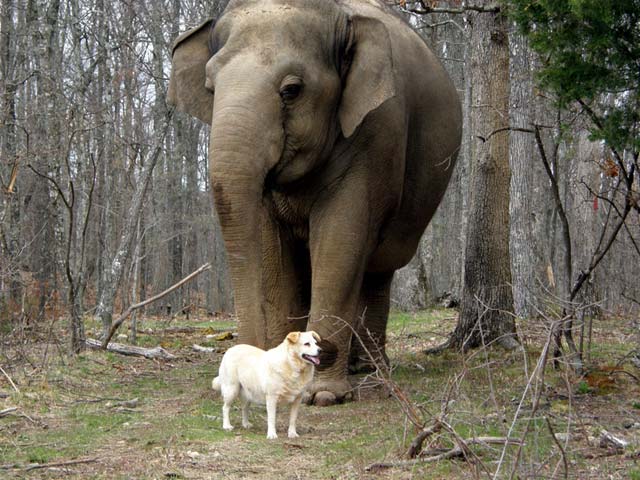 Tarra and Bella
Tarra is a female Asian elephant born in 1974 in Burma (Myanmar), Asia. At only six months old, she was prematurely weaned and separated from her mother and sold to an animal broker who imported her into the United States. A local businessman in Simi Valley, California bought Tarra, named her Fluffie, and used her to promote his local tire dealership. Sanctuary co-founder Carol Buckley later purchased her and changed her name to Tarra.

For the next two decades, Tarra traveled with Carol throughout the world entertaining audiences in circuses, amusement parks, zoos, and in television and motion pictures. Tarra's growing disenchantment with an entertainment lifestyle inspired the creation of The Elephant Sanctuary in Tennessee to rescue old, sick and needy elephants. On March 3, 1995, after twenty-one years of entertaining the public, Tarra retired and became the first resident of The Elephant Sanctuary in Hohenwald, Tennessee.

Bella, the canine half of this interspecies friendship, was found abandoned on some newly purchased Sanctuary land in 2002, apparently guarding a bulldozer. Bella continued to show her propensity for guarding large "noisy" things, as she then fixated on a 4-wheeler and finally on Tarra. Tarra, who has always shown a fondness for dogs, welcomed the stray's attentions and the two soon became inseparable friends.

In April of 2007, Bella suffered a spinal injury and spent several weeks immobile in the barn office. During Bella's recovery, Tarra returned to the barn and uncharacteristically stood silently under the office/recovery ward balcony window. Caregivers picked up Bella and took her to where Tarra waited, and their reunion was sweet and respectful. Bella eventually recovered from her injury and was able to return to the habitat with Tarra, in which they have been roaming together ever since.

In December of 2009, CBS Evening News with Steve Hartman's Assignment America aired a feature story about Tarra and Bella's endearing friendship. The video of the news segment soon went viral on the Internet and YouTube, and the two became instant celebrities. In 2010, their story also appeared on national talk shows including Oprah and Ellen, as well as in People Magazine.