Welcome Center September Events
2011-08-30


Contact Lorenda Rochelle, Outreach Coordinator
931-796-6500 ext 105
The Elephant Sanctuary is pleased to announce the Welcome Center in downtown Hohenwald will present a multi-media presentation and informal discussion about two of our Asian elephant residents, Shirley and Tarra, during the month of September. The staff and volunteers at the Welcome Center invite the public to stop by to learn more about Shirley and Tarra and the other resident elephants through videos and slide presentations given by their caregiver. A photo exhibit featuring the pair and other Sanctuary residents is currently on display. While at the Welcome Center, visitors may also enjoy live streaming video of The Sanctuary's three habitats through our Elecam system.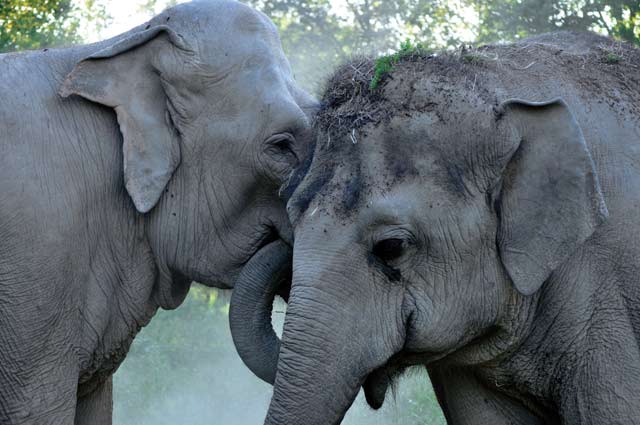 Shirley and Tarra
The Welcome Center will provide opportunities for the public to meet some of The Sanctuary's staff at the following informal Saturday program:
Saturday, September 17, at 1 p.m. – Suz, Caregiver
The Elephant Sanctuary Welcome Center (27 East Main Street, Hohenwald, TN 38462), is open to the public on Thursdays and Fridays from 11 a.m. to 4 p.m.; and every third Saturday of the month from 11 a.m. to 4 p.m.; other times are available by appointment. For more information, please call Lorenda Rochelle at 931-796-6500 ext. 105.
Shirley was born in the wilds of Asia in 1948. At age five, she was captured from and purchased by Mr. Dori Miller, owner of Carson and Barnes and Kelly Miller Circuses. At the time of her purchase, Mr. Miller was the single largest private owner of elephants in the United States. In 1958, while the Kelly Miller Circus was traveling through Cuba, Fidel Castro seized power. Shirley and the entire circus was held captive by Castro's forces for several weeks before finally being released.

Unfortunately, that was not the end of Shirley's hazardous journey. A few years later, the circus ship she was traveling in was docked in Nova Scotia when a fire broke out in the engine room. This incident caused the ship to sink, killing two of the animals owned by the circus. Shirley was rescued, but not before sustaining severe burns on her back and legs. In 1975, at age 27, while performing for the Lewis Brothers Circus, Shirley was attacked by another elephant, breaking her right hind leg. It was never set and did not heal properly, causing everyday life to be somewhat difficult. Shirley was forced to perform in the circus despite her injury for nearly two years more before being sold to the Louisiana Purchase Gardens and Zoo in Monroe, Louisiana to appear on exhibit.

For the next 22 years, Shirley would live a solitary life at the zoo until July 6, 1999 when she was permanently retired to The Elephant Sanctuary. This memorable event was the subject of an Emmy-winning National Geographic documentary, "The Urban Elephant." At the time of Shirley's arrival The Sanctuary was home to three other elephants, one of which was Jenny, another ex-circus elephant. Neither Jenny nor Shirley knew it, but both of them were about to experience the surprise of their lives. Shirley and Jenny had performed together in the circus 23 years before, and their emotional reunion the night Shirley arrived has become part of Sanctuary history. For the next seven years the two were inseparable in a relationship resembling that of a mother and daughter. During this time, Shirley also became the matriarch of The Sanctuary's "Founding Herd."
Shirley survived the loss of her dear friend and adopted daughter, Jenny, in 2006; and sadly she endured the loss of another friend, Bunny, in 2009. Tarra was a great solace to Shirley during her time of grief, and these two have remained very good friends. They continue to spend time together roaming their habitat, along with Tarra's dog companion, Bella. With such a colorful history, no doubt Shirley's life-book still has a few more chapters to be added as her remarkable story continues at The Sanctuary.

Tarra is a female Asian elephant born in 1974 in Burma (Myanmar), Asia. At only six months old, she was prematurely weaned, separated from her mother and sold to an animal broker who imported her into the United States. A local businessman in Simi Valley, California bought Tarra, named her Fluffie, and used her to promote his local tire dealership. Sanctuary co-founder Carol Buckley later purchased her and changed her name to Tarra.

For the next two decades, Tarra traveled with Carol throughout the world entertaining audiences in circuses, amusement parks, zoos, and in television and motion pictures. Tarra's growing disenchantment with an entertainment lifestyle inspired the creation of The Elephant Sanctuary in Tennessee to provide a refuge for old, sick and needy elephants. On March 3, 1995, after twenty-one years of entertaining the public, Tarra retired and became the first resident of The Elephant Sanctuary in Hohenwald, Tennessee.
________________________


OUTREACH BOOTH: The Salvation Army's 4th Annual Red Kettle Craft Fair will be held in Murfreesboro, TN on Saturday, September 24, 2011 from 10:00 a.m – 5:00 p.m. The Elephant Sanctuary plans to participate in this event with an outreach booth. We hope to see you there! For more information, follow this event on Facebook at http://www.facebook.com/RedKettleCraftFair