Elephant mourns loss of canine companion
2011-11-07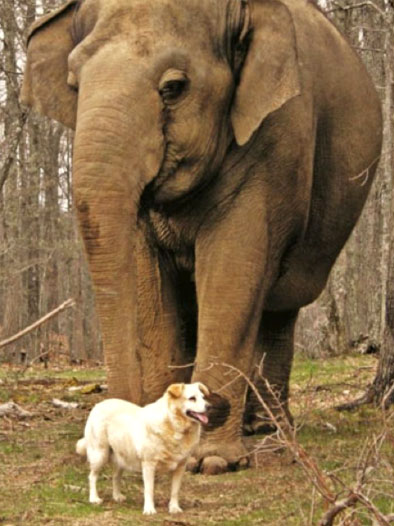 HOHENWALD, Tenn. – For the past eight years, Tarra the elephant and Bella the dog were inseparable at the Elephant Sanctuary in Hohenwald, about 80 miles southwest of Nashville.
Robert Atkinson is the CEO of the Elephant Sanctuary, the nation's larges natural-habitat refuge developed specifically to meet the needs of the endangered animals.
He told Nashville's News 2 the duo was always together.
"I suspect that small vulnerable little animal brought out a maternal instinct in her, and hence there was a match made in heaven," he said.
The canine came to live at the 2,700-acre sanctuary in 2003 and quickly formed a bond with the elephant, which remained until Bella's recent death.
Atkinson said he believes Bella was attacked and killed by coyotes and Tarra found the dog's body before the caretakers and carried her with her trunk to the barn where the two spent most of their time.
"The idea that she couldn't leave that body and brought it back home is just heartbreaking, but so inspiring," he said.
To help with the grieving process, Tarra has reached out to other elephants which have been providing comfort and support.
"Elephants need each other. That's what's happening now. That in her time of grief, she's turning to her sisters for support, and that's what elephants are good at, being a herd and being there for each other," Atkinson explained.
Caretakers told Nashville's News 2 since Bella's death, Tarra has been quieter than usual as she mourns the loss of her friend.
"We know that she's gone back and has been seen near Bella's grave, which is remarkable," Atkinson said.
The Elephant Sanctuary has set up a tribute page on its web site to memorialize Bella with links to Tarra and Bella's amazing story and recent photos of the two.
A memorial fund will also be established in Bella's honor.
For more information, visit Elephants.com.
By Roxanna Haynes, Reporter
October, 31, 2011