Flora - Finding Sanctuary in Tennessee
2011-12-01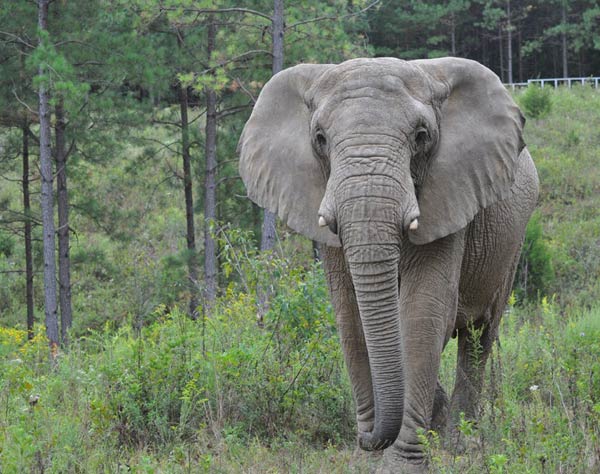 Flora loves to explore her wilderness Sanctuary.
As One Lucky Elephant premiers today on the OWN network, we are reminded of just how far Flora has come in her journey. The documentary chronicles Flora's career as a circus elephant and the struggle of her owner, David Balding, to find a better life for her. Flora's and David's long journey ultimately brought them here to The Elephant Sanctuary. Since her arrival in 2004, Flora has been making tremendous strides in her development and transition from circus to Sanctuary life. What One Lucky Elephant doesn't show is the rest of the story - how rich Flora's life has become since she found Sanctuary here in Tennessee.
The transition was not easy for Flora. When she first arrived, Flora joined Tange and Zula, two African elephant companions who had been together since 1978 and were retired from Chehaw Wild Animal Park. On the day of her arrival, Caregivers noticed that Flora's behavior would change when David was not in sight. Upon his departure from the Sanctuary, Flora reacted very negatively and violently. This behavior was both stressful and posed a serious danger to Flora herself, her companion elephants, and their Caregivers. Flora also struggled with assimilation into her new family of elephants. While Tange was immediately accepting of Flora, and frequently acted as a peacemaker, Zula and Flora struggled to assert their dominance over each other for more than a year. Flora tried to win the position of leader with volatile bouts of physical interaction that tested both elephants' strength, agility, coordination, and self confidence.
In 2005, Caregivers rejoiced when, after a year and a half of slowly establishing a relationship and building trust, Flora, Tange, and Zula began behaving as a cohesive, bonded family herd. It was glorious to finally see all three spend the entire day together, playing, grazing, browsing, and napping, never more than several feet from each other. Zula sadly passed away in 2009. Flora was there to comfort and support Tange as she dealt with the grief of the loss of her companion.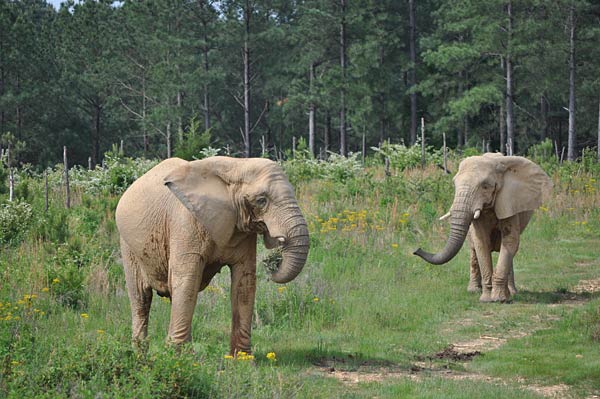 Flora and Tange's relationship continues to grow stronger.
Over the past few years, their time together has served to strengthen their bond. Tange loves to encourage and solicit play from Flora, and consistently cultivates her companionship. Although Flora still sometimes prefers her privacy, most often the two Girls are found together socializing in their habitat. Their days in Sanctuary are spent mischievously stealing each other's enrichment toys, stripping vegetation in their quest to turn the habitat into a savannah, working together to knock down trees for browse (and fun), and playing for hours in their favorite mud wallows.
A few weeks ago, Flora and Tange even worked together to indignantly flank and chase three marauding whitetail bucks out of their habitat and forage! For a description of this encounter please visit this week's Elenotes.
Perhaps Director of Elephant Husbandry, Steve Smith, said it best, "Flora is doing very well.. She digs, she destroys, she enjoys! She takes mud baths, she knocks down trees, she forages in her habitat….Flora is a big, beautiful, spirited African elephant and it's wonderful to be able to provide her with this opportunity to be as nature intended."
Thank you, David, for making it possible for Flora to flourish; we are honored to be the guardian of her care. As Flora blossoms more and more each day into her true elephant self, it reaffirms that after your years of searching, Flora has finally found Sanctuary.

Watch Slide Show!
Click Here for an EleNote on Flora & Tange
Click Here for Doing What's Best for Flora
Click Here to Sponsor Flora
Click Here for Flora's Bio