Welcome Center December Events
2011-12-13


The Elephant Sanctuary is pleased to announce the Welcome Center in downtown Hohenwald will present a multi-media presentation and informal discussion about one of our Asian elephant residents, Minnie, during the month of December.
The staff and volunteers at the Welcome Center invite the public to stop by to learn more about Minnie and the other resident elephants through videos and slide presentations given by their Caregiver. A photo exhibit featuring the Sanctuary residents is currently on display. While at the Welcome Center, visitors may also enjoy live streaming video of The Sanctuary's three habitats through our Elecam system.
The Welcome Center will provide opportunities for the public to meet some of The Sanctuary's staff at the following informal Saturday program:
The Elephant Sanctuary Welcome Center (27 East Main Street, Hohenwald, TN 38462), is open to the public on Thursdays and Fridays from 11 a.m. to 4 p.m.; and every third Saturday of the month from 11 a.m. to 4 p.m.; other times are available by appointment. For more information, please call Lorenda Rochelle at 931-796-6500 ext. 105.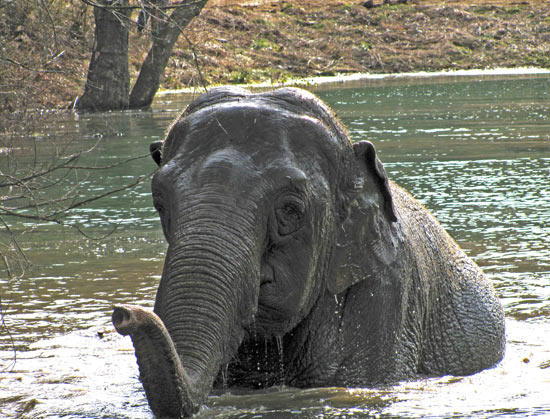 Minnie enjoys a swim in the pond.
Minnie was born in Asia in 1966, taken from the wild. Little is known about Minnie's early years. After traveling for years with Circus Vargas, Minnie was sold to the Hawthorn Corporation along with Lottie, Gypsy, and Sue. As a result of USDA prosecutions against the Hawthorn Corporation for violations of the Animal Welfare Act for inadequate care and mistreatment of its elephants, Minnie was sent to The Elephant Sanctuary in Tennessee.

At 12:00 pm, on January 31, 2006, Minnie became the fifteenth resident of The Elephant Sanctuary in Tennessee arriving with her best friend, Lottie. She was the first of eight circus elephants from the Hawthorn Corporation to make the "Caravan to Freedom" trip.

At over 11,000 hefty pounds, Minnie weighs in as our largest Asian elephant at the Sanctuary. Minnie is smart and playful with boundless energy. Minnie shares her time at the Sanctuary these days with Debbie and Ronnie. She usually takes the lead exploring uncharted territory as others follow her. One day, she found great pleasure chasing a herd of white tail deer in the pasture, all in harmless fun!
Join Caregiver Sam as she shares stories about Minnie and her life in Sanctuary, from an insider's perspective.