The Elephant Sanctuary's Calendar of Events for Outreach Opportunities
2012-06-21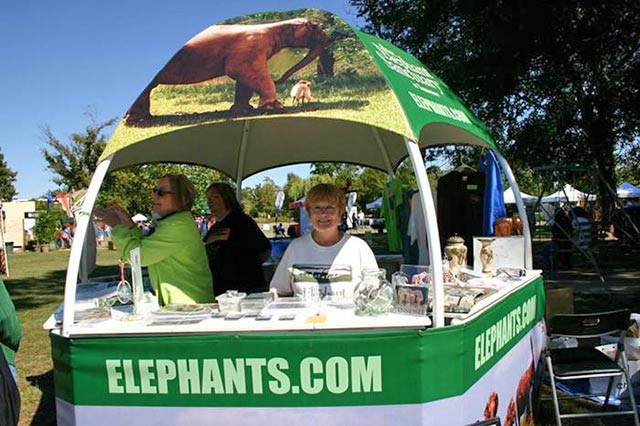 Trumpets to our Friends Council for Spreading Elephant Awareness at these upcoming Celebrations!

We're always looking for volunteers to help us spread the word about The Sanctuary and our Girls!

Please contact our Friends Council president, Rosanne Sietins (pictured above with Sheila Kelly and Diane Heise at rlsietin@comcast.net, if you are interested in volunteering for outreach opportunities. Look for our wonderful elephant booth made by Green Mountain Gazebo
June 30th from 10:00 AM – 3:00 PM: Paws 4 Health at the Turnip Truck at 970 Woodland Street, East Nashville. The event is free to the public, and 100% percent of the proceeds will be given to two local animal rescue organizations that provide shelter, foster care, and placement for a large volume of animals, including those with special needs. There will be pet events and nutritional information, food, fun, music, and more. So please make plans for you and your furry family members to join us for this fun and informative event!


August 25th from 9:30 AM – 3:30 PM: The Living Green Expo at the Williamson County Ag Expo Center at 4215 Long Lane in Franklin, TN is a Keep Williamson Beautiful annual event. Over 120 environmentally friendly organizations, educators, and vendors participated last year to promote activities that promote sustainability and green living. The Friends Council will be offering a children's craft elephant activity.


September 8th from 10:00 AM – 4 PM: 28th Annual Nature Fest at Bowie Nature Park in Fairview, TN. Enjoy living history displays, children's activities, live music, entertainment, arts and crafts and the 17 miles of trails through Bowie Nature Park. The Friends Council will be offering a children's craft elephant activity.
Sept 22 from 10:00 AM – 4:00 PM: Nashville's Dog Day Festival at Centennial Park in Nashville. Admission is $5, and children under the age of ten are free with one paid adult! The event benefits the Nashville Humane Association and will feature the Mutt Strutt dog walk, shopping, contests, demonstrations, classes, a doggie fun zone, live music, a kids area, and great food.


October 6th from 11:00 AM – 6:00 PM: Celebrate Nashville at Centennial Park in Nashville, TN. Over 55 music and dance performances on 5 stages. Celebrate Nashville was established to provide an avenue for different cultures to share their traditions through music, dance, activities, food, and crafts. http://celebratenashville.org/


October 13th from 10:00 AM – 6:00 PM: Oktoberfest in Germantown, Nashville. Authentic German food and drinks, a beer garden, polka dancing, street performers, live music, arts and crafts


October 13th from 9:00 AM – 5:00 PM Oktober Heritage Festival in Hohenwald, TN. October is Elephant Awareness Month in Hohenwald. The Elephant Sanctuary's Welcome Center at 27 E. Main will be open in conjunction with the annual Oktober Heritage Festival. Arts and crafts, food booths, entertainment, and a 19th Annual Fall Classics Car & Truck Show will be on Saturday.