Judge delivers scorching decision in Los Angeles Zoo elephant exhibit lawsuit
2012-07-26


Plaintiffs and In Defense of Animals hail win for elephants.
A five-year-long taxpayer lawsuit against the Los Angeles Zoo and its controversial $42 million elephant exhibit was decided today in favor of the plaintiffs. California Superior Court Judge John L. Segal found that the Los Angeles Zoo and its Elephants of Asia exhibit is injuring the three elephants who live there but stopped short of ordering their removal. He issued an injunction that prohibits the use of bullhooks and electric shock, directed the zoo to rototill the soil in the exhibit regularly, and to exercise the elephants a minimum of two hours daily.
In Judge Segal's 56-page decision he repeatedly blasted Los Angeles Zoo staff, elephant care and handling. He stated: "All is not well at the Los Angeles Zoo. Contrary to what the zoo's representatives may have told the Los Angeles City Council in order to get construction of the $42 million exhibit approved and funded, the elephants are not healthy, happy or thriving."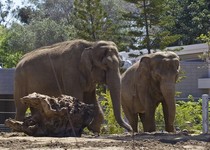 Court Judge John L. Segal found that the LA Zoo and its Elephants of Asia exhibit is injuring the three elephants.
"Today's decision sends a clear message that the Los Angeles Zoo's $42 million exhibit has not improved the elephants' health or well-being," said In Defense of Animals (IDA) Elephant Campaign Director Catherine Doyle. "It's time to close the elephant exhibit and send the elephants to a sanctuary."
Contrary to zoo claims that the new exhibit, which opened in 2010, has enriched the lives of the elephants and allows them adequate room to exercise, Judge Segal called the elephants' lives "empty, boring, purposeless and sometimes painful," and he expressed concern that the animals are controlled by employees who are delusional and remarkably uninformed about elephants.
"This decision cries out for the mayor and the city to take this new information to heart and to reconsider their decision to keep elephants under these conditions at the Los Angeles Zoo," said Attorney David Casselman. "This objective fact-finding unequivocally establishes that the elephants are suffering physically and emotionally and that the zoo does not even recognize these problems."
The lawsuit, filed in 2007 on behalf of now-deceased actor Robert Culp and real estate broker Aaron Leider, sought to stop the display of elephants in a redesigned exhibit that still does not provide the vast space and natural conditions elephants need for health and well-being. A non-jury trial held in June lasted six days.
"I'm pleased that the court rejected the zoo claims about the new exhibit and level of elephant care," said plaintiff Aaron Leider. "While the public may see a "lush" new exhibit, the reality is that the elephants live on barren sand and concrete surrounded by electric fences and wires."
A motion to stop construction of the exhibit, which opened in 2010, was defeated when the L.A. City Council voted in 2009 to build the exhibit. The zoo currently holds a male elephant, Billy, and two females, Tina and Jewel, on about two acres of useable space subdivided into five yards.
To date, 23 zoos have closed or will be closing their elephant exhibits, and that number is expected to increase.
For more information, please visit www.HelpElephants.com
In Defense of Animals is an international animal protection organization with headquarters in San Rafael, Calif. dedicated to protecting animals' rights, welfare, and habitat through education, outreach, and our hands-on rescue facilities in India, Africa, and rural Mississippi.