Endangered Species Conference Moved to Protect Sharks, Rhinos, Elephants
2013-03-20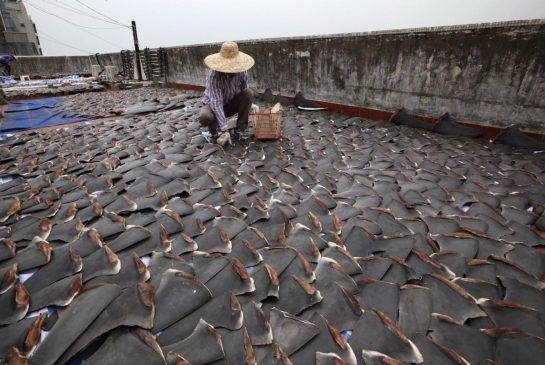 A worker collects pieces of shark fins dried on a rooftop in Hong Kong.
The recent CITES conference added five species of sharks to its protected
marine animals list, tightening restrictions on fishing.
By: Raveena Aulakh Environment,
Published on Mar. 18, 2013

Science, not politics, ruled at the Convention on International Trade in Endangered Species conference in Thailand, says Canada's World Wildlife Fund.

"It was the biggest, busiest and the best," said Ernie Cooper, the agency's Vancouver-based director of traffic and wildlife.

CITES is a multilateral treaty that gives protection to thousands of species of animals and plants; 178 countries are signatories to it.

At the Bangkok conference, which wrapped up Friday, representatives of more than 150 countries spent two weeks talking about sharks, debating elephant and rhino poaching, and fretting about timber smuggling, among other contentious issues.

As many as 70 proposals were tabled, more than ever before, to include species on the endangered list or to change their standing.

The highlights of the conference were:
Three species of hammerhead sharks, along with whitetip and porbeagle sharks and two species of manta rays, were added to the list of protected marine animals. It means fishermen will need a permit from a local authority to fish for them. (Permits are supposed to certify that the fish is caught in quantities that will not lead to extinction.)

At least eight countries were threatened with trade sanctions if they do not stop ivory smuggling. The countries included China, Thailand and Kenya.

The summit also considered compulsory forensic testing of elephant ivory so the criminal chain can be traced.

Vietnam and Mozambique were sternly asked to punish those who traffic in rhino horns; the two countries were called the worst offenders in rhino horn smuggling.

Hardwood species (timber) from Latin America, Asia and Madagascar was also added to the list of protected species. Timber species from Madagascar is widely believed to be smuggled internationally despite domestic efforts.

Governments, for the first time, also agreed to set up a global reporting system to establish how many apes are being taken from the wild to perform in theme parks or to be shown off by wealthy collectors.
But the conference's failure to halt Canada's export of polar bear skins was slammed by many environmentalists.

Studies have shown that two-thirds of the 20,000-25,000 polar bears will disappear by 2050.

The U.S. and Russia agreed there is enough of a threat to polar bears from melting Arctic ice that the additional pressure of hunting bears for rugs should be outlawed. But Canada refused, and won.

Polar bears did not meet the criteria for endangered species, "contrary to popular belief," said Cooper, adding that Canada's intervention was based on "science and nothing else."

While some species were accorded more protection, others, now extinct, were removed from protection lists, including Australia's dusky flying fox and the buff-nosed rat-kangaroo.

The CITES conference is held every three years. Cooper said the last conference in Doha, Qatar, was a disaster. "Proposals were defeated . . . it was disheartening," he said. "This time, it was different."