Rep. Jim Moran Trying to Free Traveling Circus Animals
2014-05-01


Washingron Whispers
By Nikki Schwab
May 1, 2014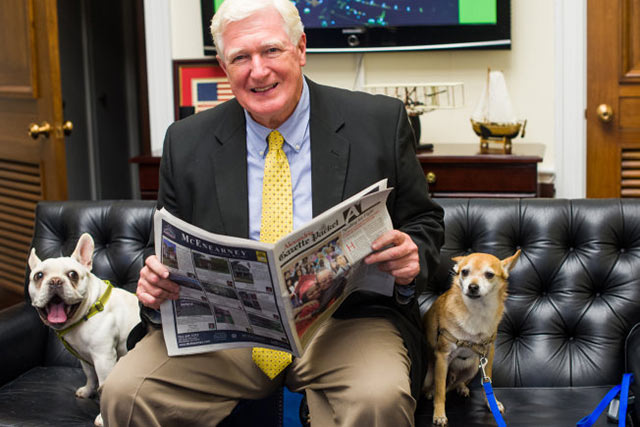 Rep. Jim Moran, D-Va., sits with his staffers' dogs, Oliver, left, and Bunker in his Washington, D.C. office.
Rep. Jim Moran, D-Va., is known as one of the big animal lovers on Capitol Hill – he even chairs the Congressional Animal Protection Caucus. So before he retires next year, he's doing his best to bust out the big guys, like the elephants, from the circus. On Wednesday, Moran reintroduced the Traveling Exotic Animal Protection Act, which would restrict the use of exotic, non-domestic animals by traveling circuses in the United States.

"From video and photographic evidence, it's clear that traveling circuses aren't providing the proper living conditions for exotic animals," Moran said in a statement touting the bill. "The mounting evidence of inhumane treatment and the growing public concern for these animals demands that we reconsider what are appropriate living conditions for these intelligent, social creatures."

[READ: California Lawmaker Introduces 'Blackfish' Inspired Orca Captivity Bill]

The bill was first introduced in 2011 and is being pushed by Animal Defenders International, which has successfully lobbied 27 countries to ban or limit the use of these animals in traveling circuses. ADI's President Jan Creamer said in the United States around 300 animals would be affected by this legislation, mostly belonging to the big circuses like Ringling Bros. and Barnum & Bailey. The number is constantly in flux, she explained, as animals are bought, bred and sold.

"It's a mixture of lions, tigers, bears, monkeys and elephants," she told Whispers. "Really, in circuses, pretty much any animal you can think of can be used in a circus and turn up in a circus."

The animal rights community has long alleged that circuses mistreat their animals. And a 2011 decision by the Department of Agriculture didn't help the circuses' cause. That year, the USDA slapped Feld Entertainment Inc., which produces the Ringling Bros. and Barnum & Bailey Circus, with a record $270,000 fine after they settled claims they had violated the Animal Welfare Act.

Creamer explained the biggest problem is that the animals are almost constantly cooped up and constantly traveling.

"In those circumstances you can never provide those animals with the facilities they need to keep them happy and healthy," she said.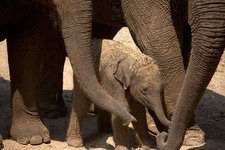 Baby Animals Loving Life (slideshow available in original document)

The legislation would only apply to traveling circuses and thus not impact zoos, aquariums, universities, colleges and other research facilities or the production of films, television shows and rodeos. The bill would also allow circuses to phaseout the use of such animals, so there would be time to find each and every lion, tiger and bear a new home.

Creamer pointed to the recent success of Cirque du Soleil as to how this could be successfully done. "We are not asking much of the industry to retool and modernize and change to human-only performances," she said.

However, Stephen Payne, Vice President of Corporate Communications for Feld Entertainment Inc., gave no inkling that the circuses would ever let this happen.

"This is his second try at a piece of unnecessary legislation," Payne told Whispers, referring to Moran. "And again, it doesn't make sense, it's completely unfounded, it's unnecessary, it will cost jobs and, as well, it might even harm our efforts to conserve an endangered species." Feld explained that a portion of every ticket to the "Greatest Show on Earth" is donated to save the endangered Asian elephant.

"In a way, [Moran's] misguided legislative adventure could have unintended consequences of dooming an endangered species," Payne says. "It seems to be a path he's decided to go down after he's announced his retirement."