May 6, 2015
By: The Elephant Sanctuary
Thank You for Helping Us Reach our 2015 Big Payback Goal!
WE DID IT! A Big 'Trunks Up!' from all of us at The Elephant Sanctuary in Te...

WE DID IT! A Big 'Trunks Up!' from all of us at The Elephant Sanctuary in Tennessee. Your generosity during The Big Payback 2015 will purchase Big Machines for Big Girls! Together we raised $131,766 – exceeding our goal of $50,000 by 162%, and nearly doubling our Big Payback returns from the previous year! WOW!

Not only did your outpouring of support during this 24-hour fundraiser help us to well exceed our goal (and win a video contest!), this remarkable generosity also brought in additional bonus prizes totaling $10,000 to help with the care for Shirley, Tarra, Misty, Sissy, Winkie, Flora, Tange, Billie, Liz, Debbie, Minnie, and Ronnie!

We're delighted too that at least 17 percent of the 1,456 gifts received on May 5th were from first-time donors – with nearly half received during an urgent 7:00PM-Midnight push, when all gifts up to $20,000 were matched by two anonymous donors and Mark McGovern in Miami Beach. By allowing smaller gifts to go twice as far, these awesome matching donors played an essential part in helping raise awareness of the plight of elephants in captivity and the crisis facing elephants in the wild. AND, the Community Foundation of Middle Tennessee was able to secure a $100,000 donation from an anonymous supporter, which will cover 100% of all credit-card and transaction fees associated with all Big Payback donations – meaning, The Elephant Sanctuary will take home the full amount raised for the forthcoming purchase of some Big Machines!

May 5th was a huge win for our Facilities' team, in that Sanctuary will now be able to purchase heavy machinery critical to maintaining a 2700-acre natural habitat providing safe refuge and forever home to former circus and zoo elephants. The Big Machines needed include:



A Track Excavator to move earth and heavy brush throughout the elephants' habitat – including removal of trees that threaten the integrity of elephant-fence lines, or to clear the way for elephants to access new areas to explore.






An All-Terrain Manlift to help our Facilities crew do necessary jobs in the habitat and barns that would otherwise be way out of arm's reach. A Manlift can also help us maintain our system of 14 cameras mounted on towers throughout the 2700-acre preserve, which live-streams real-time footage of elephants via EleCams.


Tange in her habitat, as seen on EleCams



The Elephant Sanctuary made a fantastic showing on The Big Payback Leaderboard, for both the number of individual donors to Big Machines for Big Girls, as well as the total amount given! You can view the Leaderboard results for The Big Payback 2015 here.

Your actions will have a BIG impact on our ability to safely, efficiently, and effectively maintain a BIG tract of land that's well-suited to the health and wellbeing of 12 BIG Girls. Thank you for helping The Elephant Sanctuary to provide the retired ladies entrusted to our care with an outstanding natural habitat, designed specifically around their needs.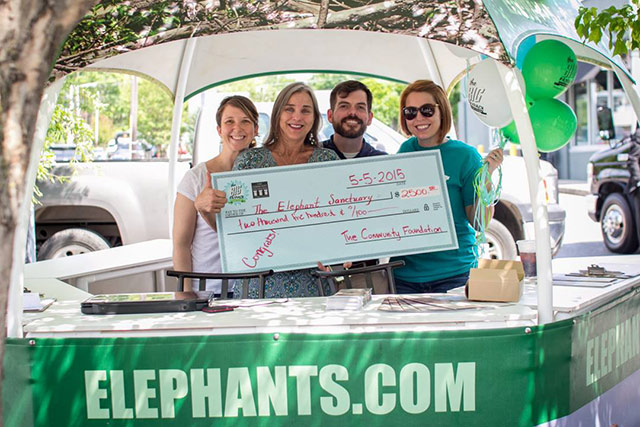 Sanctuary personnel and EleAmbassador Cheryl Heitzman staffed a booth in Nashville's Hillsboro Village on Big Payback day. The Community Foundation's Big Payback "party bus" came by to deliver a $2500 check for a bonus prize The Sanctuary had won that morning (with your help!!) for having the most unique donors between 3AM and 6AM.