August 20, 2015
By: The Elephant Sanctuary
Rest in Peace, Liz
Liz, 2015 Hohenwald, Tenn. (August 20, 2015) The Elephant Sanctuary in Tennessee announced today...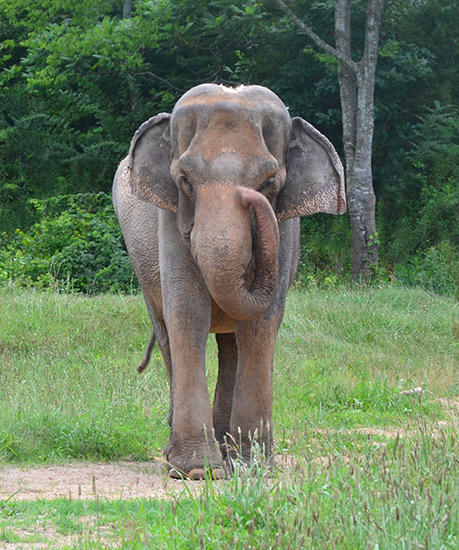 Liz, 2015
Hohenwald, Tenn. (August 20, 2015) The Elephant Sanctuary in Tennessee announced today the passing of Asian elephant Liz, age 58 years. The much loved Liz came to Sanctuary in 2006 after a lifetime of performing. She resided in the Quarantine Barn & Habitat alongside her longtime companion, Asian elephant Billie and their 'herd' mates Minnie, Ronnie and Debbie. Liz was the second oldest elephant to reside at The Sanctuary.
Liz was retired to The Sanctuary at the age of 49. She arrived severely underweight, her trunk mostly paralyzed, and with chronic foot disease and exposure to tuberculosis. During her nine years in Sanctuary, Liz demonstrated a strong will to live her new found retirement to its fullest. She explored all areas of her new home and with free access to elephants she had known but not been close to, she formed lasting and strong bonds. Liz's sweet demeanor endeared her to both Sanctuary supporters and staff. In recent weeks Sanctuary Veterinary and Husbandry staff noted Liz losing interest in socializing with her companion elephants, eating less, displaying signs of intense pain and discomfort and declining health. She was moved into hospice care where she received treatment and was monitored closely. After a long history and progression of diseases associated with her life in captivity, Liz was humanely euthanized on Tuesday morning. She passed calmly and peacefully in the company of those who cared for and loved her.
"She was very special," said Elephant Sanctuary CEO Janice Zeitlin. "Liz came to Sanctuary suffering from the ill effects of life in captivity; she was never healthy or robust, but she made the most of every day by exploring her habitat and surprising both her elephant companions and her Caregivers with her continuous vocalizations. She will be greatly missed"
About Liz
Little information is available regarding Liz's early years. In 1963 at the age of 6, she began performing at Benson's Wild Animal Farm in New Hampshire. Liz was housed with two elephants, Queenie, who would come to Sanctuary with Liz in 2006, and Ruth, now living in the New Bedford Zoo in Massachusetts.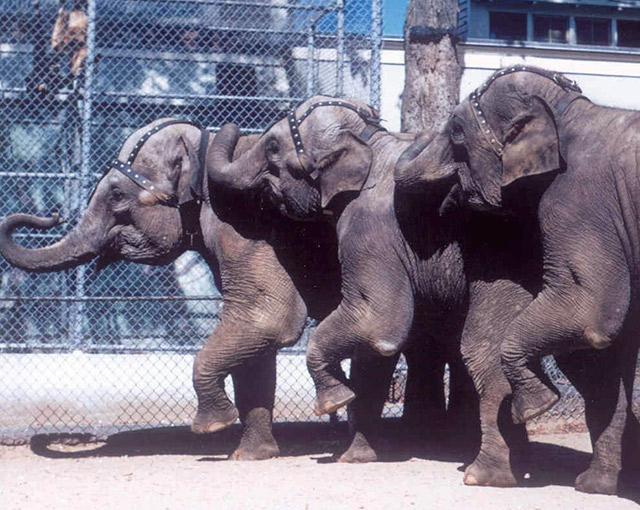 L-R: Liz, Ruth, Queenie performing in late 60s.
After Ruth was sold to a private owner in 1978, Queenie and Liz continued to perform and give rides at the park until it closed in 1987. Both Queenie and Liz were then sold to the Hawthorn Corporation, a company in Illinois that trained and leased elephants for entertainment. They spent the next 19 years traveling with different circuses throughout the country.

When not traveling or performing, all the elephants owned by Hawthorn Corporation were kept chained in a row in a windowless barn. This herd had known exposure to tuberculosis. In 2003-06, as a result of the USDA prosecuting Hawthorn Corporation over multiple violations of the Animal Welfare Act involving inadequate care and mistreatment of elephants, eleven elephants from Hawthorn were retired to The Elephant Sanctuary in Tennessee. This group's poor health and history of exposure to tuberculosis necessitated special care and treatment for each individual elephant. The Sanctuary's 225-acre Quarantine Habitat and adjoining barns were created to provide for their care and safety.

Liz arrived at her Sanctuary home on February 2, 2006, accompanied by Queenie.
Liz was the 18th elephant to retire to The Sanctuary. She arrived severely underweight, her trunk mostly paralyzed, and with chronic foot disease and exposure to tuberculosis. While the cause of her trunk paralysis is unknown, foot diseases are commonly seen among captive elephants when their time is spent restricted to small spaces and/or standing in place on hard substrates with little relief to the bones and joints supporting their massive weight.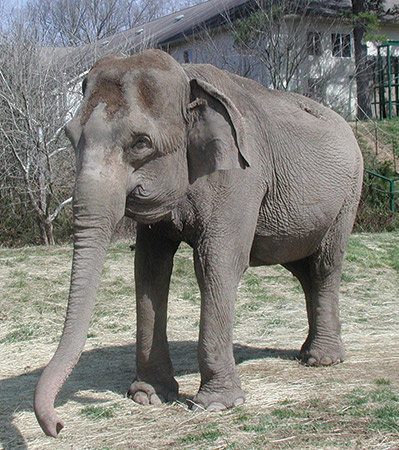 Liz in Sanctuary, 2006
In Sanctuary Liz formed close bonds with fellow former Hawthorn elephants Billie and Frieda. Liz, Billie, and Frieda became a strongly-bonded trio; their vocal reunions after the shortest separations could be heard throughout Sanctuary grounds. Care staff have noted that Liz was a particularly vocal elephant. Her "trademark" vocalizations included deep rumbling, bellowing, and trumpet-like "squeaks" that she made in quick succession. The "squeaks" were sometimes called her "happy noises".

Challenged by her paralyzed trunk, Liz was still quite capable of feeding herself and even dusting and showering. She developed her own style of grasping food and swinging the bottom of her trunk up into her mouth. She was able to drink water on her own by swinging her trunk to her mouth, or taking the water hose offered by caregivers and putting it directly into her mouth. Liz surprised and delighted her caregivers when she would squirt the hose in the air, giving everyone a bath.

Known to have been exposed to tuberculosis, the elephants from Hawthorn were monitored in Sanctuary for the disease. When Liz was found to be actively shedding TB-bacteria in 2009, she and her two companions were moved to a separate barn and habitat for quarantine and treatment purposes. This barn and habitat is referred to as Phase I. Updates in treatments and monitoring allowed the trio's reintroduction to the larger habitat in late 2014. Phase I barn was renovated in early 2015 and is used as needed for management, care and enrichment of the elephants living in the Quarantine habitat.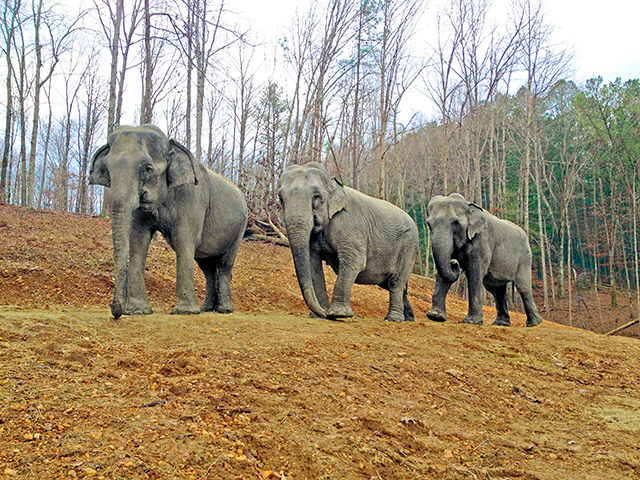 Liz, Billie, Frieda, 2014
Final Days
As Liz's physical activity and social interactions decreased and her health declined, Liz was moved to the renovated Phase I barn for hospice care. The Sanctuary's Veterinary and Husbandry Team monitored Liz's treatment and medical care around the clock. She was responsive and calm. During this time caregivers continued to provide Liz with special treats, favorite foods, including pumpkins and banana leaves, and hand picked browse from areas of the habitat she could no longer access.

After Liz's passing, her longtime companion Billie spent time near 'herd' mate Ronnie. Ronnie was observed touching Billie with her trunk and gently sliding her trunk across her head, neck and back. This was a never-before seen behavior between Billie and Ronnie. The Sanctuary staff is watching closely in hopes these two will develop a closer bond. Liz's body was buried in a favorite area of the Q Habitat where she was often seen, an area known as 'Frieda's Field'. The elephants in Q will soon have access to the areas nearby.
The Elephant Sanctuary is grateful to Dr. Ed Ramsey from the College of Veterinary Medicine at the University of Tennessee and to Dr. Nicole Gottdenker and team members from the University of Georgia for their support and assistance.
* USDA's settlement with the Hawthorn Corporation –as well as what life was like for circus elephants like Liz– is covered in great detail in the nonfiction book, Last Chain on Billie by former investigative journalist Carol Bradley.