July 19, 2016
500 Elephants Find New Home in Massive African Relocation
Associated Press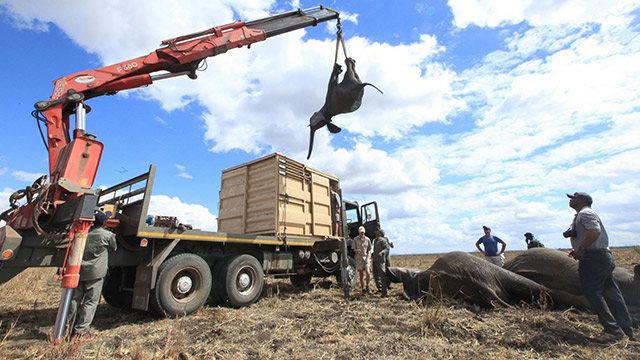 In this Tuesday July 12, 2016 photo, an elephant is lifted by a crane in an upside down position in Lilongwe, Malawi, in the first step of an assisted migration of 500 of the threatened species. African Parks, which manages three Malawian reserves is moving the 500 selephants from Liwonde National Park, this month and next, and again next yuear when vehicles can maneuver on the rugged terrain during Southern Africa's dry winter. (AP Photo/Tsvangirai).
Half a dozen African elephants lay strewn on a riverside plain in Malawi, immobilized by darts fired from a helicopter in a massive project to move 500 elephants, by truck and crane, to a sanctuary for the threatened species.
As development squeezes Africa's wildlife areas, this kind of man-made animal migration is increasingly seen as a conservation strategy in Malawi, one of the continent's most densely populated countries, and beyond.
Read more: http://www.nydailynews.com/news/world/pictured-elephant-lifted-upside-crane-article-1.2717495