August 7, 2015
Austin, TX Council Prohibits Use of Bullhooks on Elephants
Austin Monitor While several bullhooks were brought into C...
Austin Monitor
August 7, 2015
by Audrey McGlinchy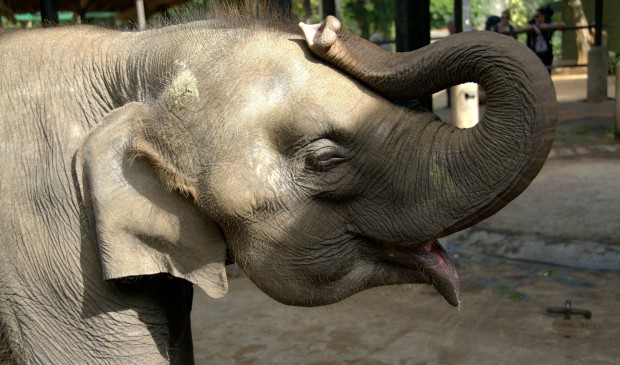 While several bullhooks were brought into City Council chambers as evidence Thursday – one even passed around on the dais – these instruments, used to train circus animals, will be prohibited from use on elephants within city limits starting in fall 2016.

Critics of bullhooks say the sharp-tipped tool breaks the skin of elephants, causing them injury and pain. But Bill Swain, an elephant owner and trainer who spoke before Council, said it wasn't the tool but how you used it that constituted torture.

The animal cruelty ordinance approved by Council on Thursday passed only after Council members squabbled over both the effective date and breadth of the ordinance, eventually passing a law that would apply to all elephants – not just those in the circus – and goes into effect Oct. 1, 2016.

An original section of the ordinance, which detailed specific types of torture to prohibit – including scarring an elephant, using electricity on it or displaying a pitchfork, ax handle or baseball bat near it – was struck from the law.

Council Member Don Zimmerman argued that state and federal laws protecting animals from maltreatment had already created a sufficient umbrella and that the city need not pass its own law.

"We already have laws against animal cruelty. If somebody were to do this in Austin to an elephant, they could already be prosecuted, and they would be prosecuted," he said, referring to the specific methods of harm laid out in the ordinance, including using electricity on an elephant to train or control it.

"It's a false accusation against our city to say that we're permitting these things now so we have to pass this ordinance to outlaw them. And I'm kind of offended by that," said Zimmerman.

Council Member Ora Houston also said she did not see the necessity of defining such distinct methods of torture, and moved to have that section struck from the ordinance. That motion passed 6-5, with Mayor Pro Tem Kathie Tovo and Council members Leslie Pool, Greg Casar, Ann Kitchen and Delia Garza voting against it.

Tovo argued that it was important to approve an ordinance with such particular restrictions.

"Our state law prohibits torture but does not articulate the same items that would be in our ordinance," she said. The first bullet point of the Texas Health and Safety Code concerning "Cruelty to Non-Livestock Animals" states that "torturing an animal" is punishable by the law. This new city ordinance, Tovo argued, laid out more clearly the idea of torture.

But what the ordinance lost in specificity, it gained in broadness.

The proposed ordinance before Council would have applied just to elephants within a circus. Kitchen moved to include all elephants. This change passed with a vote of 10-1, with Zimmerman the sole vote against.

During Citizens Communication, representatives from Feld Entertainment, a tour-managing company representing Ringling Bros., said that because the circus trainers use bullhooks on their elephants, an ordinance such as this would affect upcoming shows already contracted and scheduled at the University of Texas' Frank Erwin Center for later this month and in 2016.

But Garza said that was a nonissue.

"If the main concern is the commitments of UT with the circus or contract, we're not saying the circus can't come, we're just saying you can't use bullhooks on an elephant," she said.

Yet, the Council went ahead and voted on an effective date for the ordinance that honored UT's commitment to the traveling circus. While the original ordinance asked for instituting the law starting in this September, Council Member Ellen Troxclair motioned to change that date to October 2016 – following the circus's 2016 show in Austin. That motion passed on a vote of 7-4, with Tovo, Pool, Casar and Garza voting against.

While Mayor Steve Adler voted in favor of both amendments, he said he would pursue a more inclusive animal cruelty law within the city – one that defends not just elephants.

"I don't want these kinds of things to be limited just to elephants," he said, adding that he will refer to a Council committee to look into drafting an animal cruelty law that applies beyond a single species.