July 1, 2015
Changing the World With Film
Aspen Ideas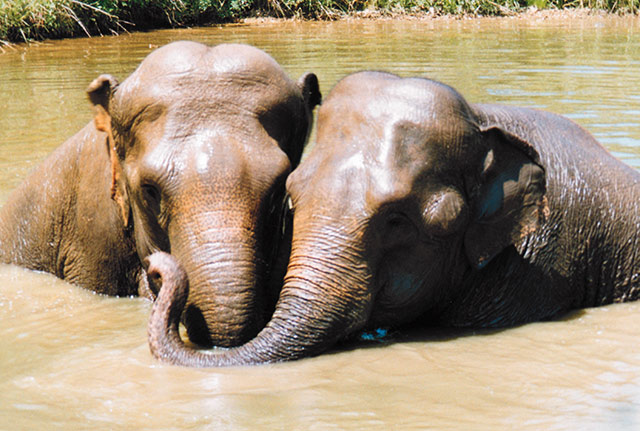 Best friends, Shirley and Jenny.
They say an elephant never forgets and I've seen it first-hand. I was 24 years old, on a shoot for National Geographic Television in Monroe1, Louisiana, a small Southern town still clinging to the past. At the Louisiana Purchase Gardens and Zoo 2, I met a crippled former circus elephant, Shirley, who had lived alone for over 20 years. Elephants are a matriarchal species with a tight family hierarchy and close bonds. For Shirley, living without any other elephants would be like any of us living in solitary confinement. Except she wasn't entirely alone. She had Solomon, a zoo keeper with no formal training, but a deep bond with Shirley. Each day he cared for her, loved her, and did his best to make up for her loss of an elephant family. She was kept on chains in Shreveport and Solomon would bath and feed her daily.

After 22 years of solitary living, we filmed her transport to The Elephant Sanctuary in Hohenwald, Tennessee, the nation's largest natural habitat refuge for elephants. Solomon made the journey with her. The cameras followed as he unloaded her and helped her get settled into her new home. And as he was saying his goodbyes, unprompted, he turned to the camera and said, "When I saw this place, I told her there'd be no more chains. She's free now... I don't know who is the first to put a chain on her, but I'm glad to know I'm the last to take it off. She's free at last."

To this day, thinking about that moment sends chills down my spine. Solomon was crying, the entire film crew was crying, and I knew we had given audiences an emotional connection to Solomon and to elephants that they would have never experienced through a lifetime of visiting zoos.

The experience didn't end with Solomon's goodbye. A few hours later, Shirley recognized Jenny, a fellow elephant she had known over 24 years ago in the circus. Shirley and Jenny trumpeted and rumbled at each other for hours, their trunks tangled, weaving around one another. Years later, someone posted the video of Shirley's transport and reunion on YouTube. It's been viewed nearly 10 million times, it's helped the Sanctuary raise hundreds of thousands of dollars, and it provided millions of people with a deeper understanding of the complex nature of elephants. The film, "The Urban Elephant," directed by Allison Argo, won two Emmy Awards.

Read more: http://www.aspenideas.org/blog/changing-world-film