Home
/
News
/
World News
/
Elephant Sanctuary Statement on Ringling Bros. Decision to Retire Its Elephants
March 5, 2015
By: The Elephant Sanctuary
Elephant Sanctuary Statement on Ringling Bros. Decision to Retire Its Elephants
Sanctuary resident elephant Billie, retired from a life in circus, is the subject of the criticall...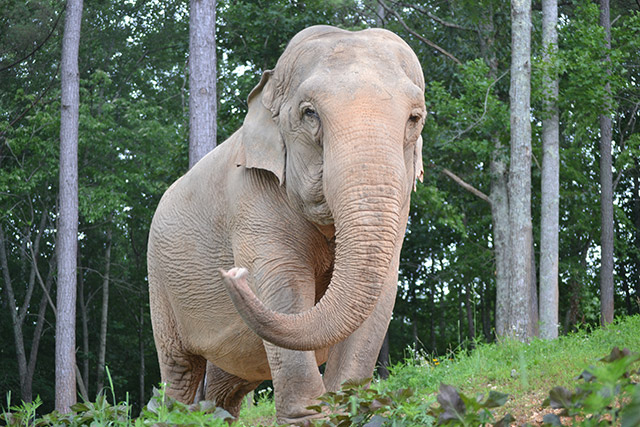 Sanctuary resident elephant Billie, retired from a life in circus, is the subject of the critically-acclaimed
nonfiction book, Last Chain on Billie: How One Extraordinary Elephant Escaped the Big Top
by former investigative reporter Carol Bradley.
The Elephant Sanctuary in Tennessee is very pleased with the news of Ringling Bros. and Barnum & Bailey Circus's plan to retire their elephants from performing.
Feld Entertainment has made an important decision with regard to elephant wellbeing—in fact, a life-changing decision for each individual elephant in their custody.

Over the last two decades of managing and caring for elephants retired from entertainment, our Veterinary and Care staff have observed a long list of medical, physiological, and behavioral issues that The Sanctuary's resident elephants must confront each and every day as a result of their former lives performing and traveling on the road.

The Elephant Sanctuary continues to serve as a forever, natural-habitat home for retired captive elephants in North America. We also work to educate the public about the complex needs of elephants in captivity. We applaud the many other voices and groups that have contributed to growing public understanding of elephants' greater needs—including, among others, longtime champions for animals in entertainment at the Performing Animal Welfare Society (America's other accredited sanctuary for elephants), nonfiction author Carol Bradley (Last Chain on Billie), and novelist Jodi Picoult (Leaving Time).
###
Other relevant stories on this topic:
Ringling Bros. Phasing Out Iconic Elephant Acts by 2018
Novelists Applaud Ringling Bros.'s Decision to Stop Using Elephants
Why Not Retire the Circus Elephants Now?
Photos Reveal Life Inside Retirement Home For Ringling Bros. Elephants
Final Trumpet Sounds For a US Institution as Elephants Say Goodbye to the Circus
Ringling Bros. Elephant Decision Needs To Go Further
Elephant Retirement: Will Ringling Bros. Move Be a Game-Changer?

Animals Don't Belong in American Circuses