November 19, 2015
Should U.S. Zoos be Allowed to Import 18 African Elephants
National Geographic
By Christina Russo, for National Geographic
Thu Nov 19 07:00:00 EST 2015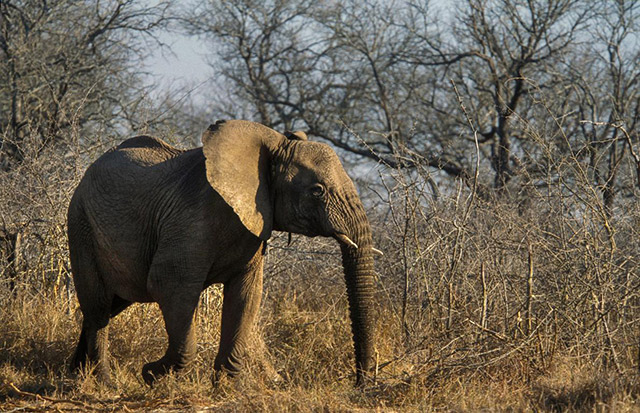 Eighteen African elephants from Swaziland's Hlane Royal National Park, shown here, and from another reserve
could soon be shipped to the U.S. Photograph by Blickwinkel, Alamy
Three zoos in the United States—Omaha's Henry Doorly Zoo, Wichita's Sedgwick County Zoo and the Dallas Zoo—intend to import 18 African elephants from Swaziland. The 3 male elephants and 15 females were born in the wild and range from 6 to 25 years old, according to a press release by the zoos.

The project is being overseen by Room for Rhinos, a partnership between the zoos and officials in Swaziland. The zoos say the move is essential because the elephants are crowding out rhinos and other animals in Swaziland—and if they don't come to the U.S., they'll have to be killed.

In an open letter, 80 conservationists, scientists, and animal welfare advocates around the world have condemned the plan. They argue that elephants confined in zoos display abnormal behavior, suffer physical disabilities, and die young—and too often.

According to the Association of Zoos and Aquariums, which promotes and oversees zoos in the U.S., there are 160 African elephants and 139 Asian elephants in its affiliated institutions.

Room for Rhinos says the elephants will be housed in top-notch exhibition quarters: Henry Doorly Zoo's elephant habitat is new—part of a $73-million-dollar expansion—and Sedgwick County Zoo's habitat is the third largest in the country.

In Swaziland, a private nonprofit trust called Big Game Parks manages three game reserves, including Hlane Royal National Park and Mkhaya Game Reserve, which hold some 33 elephants.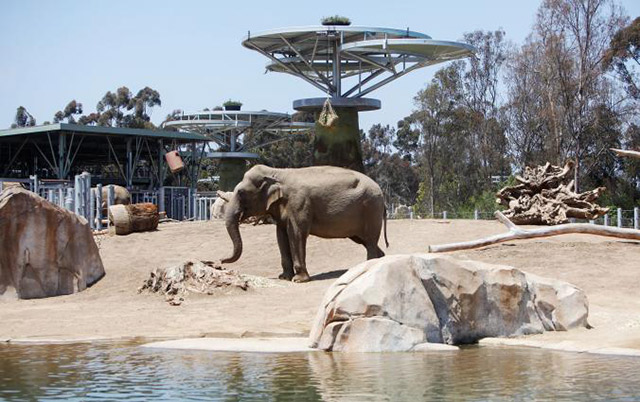 The San Diego Zoo, which imported elephants from Swaziland in 2003, is one of many zoos that has expanded its elephant exhibits in recent years, prompting outcries from conservationists who say elephants suffer in captivity.
Photograph by Lenny Ignelzi, AP
The zoos say they want to bring in the elephants "to improve the sustainability of elephants in North America," according to Dennis Pate, director of the Henry Doorly Zoo. Another reason, as reported in the Omaha World-Herald, is that they plan to use the three male elephants for breeding.

Elephants, especially babies, draw crowds. "It's not a question of 'if' but a question of 'when' we will have young elephant calves born here," said Mark Reed, Sedgwick County Zoo's director, in the Wichita Eagle. "That's going to skyrocket the attendance like nothing ever has here."

In 2012, an award-winning special report by the Seattle Times found that the infant mortality rate of elephants in U.S. zoos was almost triple that of elephants in the wild. "Of the 321 elephant deaths for which the Times had complete records," the report states, "half were dead by age 23, more than a quarter of a century before their expected life spans of 50 to 60 years."

The reporters analyzed zoo fatalities from the past 50 years and found that most elephants "died from injury or disease linked to conditions of their captivity." These included "chronic foot problems caused by standing on hard surfaces to musculoskeletal disorders from inactivity caused by being penned or chained for days and weeks at a time."

Too Many Elephants?

Swaziland has been experiencing a serious drought, and according to Room for Rhinos, the elephants in the reserves are "consuming the parks' tree and plant life faster than it can naturally regenerate."

Room for Rhinos says it's now putting new emphasis on conserving rhinos and that "the habitats currently decimated by the impact of a few dozen elephants have the potential to support hundreds of black and white rhinos." Although African elephants are being poached in the tens of thousands every year, their overall numbers are still estimated in the hundreds of thousands. Rhinos, on the other hand, have been reduced continent-wide to about 25,000.
"What they're doing is farming elephants. They're breeding them to export." Cynthia Moss, elephant expert
The signers of the open letter say the rationale behind the import—that the elephants pose, as Room for Rhinos says, a "significant threat to other wildlife, which range more widely in the major portions of the reserves"—is "highly questionable" and that the plan is "a business transaction" with "no single redeeming virtue."

According to an environmental assessment by the U.S. Fish and Wildlife Service, which is evaluating the import proposal, the elephants lived in two fenced enclosures totaling around 15,000 acres—a fraction of the reserves' total areas.

No information has been made public as to the numbers of rhinos in these fenced areas, nor any documentation of habitat competition between the rhinos and elephants, according to the letter.

If the elephants can't be brought to the U.S. zoos, Big Game Parks claims that the only option is to cull them.

Such a drastic step is "unethical," says conservationist Ian Redmond, ambassador of the United Nations Environment Programme's Convention on Migratory Species and one of the signers of the open letter. "Anyone who has experienced elephant behavior and cognition would see elephants as beings of higher order and intelligence. An elephant is a being who deserves respect."

The Export-Import Approval Process

U.S. Fish and Wildlife Service spokeswoman Laury Parramore said the service "may authorize the import of live African elephants from Swaziland if regulatory requirements under the Endangered Species Act and the Convention on International Trade in Endangered Species [CITES] are met." The service is accepting public comments until November 23 and will take those into consideration when making its determination.

Under international law set by CITES, which regulates the international wildlife trade, Swaziland's elephants are threatened with extinction. Therefore, CITES stipulates, trade in the species must be only be authorized in exceptional circumstances.

Pictures: Elephants Around the World (see slide show Original Article)

That means the import must not be "detrimental to the survival of the species involved" and that the elephants must "not to be used for primarily commercial purposes."

It's unclear under CITES whether a country should consider imports for zoological exhibition a "primarily commercial purpose." But David Favre, an animal law professor at Michigan State University who has written a book about international trade in endangered species, writes that CITES allows zoos to import animals even though they'll make money from displaying them.

"There has never been a conclusion in CITES that zoos are not commercial institutions," says Liu Yuan, a CITES communications officer. "It all depends on the nature of each transaction, and the decision has to be made by the importing country."

Swaziland also must evaluate and approve the transfer, once the U.S. has given approval. Swaziland's CITES official charged with granting an export permit is Ted Reilly, and as it happens, Reilly is also the CEO of Big Game Parks. (Listen to Reilly discussing why the elephants should go to the zoos here).

Neither Reilly nor Big Game Parks responded to repeated requests for comment on the export-import plan.

Déjà Vu

This isn't the first time Big Game Parks has sent elephants to U.S. zoos. In 2003, two of its reserves held 30 adults and 6 calves, and wildlife managers, citing overpopulation, arranged for 11 elephants to go to San Diego Zoo and Tampa's Lowry Park Zoo. The zoos paid $133,000 for the elephants. If this hadn't happened, Big Game Parks said at the time, the elephants would have had to be killed.

Born Free, an animal advocacy organization, sued unsuccessfully to prevent the 2003 export.

What's happening now, says Cynthia Moss, the founder of Kenya's Amboseli Trust for Elephants, a conservation and research organization, "is the same thing, absolutely. Same group. Basically what they're doing is farming elephants. They're breeding them to export."

Will Travers, the president of Born Free, agrees. "I see no logic to this export except U.S. zoos want elephants, and Swaziland would like to have the cash."

The Fish and Wildlife Service reports that the zoos have agreed to give Big Game Parks $450,000 over the next five years in exchange for the elephants.

Big Game Parks's argument that the elephants are destroying the habitat for other wildlife is "nonsense," said Keith Lindsay, a conservation biologist and scientific adviser for the Amboseli Trust for Elephants. "

"They're kept in such small parts of the reserves, and there are huge areas with no elephants," he said. Besides, "Elephants eat trees—that's what they do. If there are a lot of elephants in a small space and not a lot of trees, that's what will happen."

Even if a reserve does have too many elephants, Will Travers says, there are reasonable alternatives to killing some or sending them to zoos.

One possibility is immunocontraception, a non-invasive birth control method that has been used successfully in South Africa. Another is to move the elephants to reserves elsewhere in Swaziland. Reportedly, South Africa has said it would be open to taking them.

As Dereck Joubert, a wildlife filmmaker and National Geographic explorer-in-residence, points out, elephants have been relocated successfully before, including from Botswana to Angola and within Mozambique and Malawi.

"Wild elephants and zoos are a horrible combination," Joubert says. "Elephants need to roam and feed and interact with others daily, hourly, year after year. They need to revisit ancient burial sites and wander ancestral paths. They need the opportunities to be playful, to stand and just be with their sisters and aunts and extended families, and they need to hear a call from five miles away from a nearby clan."

They need to live that way, he says, "to be whole. And they can't be whole in a zoo."

Follow Christina on Twitter.