September 8, 2015
Shrine Circus Producer Removing Wild Animals From Shows
Times Leader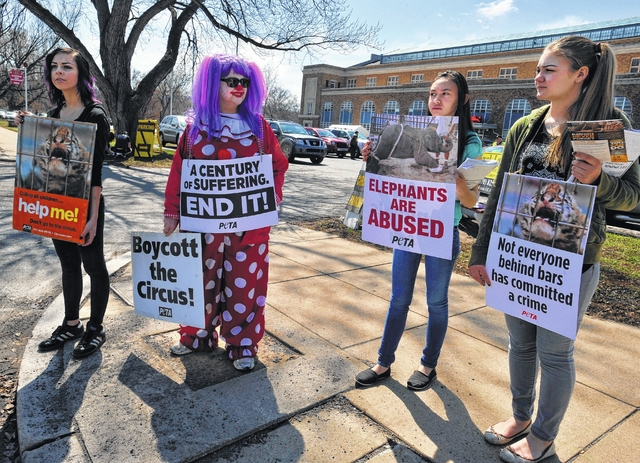 Nikki Kirchner, Silvie Pomicter, Kiah Walsh and Christiana Alexander protest the circus before the opening show at the Kingston Armory for the Irem Shrine Circus in April - Aimee Dilger | Times Leader file photo
WILKES-BARRE — Silvie Pomicter is thrilled that one of the largest Shrine Circus producers in the country has decided to discontinue the use of wild animal acts.

According to PETA — People for the Ethical Treatment of Animals — Bill Cunningham is even taking it a step further, calling on his fellow Shriners to end the use of the wild animals in circuses.

"After 30 years of protesting wild animals in circuses, we are finally seeing the changing attitude of the public," Pomicter, of Chinchilla, said.

Pomicter, the president of Voice of the Animals, said parents and children do not want to see wild animals confined all alone in "beast wagons carted all over the country for 50 weeks a year, beaten, shackled and chained to do silly tricks for entertainment." She hopes more and more circus exhibitors follow suit.

"They want us to be good stewards to animals and want to see them in the wild with their families as nature created them to be," Pomicter said. "One hundred years from now having animals in circuses will be looked at as analogous to owning slaves."

According to the PETA website, Cunningham, owner of the George Carden Circus International — the largest producer of Shrine circuses in the country — is ending wild-animal acts immediately and has asked PETA to help him to spread the word. To do so, a tractor trailer that was once used to haul big cats around the country has been transformed into a rolling billboard.

The PETA site states Cunningham, a Shriner for his entire adult life, is calling on his fellow Shriners to stop hiring circuses that still force elephants, tigers, lions or other wild animals to perform confusing and often painful tricks.

"The Shrine circus creates lasting memories for millions of American families each year, so we are proud to be an agent of change by helping the Shrine circus evolve," he says on the PETA site.

Cunningham produces circus shows in 100 cities every year.

Calls seeking comment to Cunningham and the Irem Temple Shrine circus office were not returned. The Hanneford Family Circus company is used by the local Irem Temple Shriners.

Pomicter has been protesting the use of animals in circuses for more than 30 years. She said she realizes it won't happen overnight, but she is very pleased with Cunningham's decision and hopes more follow.

Pomicter said she has always loved animals. She said she was watching Ted Koppel on Nightline one evening when a report came on about people clubbing baby seals to death.

"I immediately decided I wanted to try to do something," she said. "Animals are exploited in all segments of society."

Pomicter said some 11 million dogs and cats are euthanized every year.

"I know a lot of people don't go to the circus because they are opposed to the use of wild animals," Pomicter said. "Most people want us to be good stewards to animals."

Pomicter said she uses her voice because animals can't advocate for themselves.

"We need to be their voices," she said. "We need more volunteers. It's morally wrong to use animals in the circus."

Pomicter noted that California recently banned the use of bull hooks to train animals.

"These wild magnificent animals are psychologically stressed, depressed, beaten, abused and spend 23 hours a day either chained by their feet, or living in small cages called beast wagons," Pomicter said. "They have no social interaction and are denied lives with their families like they would have if they were living in the wild. They need to be released to wildlife sanctuaries."

Reach Bill O'Boyle at 570-991-6118 or on Twitter @TLBillOBoyle.