Home
/
News
/
World News
/
Tanzania Elephant Population Declined by 60% in Five Years, Census Reveals
June 2, 2015
Tanzania Elephant Population Declined by 60% in Five Years, Census Reveals
The Guardian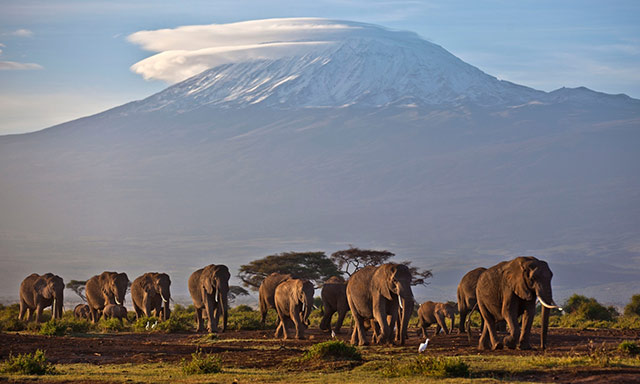 A herd of elephants walks in the dawn light as the highest mountain in Africa, Munt Kilimanjoro in Tanzania, is seen in the background. About 85,181 elephants have been killed in Tanzania in the past five years.
Photograph: Ben Curtis/AP
Tanzania has emerged as the epicentre of Africa's elephant poaching crisis after a government census revealed it had lost a "catastrophic" 60% of its elephants in just five years.

The results will pile pressure on a government that has been heavily criticised for its inability to stop a flood of poached ivory being stripped from its national parks.

Tanzania's elephant population is one of the continent's largest. But data, released on Monday by the Tanzanian government, showed that between 2009 and 2014 the number dropped from 109,051 to 43,330. When an annual birth rate of 5% is taken into account the number of dead is 85,181.

The census reveals a loss to Africa's elephants far greater than declines reported in Mozambique last week.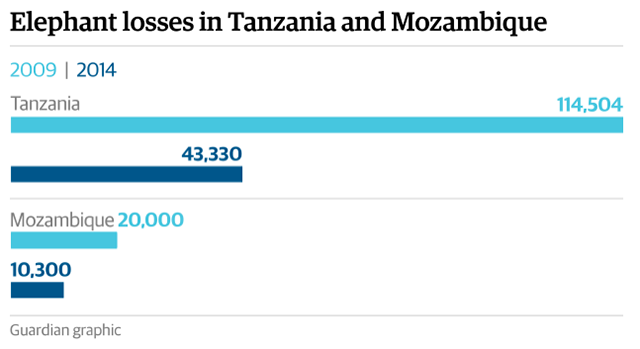 The country's minister for natural resources and tourism Lazaro Nyalandu said the situation was "unimpressive".

"It is evident that elephant population in Tanzania has reached unprecedented low level," he said. Tanzania's wildlife rangers may be trained as a paramilitary as part of a government action plan to combat poaching, which Nyalandu identified as the "probable reason" for the decline.

Read more: https://www.theguardian.com/environment/2015/jun/02/tanzania-epicentre-of-elephant-poaching-census-reveals