March 31, 2016
Target Training Rescued Elephants in India
Huffington Post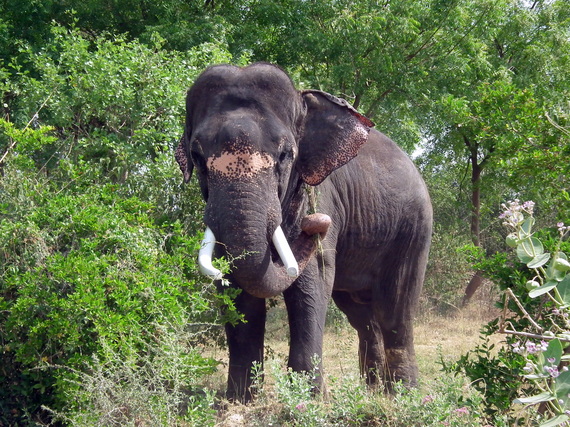 A handful of peppermints clasped in his palm, the keeper calmly issues a command to the massive tusker before him. The elephant, Rajesh, turns slowly and presses his ear against an opening in the green "wall" of pipes separating him from the keeper.

"Good boy, Rajesh!"

Approval received, Rajesh sneaks his powerful trunk through the piping of the "wall" and the keeper drops a peppermint or two to the eagerly waiting elephant.

Rajesh munches happily on his reward, satisfied, and oblivious to a second set of hands on his ear. With steady confidence, veterinarian, Dr. Vibha Raghuram identifies an artery on Rajesh's ear and carefully draws a sample of blood from the bull elephant.

Dr. Vibha's outward composure is deceptive, and the joy erupts out as soon as the procedure is complete. This is the first time she has drawn blood from Rajesh- and he is even in musth, and would typically be aggressive. In fact, this is the first time blood has been drawn from a bull elephant in India, with no violence, force or sedation!

Read more: http://www.huffingtonpost.com/wildlife-sos/target-training-elephants_b_9576228.html