February 4, 2016
By: The Elephant Sanctuary
The Elephant Sanctuary Commemorates 10 Years with the Hawthorn Herd
Press Release
February 5, 2016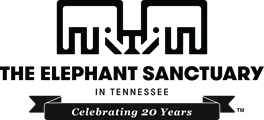 Ten years ago, The Elephant Sanctuary in Tennessee welcomed eight new residents – elephants transferred from the Hawthorn Corporation, a company in Illinois that trained and leased elephants to circuses. Their move to The Elephant Sanctuary, the result of a lawsuit filed by the USDA against the Hawthorn Corporation, closed a sad chapter for each of the elephants.
On Feb. 20, The Elephant Sanctuary will celebrate the 10th anniversary of the start of a new chapter in the lives of all 11 resident elephants formerly owned by the Hawthorn Corporation. Delhi was confiscated by USDA and placed in The Sanctuary in 2003. Misty and Lota joined in 2004. Minnie, Lottie, Queenie, Debbie, Ronnie, Billie, Frieda and Liz all came to The Sanctuary in early 2006. All found refuge at The Elephant Sanctuary. Special presentations about the elephants will be a part of the day-long celebration at The Elephant Discovery Center in Hohenwald, TN. There will be a presentation by Sanctuary staff at 1:30, and family-friendly activities from 11 a.m. to 4 p.m.
When not traveling or performing, the elephants were kept chained in a windowless barn and had known exposure to tuberculosis. Through the dedicated care and expertise of veterinary staff at The Sanctuary, all elephants have been treated.
"Sadly, most of the elephants came to us with chronic health issues stemming from the impact of performing and lives in captivity," said Janice Zeitlin, CEO of The Elephant Sanctuary. "This day will be to honor their memories while we celebrate those who are still with us and thriving."
The five elephants from the original Hawthorn Herd who continue to enjoy life at The Elephant Sanctuary -- Misty, Minnie, Debbie, Ronnie and Billie – have found renewed health and bonding over the decade they have spent in The Sanctuary. Debbie, Minnie, and Ronnie have become close companions in their time at The Sanctuary. Minnie arrived at The Sanctuary on Jan. 31, 2006, with Ronnie and Debbie following together a week later. Both Ronnie and Minnie are now 50 years old, and Debbie, at 45, is one of the youngest members of the former Hawthorn Herd. The three are frequently spotted side by side, traveling together and foraging in the woods and fields they now call home.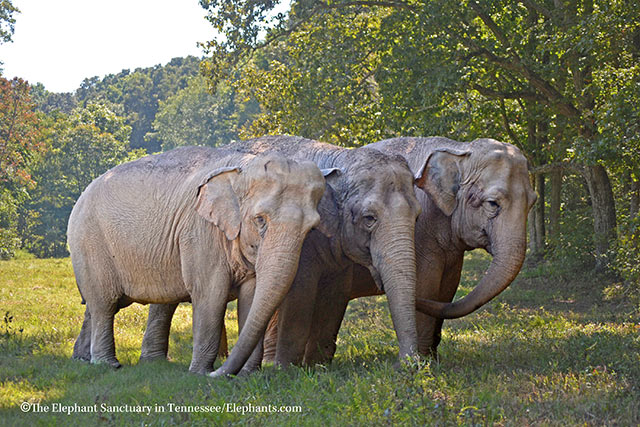 Ronnie, Minnie, and Debbie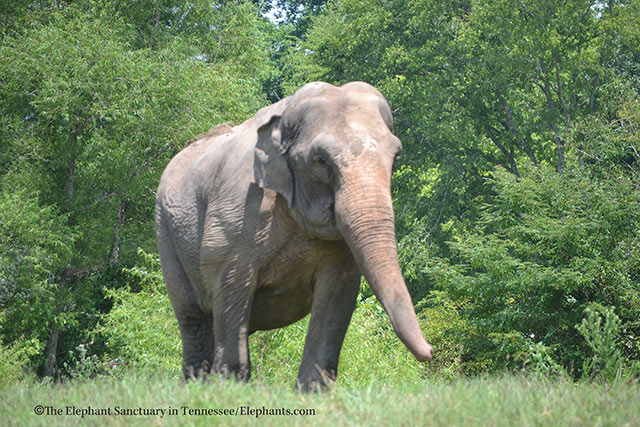 Billie
Billie arrived on Feb. 9, 2006. She developed a strong bond with Liz and Frieda, and this trio was known for their very vocal reunions after even just a short time apart. Although Frieda and Liz both passed away in 2015, Billie, now 54 years old, continues splashing and swimming in the ponds and exploring the habitat at her own pace. Staff is also observing a new relationship forming between Billie and Ronnie. Ronnie was the first elephant seen reaching out to Billie after Liz's passing, even touching Billie with her trunk.
"It is especially gratifying to see them together," said Ms. Zeitlin, "when you consider all they have had to overcome from their years of performing. We believe their lives here have been enriched and hopefully extended by providing them with a natural habitat and optimal care. This makes us very grateful to all who have rallied to support The Elephant Sanctuary in Tennessee and all the elephants living here. The friendship and health the elephants enjoy now could not have been possible without our dedicated staff and committed volunteers and loyal supporters."
In honor of their 10-year anniversary, The Elephant Sanctuary is offering a special adoption package for "The Trio" of Minnie, Debbie, and Ronnie.

Special T-shirts featuring Debbie, Minnie and Ronnie will be available at the celebration on Feb. 20th.
Biographical information on all the elephants of the Elephant Sanctuary is available through the TES web site --- www.elephants.com. For more information on the Feb. 20 activities commemorating the retirement of the Hawthorn Herd, call (931) 796-6500. As an accredited sanctuary, the elephant habitats are not open to the public. There will be no elephants at the event on the 20th.
#