February Events at the Welcome Center
2012-02-14


The Elephant Sanctuary is pleased to announce the Welcome Center in downtown Hohenwald will present a multi-media presentation and informal discussion during the month of February called What makes an elephant – an ELEPHANT?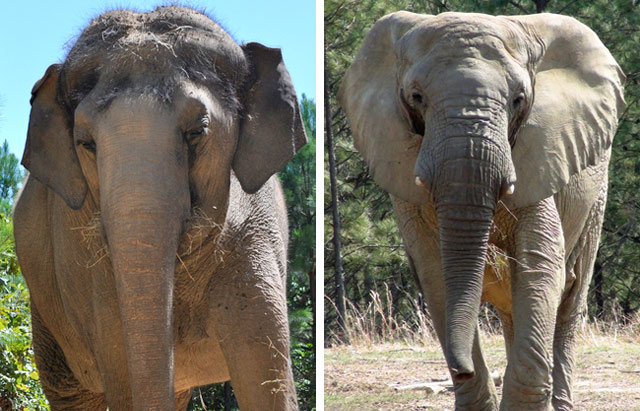 Tarra and Flora
Have you ever wondered…
Is there a difference between the African and Asian Elephants?
How many pounds of food does an elephant eat each day?
Why are African elephants called "savannah makers"?
Do elephants recognize themselves as individuals?
How do elephants communicate over long distances?
What is the life span of an elephant?
Why are elephants endangered?
These questions and more will be answered as you view videos of elephants playing, eating, sleeping and communicating. Visit the Welcome Center and you will discover what truly makes an elephant —an ELEPHANT!
The staff and volunteers at the Welcome Center invite the public to stop by to learn more about our resident elephants through videos and slide presentations given by Sanctuary Staff. A photo exhibit featuring the Sanctuary residents is currently on display. While at the Welcome Center, visitors may also enjoy live streaming video of The Sanctuary's three habitats through our Elecam system.
The Welcome Center will provide opportunities for the public to meet some of The Sanctuary's staff at the following informal Saturday program:
Saturday, February 18th, at 1 p.m. by Caregiver-Education Carol Durham.
The Elephant Sanctuary Welcome Center (27 East Main Street, Hohenwald, TN 38462), is open to the public on Thursdays and Fridays from 11 a.m. to 4 p.m.; and every third Saturday of the month from 11 a.m. to 4 p.m.; other times are available by appointment. For more information, please call Lorenda Rochelle at 931-796-6500 ext. 105.