Adopt a Stray in June in Honor of Bella - Share Your Story
2012-05-10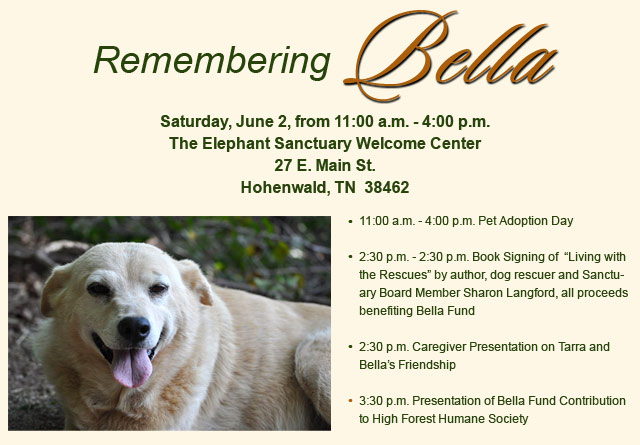 Save the date and mark your calendars for Saturday, June 2nd as we gather at the Sanctuary's Welcome Center and look back at how an amazing relationship between a stray dog and an elephant transcended all barriers and inspired people around the world. Thank You—to all our generous supporters who donated to The Bella Fund. In November and December of 2011, the Sanctuary received over $75,000 in honor of Bella's memory.
In honor of Bella and the unique relationship she shared with Tarra, The Elephant Sanctuary is encouraging the public to adopt a homeless stray from their local shelter or rescue organization in Bella's memory. Participants can share their rescue's inspirational story and a photo on The Elephant Sanctuary's website by clicking here.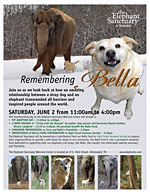 Click image of flyer for a downloadable and printable flyer with the Schedule of Events for Remembering Bella Day. (PDF)
Help us spread the word throughout your community! Encourage friends to adopt a dog at their local Humane Society in Bella's honor.

The Bella Fund is now a permanent memorial fund dedicated to supporting both our elephants and strays, like Bella, who wander into Hohenwald seeking sanctuary and friendship. The Elephant Sanctuary will be presenting a contribution from The Bella Fund to High Forest Humane Society to support their ongoing efforts to provide a safe haven for strays in our community. The heartwarming day at the Welcome Center honoring Bella's life and legacy will include a Pet Adoption Day, Caregiver Presentation on Tarra and Bella's friendship, and a book signing of 'Living with the Rescues' by author, dog rescuer, and Sanctuary Board member Sharon Langford to benefit The Bella Fund.
Come out to The Welcome Center on June 2nd and provide a forever home for a Hohenwald stray in honor of Bella and her legacy. Or, to make a donation to The Bella Fund in honor of her memory, click here.