A Q&A with Bestselling Novelist Jodi Picoult on Leaving Time
The novel is set against the backdrop of a fictional sanctuary whose elephants are based on those residing at The Elephant Sanctuary in Tennessee.
READ MORE...
ALL THE NEWS
November 22, 2014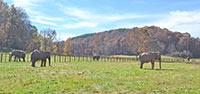 As of November of this year, all of the Q-Barn Girls that tested positive for exposure (Liz, Billie, Frieda, Debbie, and Ronnie) have made great progress with their treatments, minimizing the likelihood that any of them might shed or become symptomatic for TB, allowing them to be reunited as a herd in the Phase II barn and habitat.
READ MORE...
Holiday Shipping Deadlines:
In-Honor Donations
(domestic & international): 12/5/14

International Merchandise orders: 12/9/14

Domestic Merchandise orders: 12/15/14