On the March in Washington, D.C., for Elephants and Rhinos
We are calling our lawmakers to ban ivory trade on this World Animal Day! We are marching against extinction! There are elephant orphans from The David Sheldrick Wildlife Trust marching today with their keepers in Nairobi!
READ MORE...
ALL THE NEWS
October 28, 2014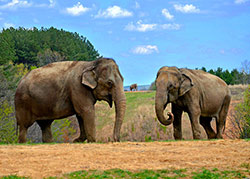 After spending 60 days in "quarantine" –on 16 acres of forest, ponds, and pasture– Sissy and Winkie have been spending the month of October, with its mild days and cool nights, stretching their legs and exploring less-traveled areas of their 2100-acre preserve.
READ MORE...