Carol Bradley's Book Studies Life of Circus Elephants
Bradley's book about that elephant, "Last Chain on Billie: How One Extraordinary Elephant Escaped the Big Top," hit shelves in July 2014.
READ MORE...
ALL THE NEWS
November 22, 2014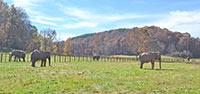 As of November of this year, all of the Q-Barn Girls that tested positive for exposure (Liz, Billie, Frieda, Debbie, and Ronnie) have made great progress with their treatments, minimizing the likelihood that any of them might shed or become symptomatic for TB, allowing them to be reunited as a herd in the Phase II barn and habitat.
READ MORE...
Holiday Shipping Deadlines:
In-Honor Donations
(domestic & international): 12/5/14

International Merchandise orders: 12/9/14

Domestic Merchandise orders: 12/15/14