April 25, 2011
By: The Elephant Sanctuary
April 25, 2011
This past week was full of spring storms: a lot of rain, some loud thunder crashes, and enough lightning to temporarily knock out our Elecam network.

We are often asked, "How do the elephants do during storms?" Here at the Sanctuary each elephant responds differently, but in general, if the storm is pretty severe, the Girls in New Asia head leisurely for the trees taking the weather in their stride. Sissy, who almost drowned in a flood in Texas back in 1981, was initially afraid of water here at the Sanctuary, but in our floods last May she was running, trumpeting and playing in the deluge with Winkie.

When we checked on the Girls during a severe storm of golf-ball-sized hail stones two years ago, we found Misty lying down napping in the middle of an open area, as if she would allow nothing to interfere with her nap time. Shirley always welcomes a storm as a reason to coat herself in a thick layer of mud. During last week's storms she turned a patch of Marcella's into a muddy mess—kicking, scraping mud free with her foot, squishing into it with her head and her rump, and leaving giant footprints. Tarra also covered herself with mud as well as loose dirt, and then the two of them ventured down to the lake during the small hours of the night. Later that night, they wandered further through the storm than they had all week. In the meantime, other elephants made the most of the abundance of mud, Dulary piling it high on her head while Misty covered her sides with it.

The dogs at the barn don't always like thunderstorms, although Bella, who was out with Tarra, is typically unfazed.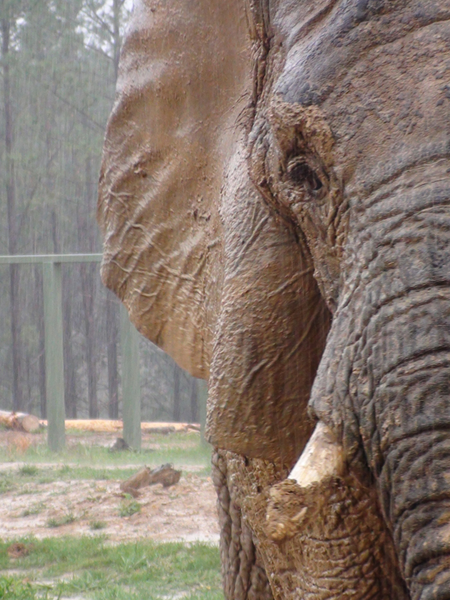 In Africa, at times the raindrops themselves seemed as large as golf balls, and the thunder shook the buildings. During much of this, Tange and Flora took cover in the valleys and pine forests, which seem to keep out the worst of the weather quite nicely. During the heavy rains, the Girls took full advantage of the opportunity to roll in the mud and cake themselves as much as possible. They ventured back out when the sun returned, very content to soak up its warmth and graze on the new, fast-growing spring grass out in the habitat. Things are really "greening up" at the Sanctuary, and it is a welcomed change in landscape from the drab browns of winter foliage.