April 27, 2012
By: The Elephant Sanctuary
April 27, 2012
In Asia: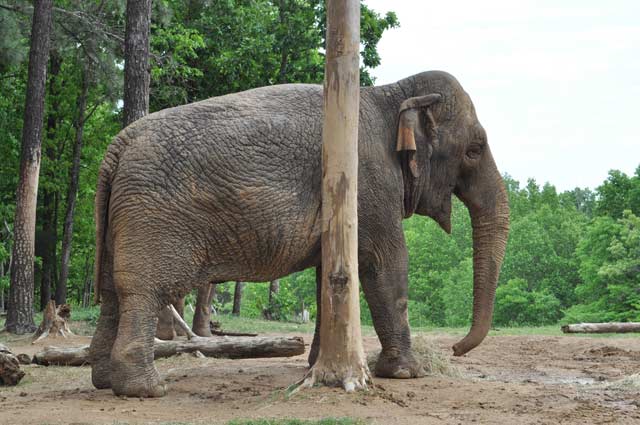 Caregivers Kristy, Katie, and Clint decided to give Misty and Dulary a bath the other day. The Girls had taken advantage of the rainy day and had gotten completely covered in mud after a play session in a wallow. Mud is great for their skin, as it acts as a sunscreen and helps shield them from biting insects, but Caregivers are applying medication to both of the Girls right now. In order for the treatments to be effective, they need to be applied to clean skin. Dulary has a small wound on her ear, and Misty is receiving conditioner for her feet. Caregiver Kristy said, "They were so covered in mud, you couldn't see Misty's eyes or Dulary's back. They definitely had a good time in the rain this morning! We try to give Misty and Dulary a quick rinse whenever we get a chance…. Misty really enjoys baths and Dulary tolerates them quite well as long as there are yummy snacks involved. Both really enjoy drinking the fresh water out of the hose, though, and that takes up several minutes of bath time. We use a special nozzle with several settings and the girls really enjoy the water massage. Misty enjoyed her massaging bath so much that immediately after, she lay down in the stall for a quick relaxing nap. Misty also enjoyed a sprinkler the other day as we set it up to spray into a part of the habitat. Misty stood under the sprinkler for about 20 minutes, continually turning around to get both sides of her wet. Bath time and enrichment in one!"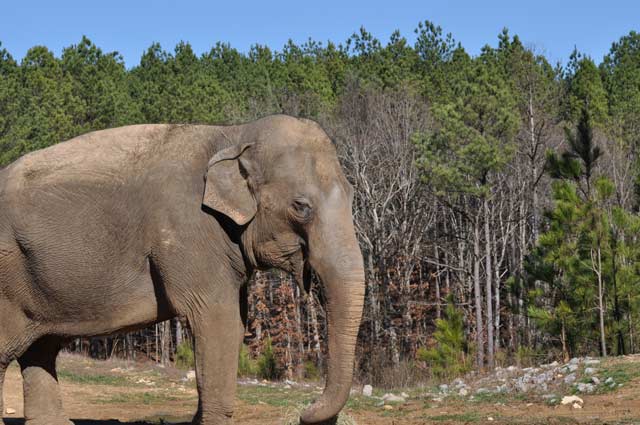 Director of Elephant Husbandry Steve is excited to share Winkie's progress over the past few weeks in PC training, as is Caregiver Katie. The installation of the new PC wall near the Asian Barn has been invaluable, and Katie and Steve have been working with Winkie every morning when she is found near the barn. With experience, they've learned that Winkie is not fond of the target pole invading her space, and has a tendency to eat them when they are used in her training! Fortunately they are made with bamboo and paper towels. Katie says, "Winkie is so smart that there is no need for the target. She can 'lean-in,' 'come here,' and 'back-up' into any position we ask her to get into, all with only hand motions and verbal cues." Since each of our Girls is an individual with different preferences and motivators, it is important to recognize and respond to them during their PC training.

Steve elaborated, "The other day, Caregiver Katie and I worked with Winks after she had her breakfast. We thought it would be a good session since Winks was being very sociable this morning, and man, were we right! Winks came into the stall and we asked for 'Ear' without targeting and lean in. She walked right over to the PC wall, flapped her ear out and tried to slip it into the ear-access window in the PC. She missed the window, set her ear through a slot just next to the window, but was obviously trying to work with us! We rewarded her profusely with goodies, treats and pats, then shifted gears and asked her if we could do a little foot care on her front feet. She eagerly placed her feet right up into the foot access windows in the PC wall and, for the first time, we did some cuticle trimming: she didn't flinch! She did great! We did some nail filing, old school for old Winks: not a problem! Then we tried something new. We asked Winkie to 'lean in' to the PC wall and, while Katie treated her for doing so, I walked around to the back PC wall. Winks watched me walk around, was definitely curious about where I was going or what I was doing, but continued to take treats nicely from Katie. I tapped Winkie on the thigh and asked for foot, and after a little hesitation, up came her back foot, and with a little encouragement, she slipped her foot right into and through the access window for rear foot care! Like she'd been doing it for years! I touched her foot but didn't attempt any foot care. Then we asked her for her other back foot and like an old pro, she set it right up in the access hole! We finished with that and heaped on the positive reinforcement which wasn't hard to do because we were elated. Winks, like so many of the ladies here, is a smart one and it's so rewarding when she's so willing to work with us to provide her health care."

Katie has been very happy to see that Winkie is responding well to her during training sessions. "Winkie already has an affection for Steve, and has been remarkably receptive towards me as well. She is a brilliant animal and she quickly picks up on exactly what we want and is very eager to participate. Our hope is to slowly incorporate others into Winkie's training as she progresses. But right now what Winkie responds best to is the fewest number of participants at any one session and the consistency of only a couple of trainers overall. I have a ton of faith in Winkie and in our methods of working with her. There is not a doubt in my mind that she will continue to progress!!"

At Africa:

Caregiver Kristy said the African girls were quite playful and explorative the other day. "They visited almost every inch of their habitat—I found them in a different area each time I saw them. Even when they were not in view, you could hear them breaking trees in the valley. Flora had a very cute reaction to Tange behind the barn this afternoon. As Tange approached her, Flora lay completely down on the ground and began to roll on her side, very playfully. They touched and rumbled, with lots of vocalizing. The playful interaction was caught on the Elecam for those lucky enough to see it. That moment really showed Flora's youthful side." Kristy also gave the African Girls some enrichment by rolling their two large balls into the ponds for them to fish out. (Flora and Tange added these ponds to their landscape as a part of their endless renovations). Caregiver Kristy said, "I also stuffed some puzzle feeders full of goodies. Then Tange brought back the empty puzzle feeder back from the yard and left it behind the barn for me to find as if to say, 'Can I have a refill?'"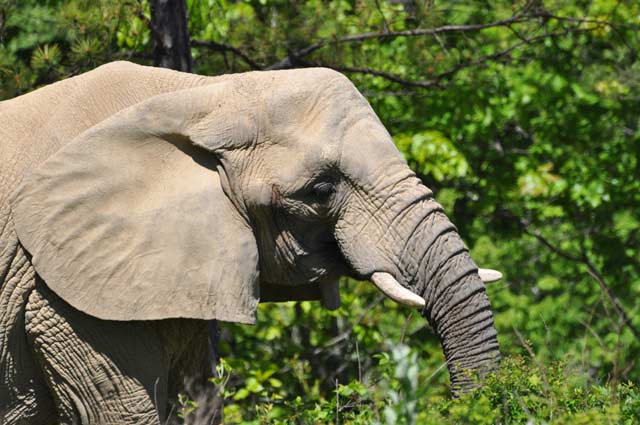 This week we also honor Barbara, who Found Sanctuary April 25, 1996, and Tina, whose birthday is April 26.