March 22, 2017
By: The Elephant Sanctuary
Billie and Ronnie Introductions
Though Billie is often thought of as a loner, now in her 11th year at The Sanctuary, she is finding a new companion in Ronnie.
The Sanctuary's expansive habitat areas allow elephants the freedom to choose where, how, and with whom they spend their time. For some elephants, socialization comes slowly. At The Sanctuary, each elephant is afforded the space to build relationships at their own pace.

On February 9, 2006, at the age of 44, Billie became the 21st resident of The Elephant Sanctuary in Tennessee, arriving with Frieda. They were the last elephants ordered by the USDA to retire to The Sanctuary from the Hawthorn Corporation, a company that owned and leased elephants for entertainment. Billie came with the reputation as a dangerous elephant, and Care Staff noted early on that Billie seemed very fearful. In time, Billie was observed interacting with the other elephants, even going for swims in the pond near the barn. Soon, Billie, Liz, and Frieda began spending most of their time together. In 2015, Frieda and Liz passed away after their long-standing chronic health conditions became progressively worse.

Although Billie continued to appear anxious around Minnie and Debbie, after Liz's passing in 2015, Ronnie was observed reaching out to Billie, touching Billie with her trunk. These behaviors and others led Sanctuary Staff to remark that Ronnie is often the "tie that binds" the Quarantine herd together.
Introductions between Billie and Ronnie increased in frequency according to Billie's expressed comfort in the past two years. By the end of 2016, Care Staff felt confident Billie was comfortable enough to spend extended time with Ronnie in adjacent barn stalls. During these interactions, the two appeared calm and touched trunks, mouths, and faces. Following these positive interactions, Caregivers gave Ronnie and Billie access to the same space for the day. They spent nearly four hours together sharing the barn and Pond Yard—cooperatively and calmly eating hay and browse side by side. With the warmer weather Middle Tennessee has been experiencing, Billie and Ronnie have been given more and more opportunities to spend time together out in the habitat and are becoming increasingly tactile. Billie has been observed putting her trunk in Ronnie's mouth while Ronnie lifts her head, and vice versa. They've also been observed touching trunks and making chirping sounds in one another's presence.
Caregivers are enjoying watching Billie and Ronnie's bond grow, and are looking forward to giving more updates soon.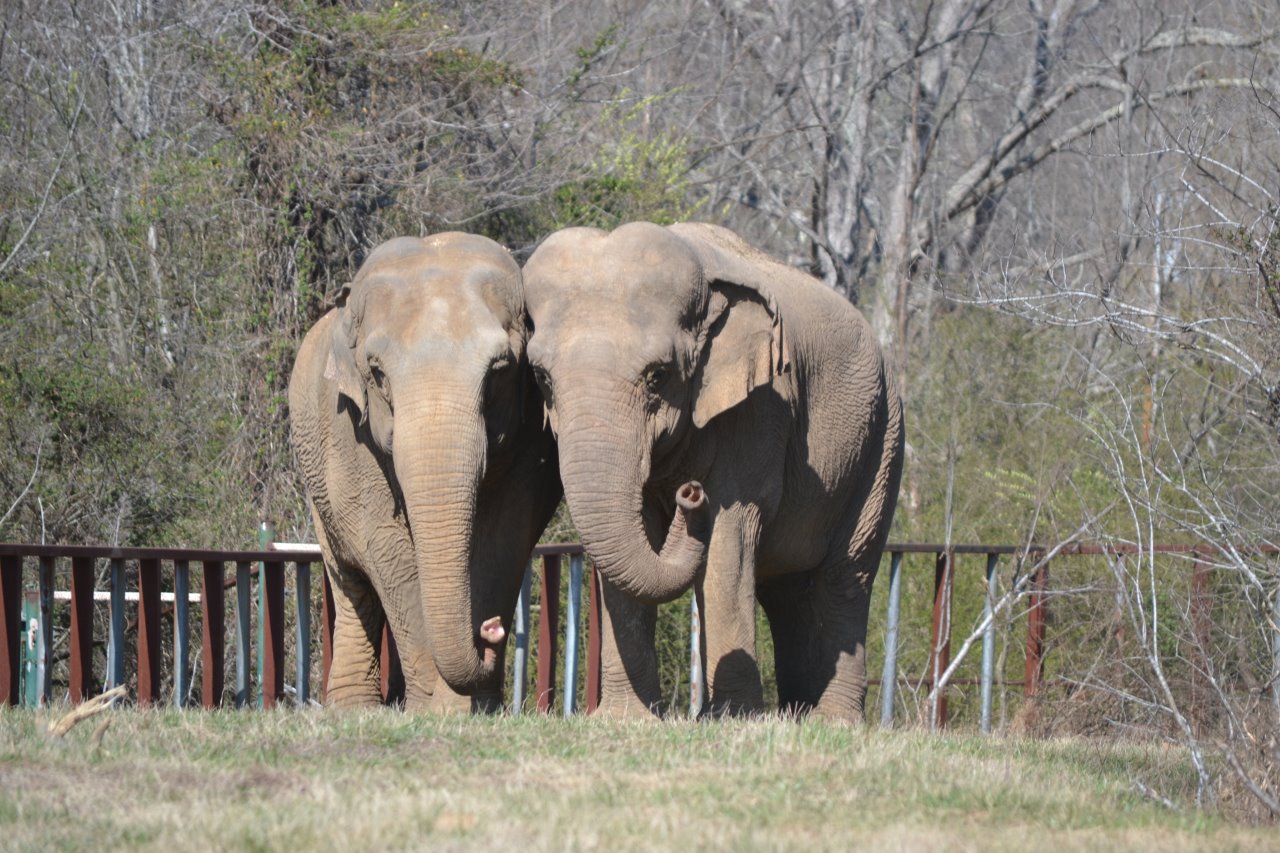 Join the Herd! Your membership contributes to Billie and Ronnie's care. A minimum donation of $50 will receive a tax acknowledgment by email; a subscription to The Elephant Sanctuary in Tennessee's monthly electronic news updates, EleNews (with submission of your email address); and a one-year subscription to The Elephant Sanctuary's triannual newsletter, Trunklines. Become a Member today!