December 31, 2015
By: The Elephant Sanctuary
December 31, 2015
2015 at The Elephant Sanctuary in Tennessee!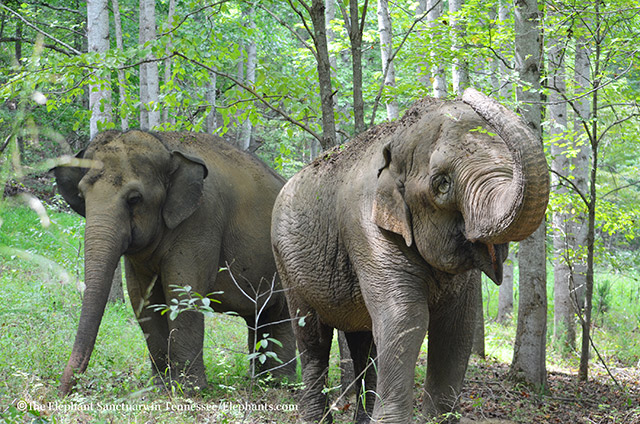 2015 was a year of goodbyes, growth, learning, welcomes and thanks. The Sanctuary invites you to look back with us at an amazing year. Pictured: Tarra (L), Misty
JANUARY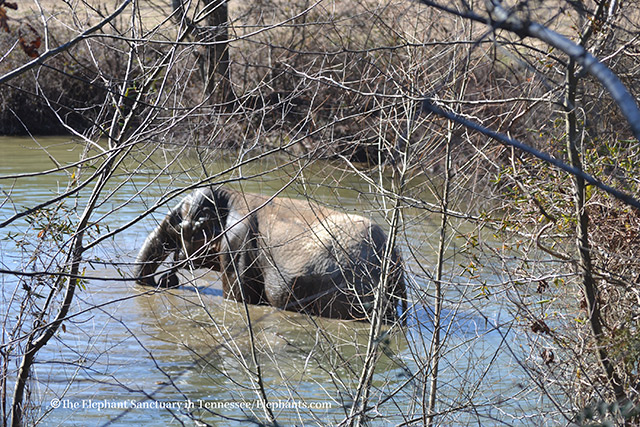 Billie started The Sanctuary's 20th year off by going for a swim in one of the Quarantine Habitat's ponds. The water must have been chilly, but she seemed to enjoy herself.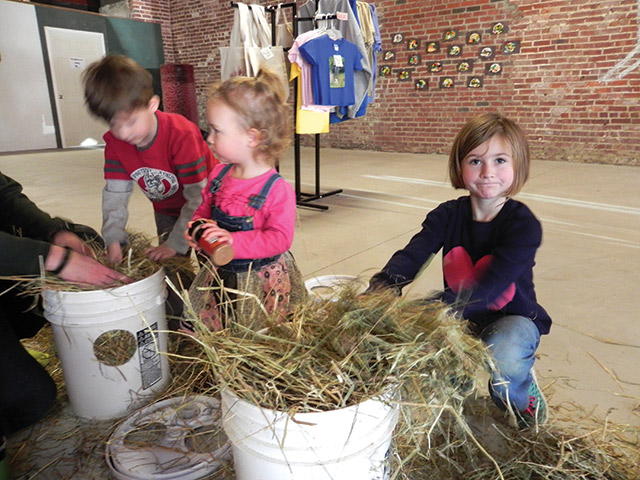 Visitors to The Elephant Sanctuary Welcome Center in downtown Hohenwald, TN helped create enrichment items for the girls, such as special hay feeders, paper chains, and other devices.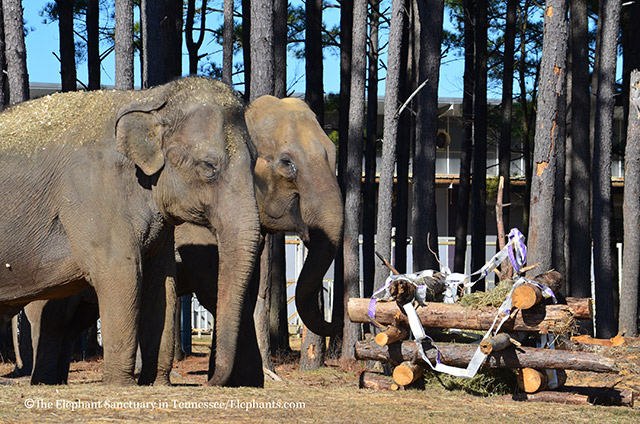 Winkie (L) and Sissy inspect a "log cabin" made for them by Care Staff. It was adorned with the paper chains created by Visitors to the Welcome Center.
FEBRUARY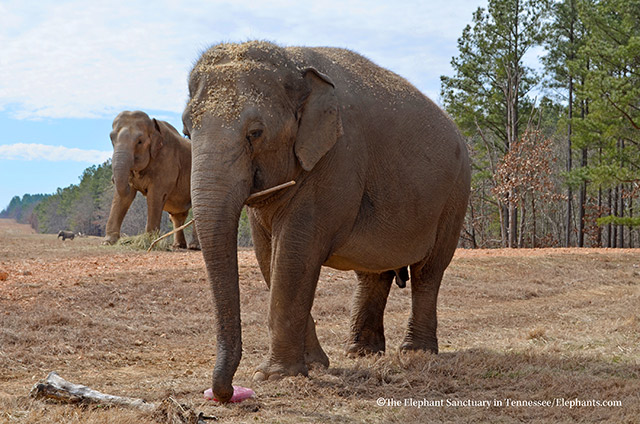 Tarra (foreground), Shirley, and Sissy (background) received special treats on Valentine's Day - large fruit popsicles placed in the habitat for the elephants to discover.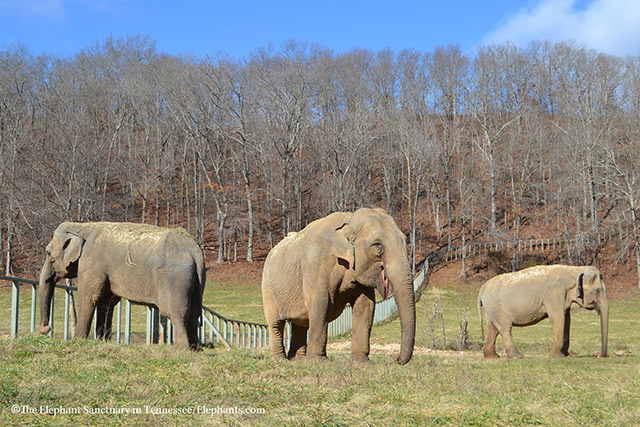 The quarantine Barn trio of (L-R) Frieda, Billie, and Liz spent much of February soaking up the winter sun in the Q Habitat's meadows.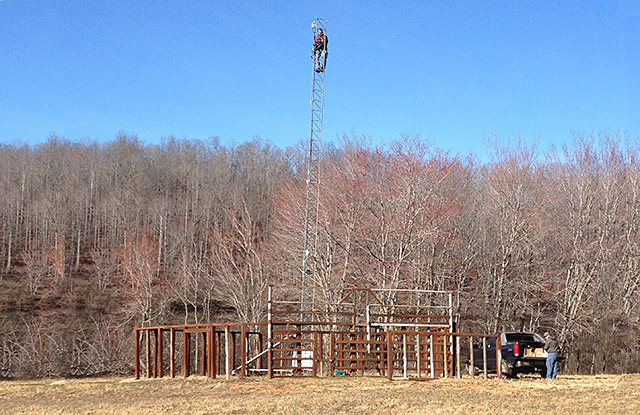 Thanks to donors, new high-definition solar-powered EleCams were installed in the Asia, Quarantine, and Africa Habitats.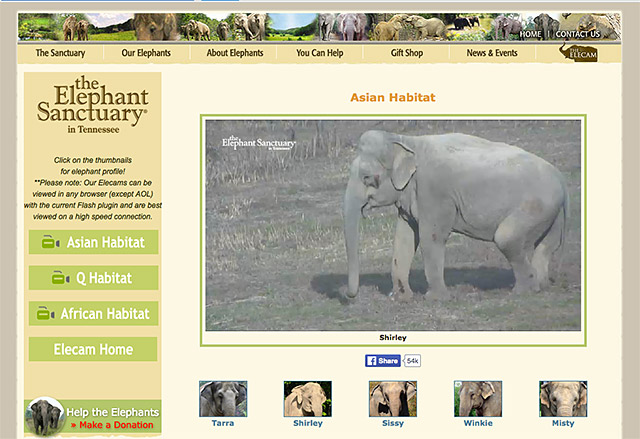 The streaming footage provided by the new cameras has been seen by nearly 2 million viewers in 2015.
MARCH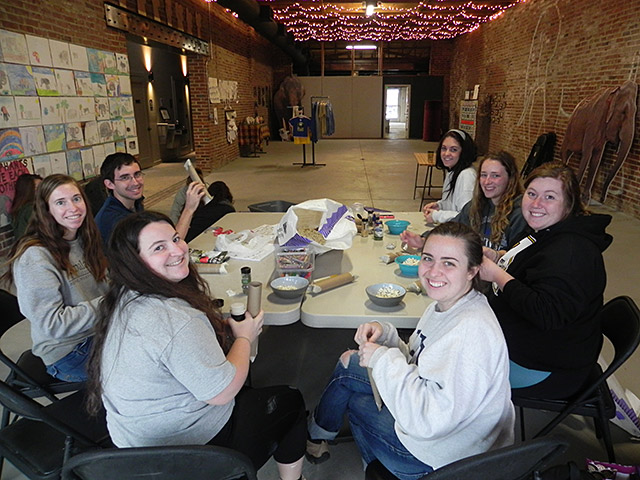 For the third year in a row, students from Appalachian State University spent their Spring Break volunteering at The Sanctuary, painting the new commissary and making enrichment items, among other things.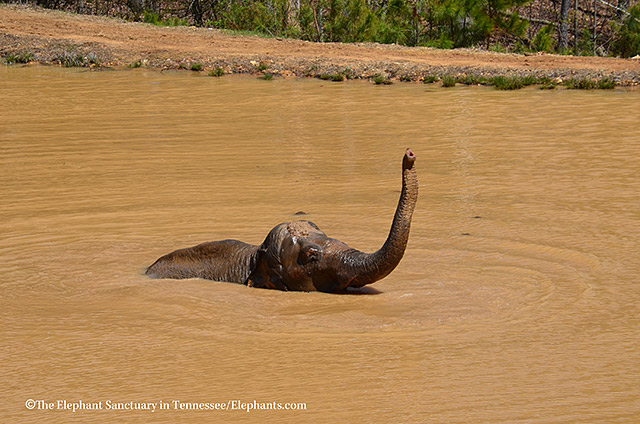 For the second year in a row, Shirley was the first elephant in the Asia Habitat to go for a swim.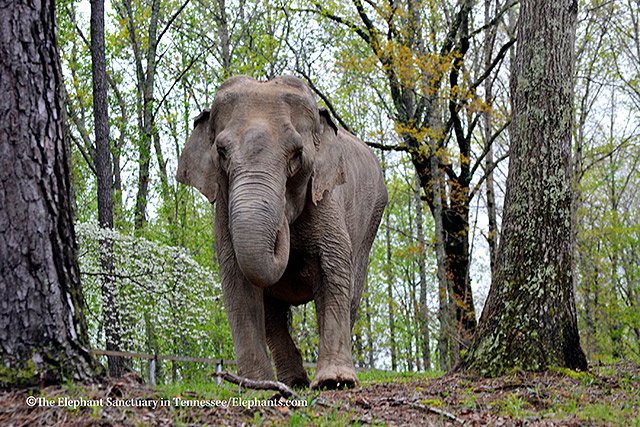 After nine years in Sanctuary, Frieda passed away on March 9th at the age of 49. She arrived at Sanctuary in 2006, after a lifetime of performing in circus, underweight and suffering from chronic medical conditions requiring long-term management and veterinary care. Frieda was known for being the first to explore new areas. Care Staff called her "smart, adventurous, brave, and loving."
APRIL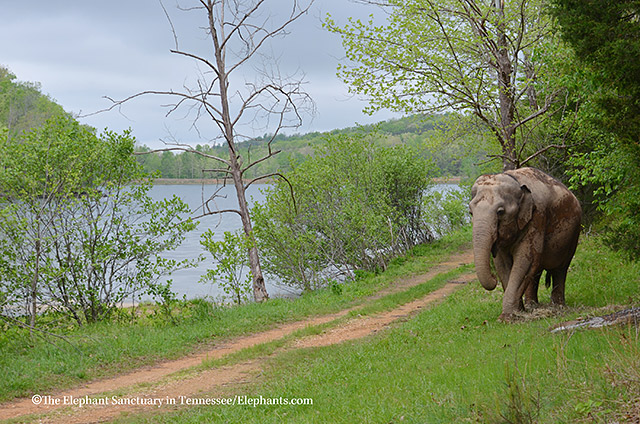 Tarra (pictured) and Shirley left the areas near the barn and headed deep into the Asia Habitat. Tarra was soon spotted in the areas around the 23-acre Highland Lake.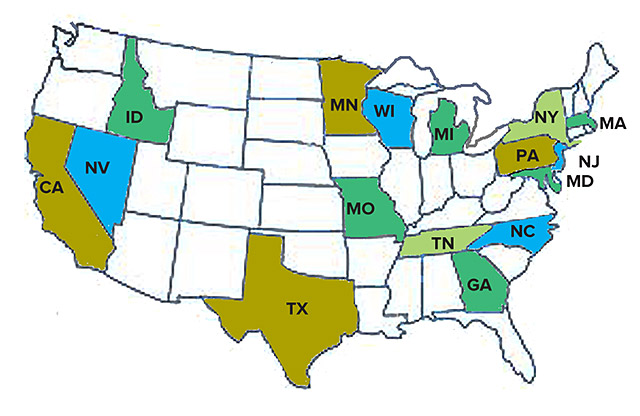 In April, The Sanctuary hosted online Distance Learning programs for nearly 200 students throughout the U.S. From 2014-2015, the number of participants in the Distance Learning program doubled.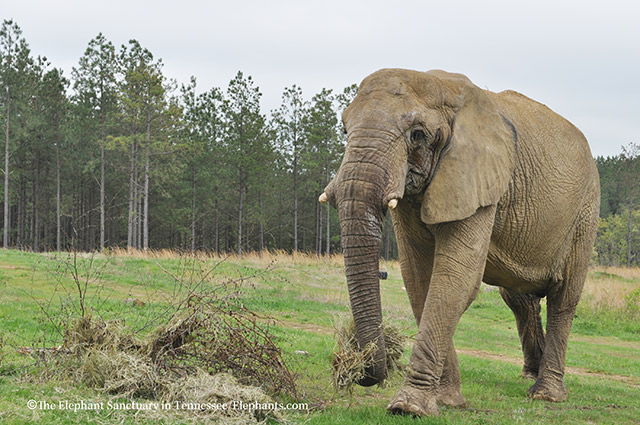 Friends at Amber Falls Winery and Cellars in nearby Hampshire, TN donated harvested grapevines to provide some new objects for Flora's interest.
MAY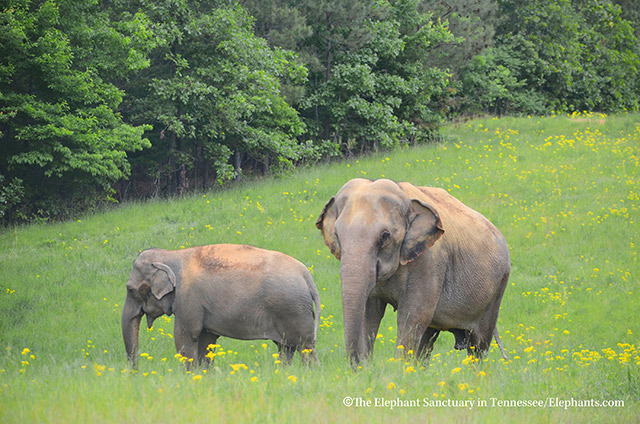 2015 was the 15th year in Sanctuary for Winkie (L) and Sissy. They were spotted often among the wildflowers along the 2nd Pipeline area of the Asia Habitat.


For the second year, The Sanctuary participated in "The Big Payback," a 24-hour online giving campaign hosted by The Community Foundation of Middle Tennessee. Sanctuary members and supporters participated by donating money to purchase four new pieces of heavy equipment that were crucial to making habitat renovations.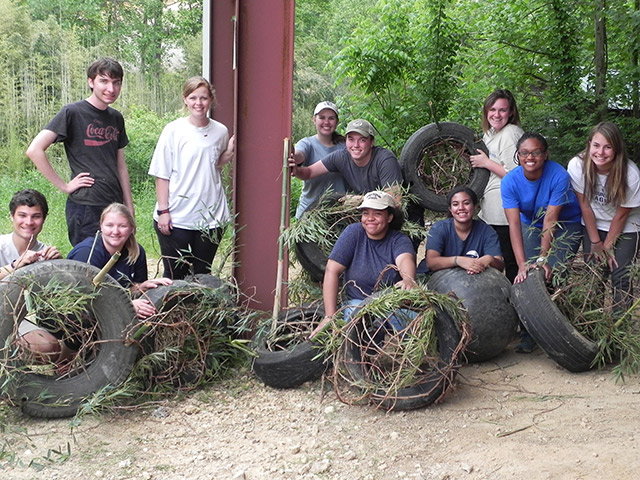 Students from Georgia Southern University spent a week of their summer vacation volunteering at Sanctuary. They are shown here with special "tire-feeders" they created using donated tires and bamboo shoots harvested on Sanctuary property.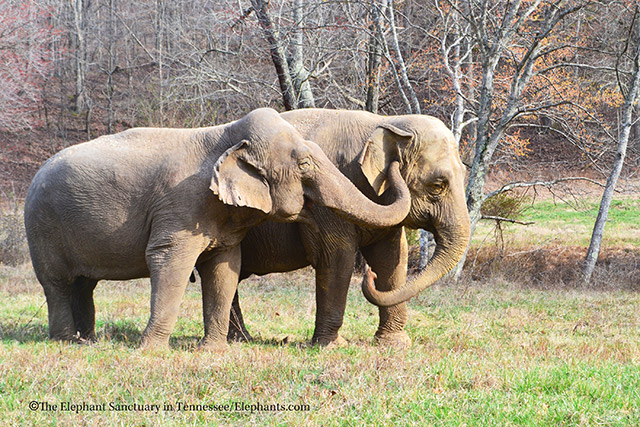 Ronnie (L) and Debbie were often spotted by the Q Habitat EleCam in their valley, almost always together.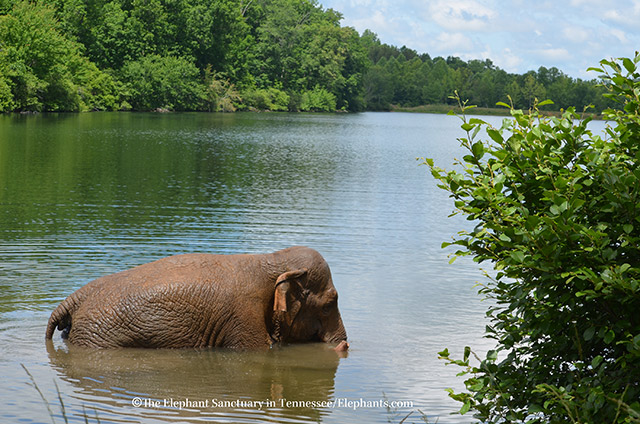 To the delight of Sanctuary staff and supporters, Misty again made the 1-mile journey to the lake in 2015. She was soon spotted in the company of Tarra and Shirley in the woods and fields around Highland Lake. Misty chose to make her first walk to the lake in 2014...her 10th year in Sanctuary.
JUNE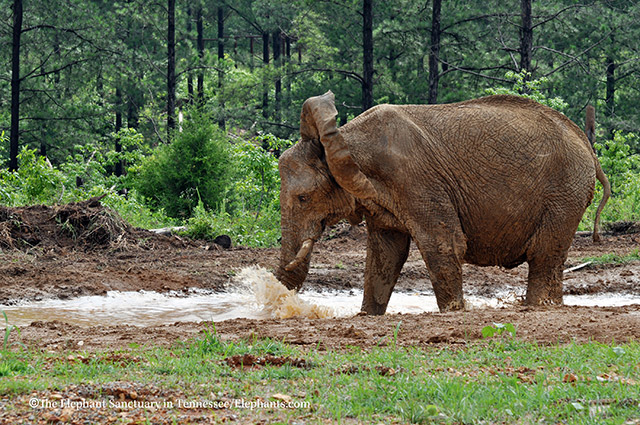 Thanks to a newly purchased track-hoe (one of the "Big Machines" mentioned earlier), Sanctuary Staff were able to dig a new shallow mud wallow in the Africa Habitat. Tange became a regular visitor.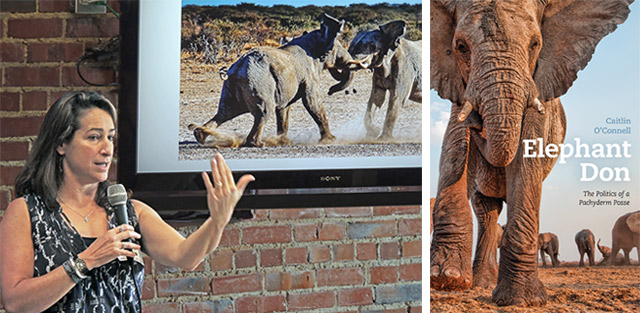 The Elephant Sanctuary welcomed elephant scientist and author, Dr. Caitlin O'Connell, who spoke in Nashville and in Hohenwald about her book Elephant Don: the Politics of a Pachyderm Posse (order here).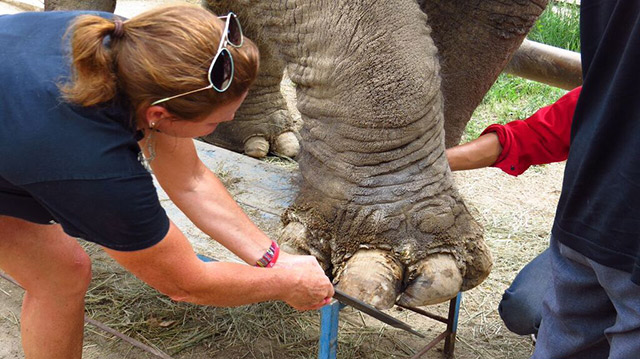 Sanctuary collaborated with the Performing Animal Welfare Society (PAWS) and the Animals Asia Foundation (AAF) to provide consultation on improving elephant wellbeing in Chinese zoos. Sanctuary Director of Elephant Care, Margaret Whittaker (pictured), hosted workshops in China on foot care and protected contact management.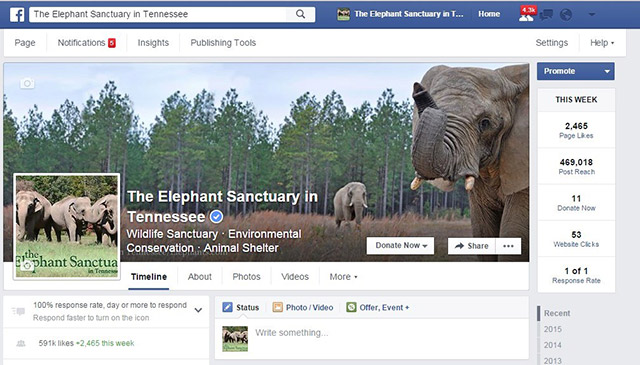 In June, the Sanctuary's Facebook page received its 500,000th "like."
JULY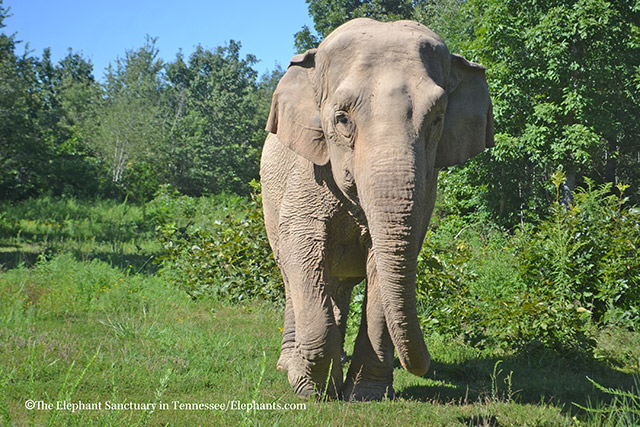 Debbie (pictured) and Ronnie were spotted exploring the ridgetops at the far end of the Quarantine Habitat.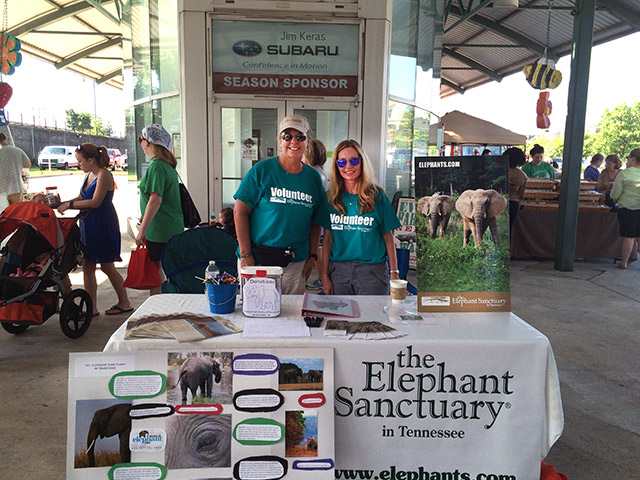 Volunteer "EleAmbassadors" spent 2015 telling their communities about The Sanctuary with presentations and outreach booths, like the one here at the Memphis, TN Farmers Market staffed by Teresa and Carrie. Thanks guys!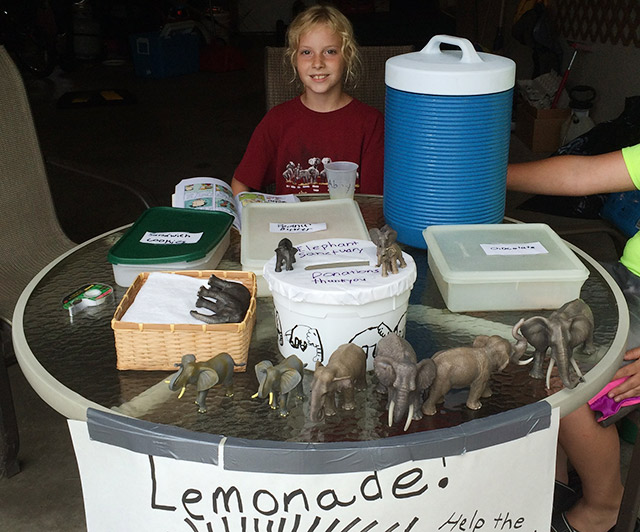 Abby, one of our EleAmbassadors in Minnesota, capitalized on the July heat and set up a lemonade stand in her hometown to raise money and awareness for The Sanctuary.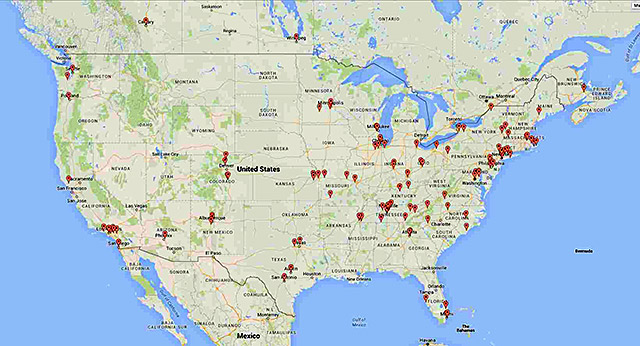 The Sanctuary now has 133 EleAmbassadors like Theresa, Carrie, and Abby all over North America. Contact us if you would like to arrange a visit from an EleAmbassador or if you would like information on how to become one yourself!
AUGUST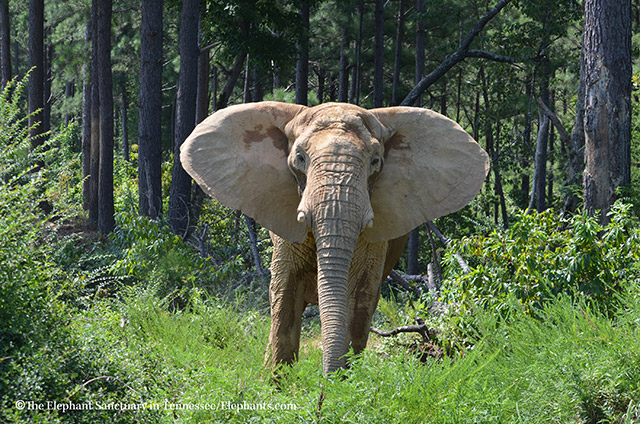 Flora spent much of August frequenting the mud wallows at the tree line in the Africa habitat.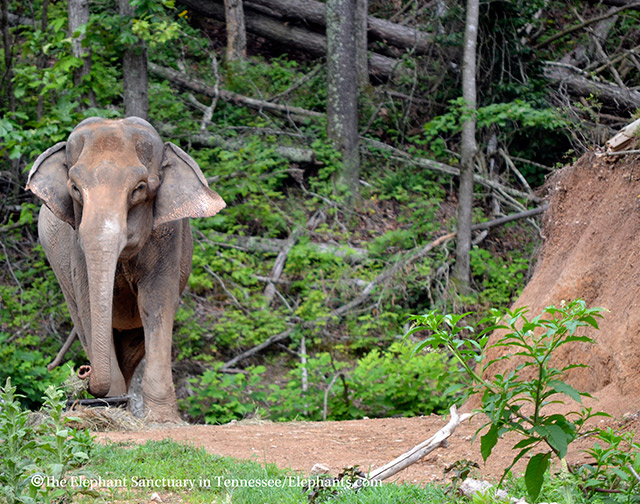 The Sanctuary said goodbye to Liz, who passed away on Aug 18th at the age of 58 after 9 years in Sanctuary. Liz arrived at Sanctuary in 2006, after a lifetime of performing in circus, severely underweight, her trunk mostly paralyzed and with chronic foot disease and exposure to tuberculosis. Liz's sweet demeanor endeared her to both Sanctuary supporters and staff.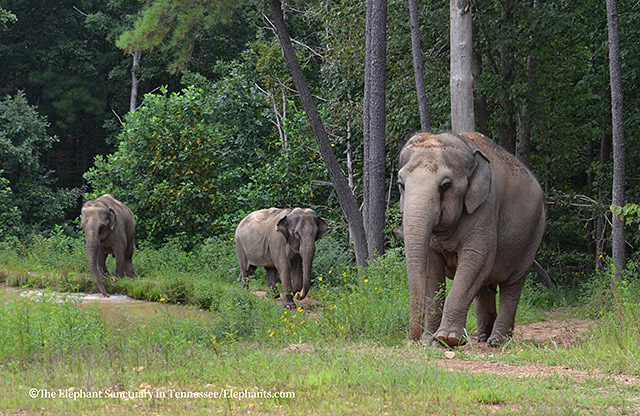 Tarra (R) spent some time socializing with Winkie (L) and Sissy (center) in the South Yard area and near the barn.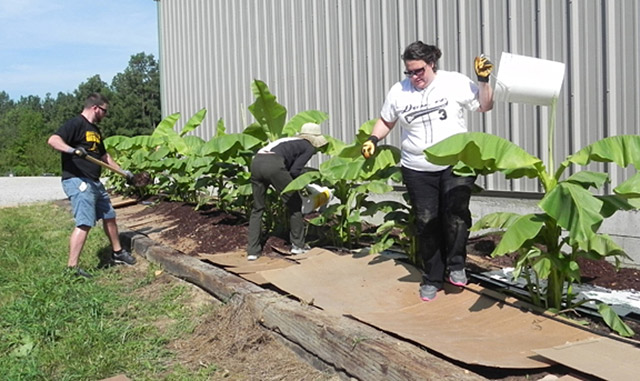 While volunteers don't interact with the elephants, they do help with any number of work projects...like mulching the newly planted banana trees, the leaves of which were used to feed elephants throughout the year. Sanctuary had 86 volunteers over the course of 8 Volunteer Days in 2015.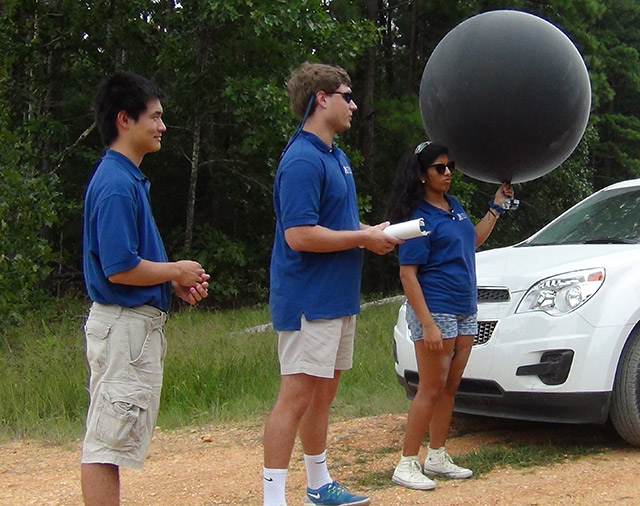 Students from the Duke University Humans and Autonomy Laboratory (HAL) visited Sanctuary to test new technology for unobtrusively monitoring elephants in the forests of Africa...with cameras attached to miniature weather balloons. It worked!
SEPTEMBER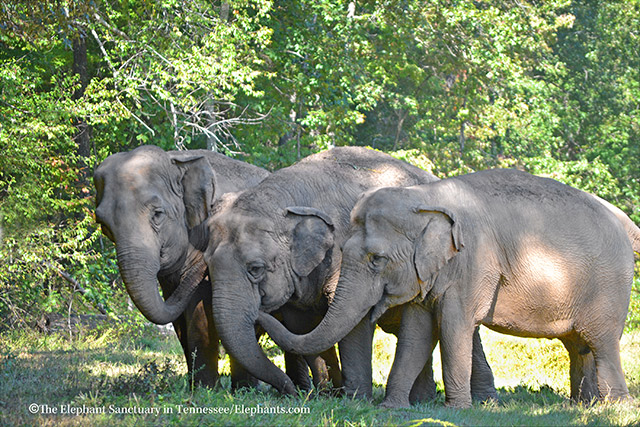 In the Quarantine Habitat, a new trio was formed. After years of supervised "play-dates," Debbie (L), Minnie, and Ronnie decided that they wanted to spend all of their time together...so now they are.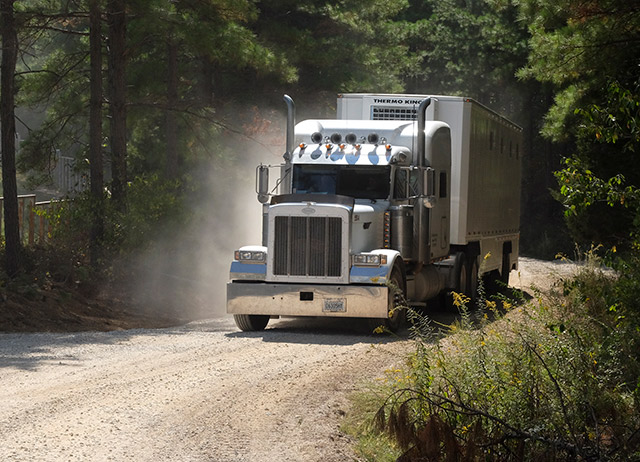 On September 24th, The Sanctuary's newly renovated transport trailer rumbled up the hill to the Africa barn.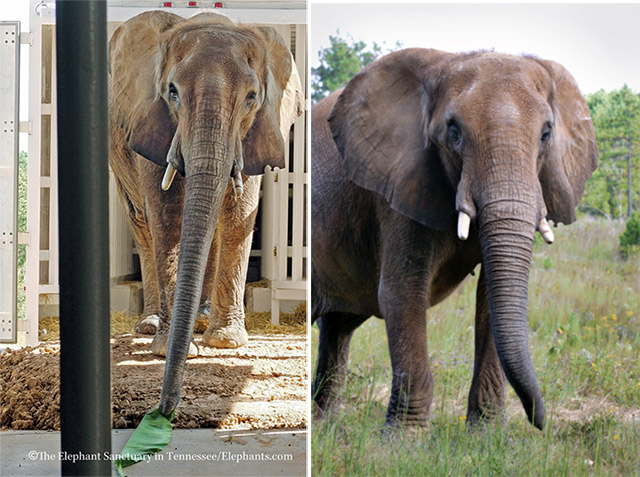 The truck backed up to the barn, and out stepped Hadari - the 25th elephant to retire to Sanctuary. Hadari was born wild in Africa, was captured and shipped to the U.S. as a young calf. Hadari spent 20 years on exhibit at the Nashville Zoo at Grassmere.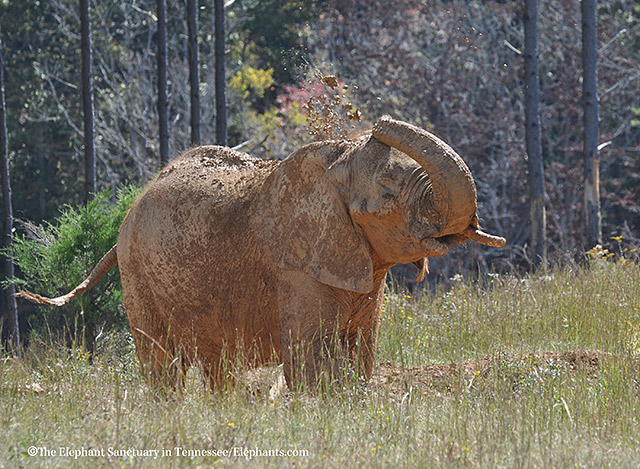 Hadari soon acquainted herself with one of the Africa Habitat's mud wallows, a frequent sight on our Africa EleCam.
OCTOBER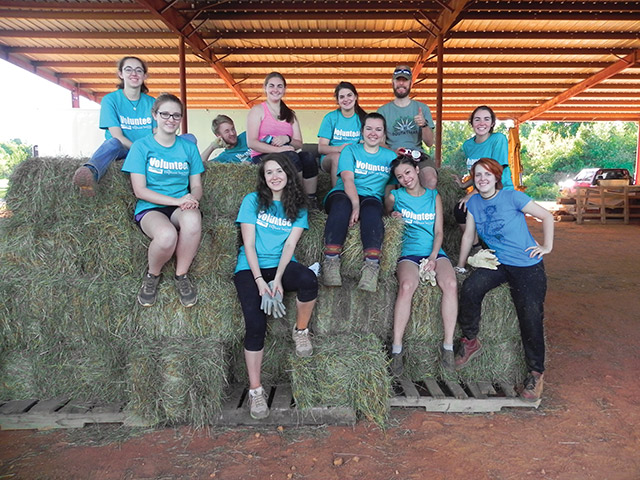 The final college volunteer group of the year came to us from the University of North Carolina-Asheville. They spent three days mulching fruit trees, making enrichment items, and cleaning the hay barns.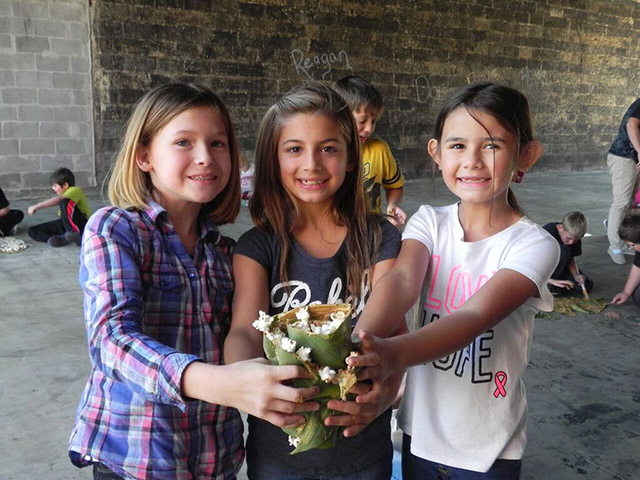 Students from the local intermediate school came to the Welcome Center to help staff make "Hadari Snacks" out of banana leaves, peanut butter, and popcorn. The snacks were later distributed by Caregivers. The Sanctuary's Welcome Center in downtown Hohenwald, TN welcomed over 1300 visitors from near and far, who came to learn about Sanctuary and elephants.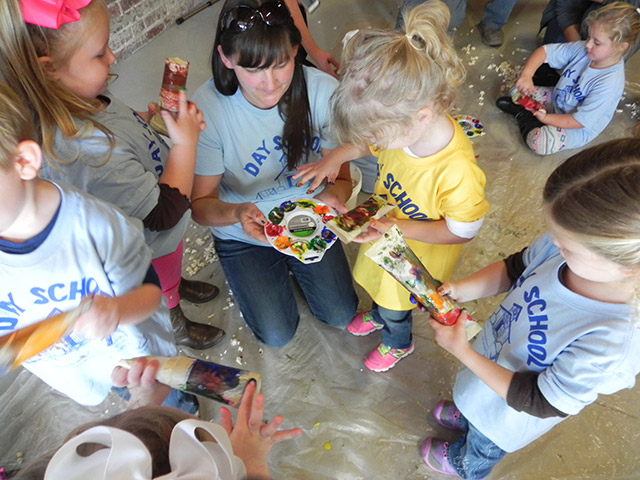 Day school students from a local school made enrichment items for the elephants. They stuffed paper towel rolls with popcorn, hay, and spices and then decorated them with finger paint.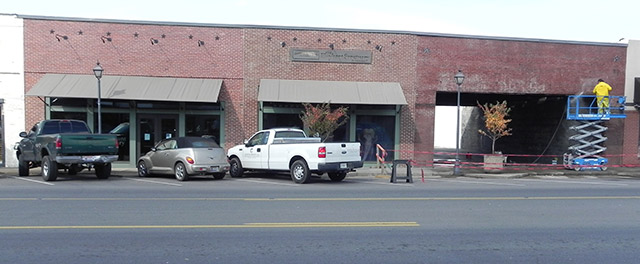 In October, construction started at The Welcome Center. Education Staff and Board are working with Howard + Revis, exhibit designers, on the development of The Elephant Discovery Center. The City-donated breezeway will become an outdoor classroom, while the East Building will house an indoor theater and several interactive, multi-media educational exhibits for visitors from all over the world to learn more about elephants and Sanctuary.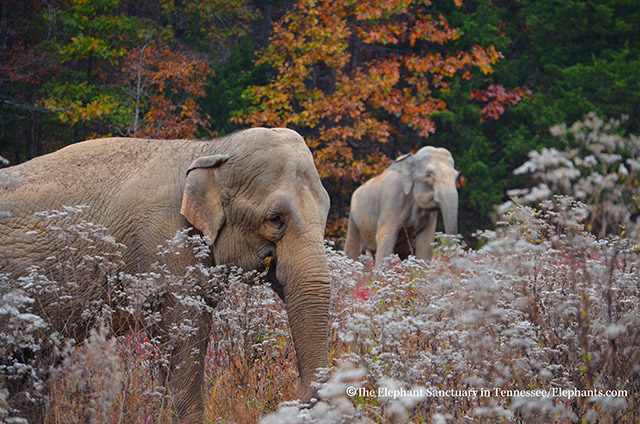 Misty (L) and Shirley spent much of October in the Left Field and Right Field areas of the Asia Habitat.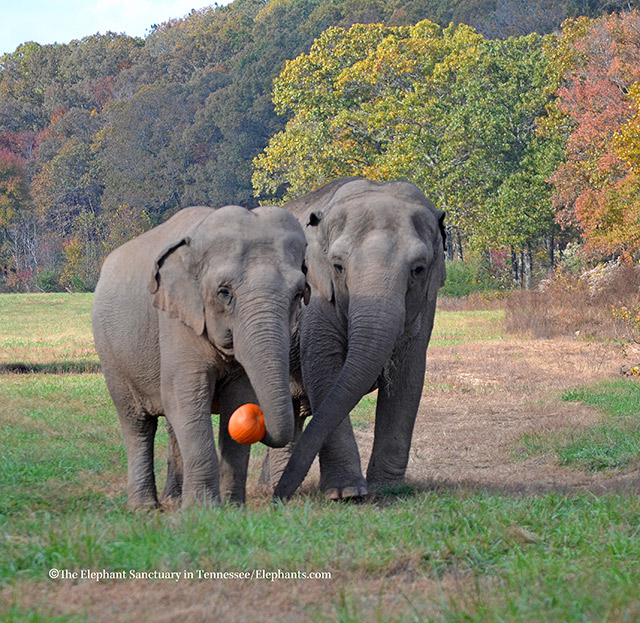 Ronnie (L) and Minnie share one of the many pumpkins donated to Sanctuary in October.
NOVEMBER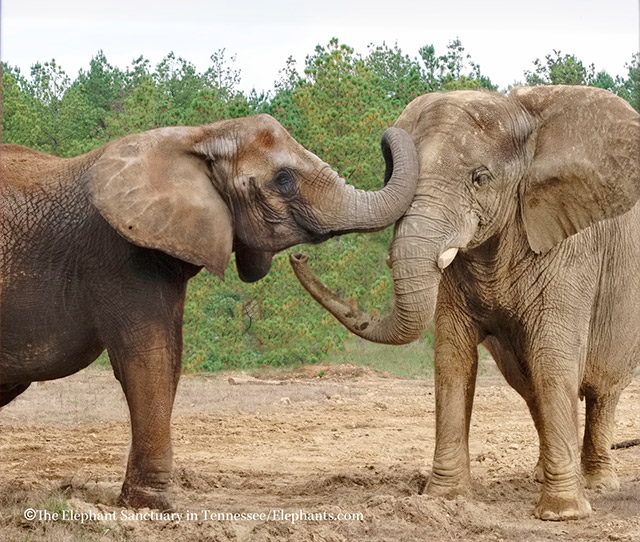 44-year-old Rosie (L) and 31-year-old Sukari retired to The Sanctuary from The Nashville Zoo in early November. Like Hadari, these elephants were wild caught in Africa at a young age before spending most of their lives on exhibit in the Southeastern United States.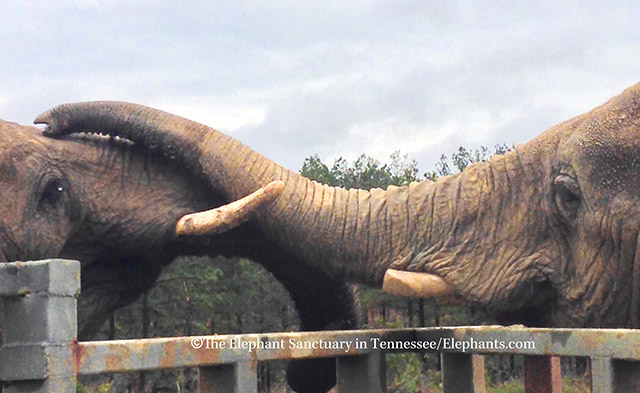 Tange (L) introduced herself to Sukari (R) and Rosie first. Tange and Flora are separated from Sukari and Rosie by a fence line but, as you can see, they can still interact.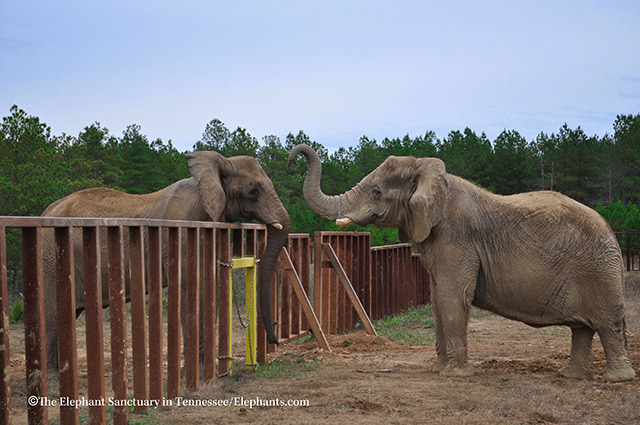 Flora (L) and Sukari are peers, separated by just two years of age. Flora is 33, while Sukari is 31. 35-year-old Hadari has separate access to another area of the habitat. She shares a fence line with Sukari and Rosie, her zoo-mates from Nashville.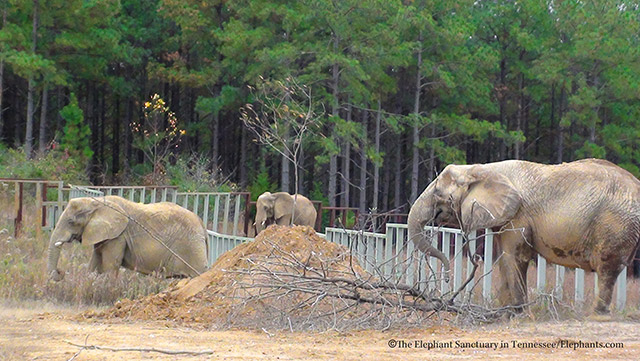 Over time, Sanctuary staff are hopeful that Sukari (L), Hadari, and Rosie (R) will be able to share space in the Africa habitat. They were managed separately before coming to Sanctuary and will be given the opportunity to build new relationships.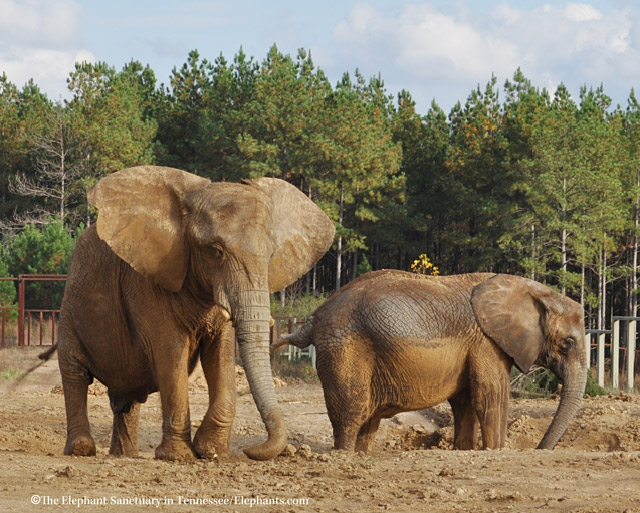 Care Staff report that Hadari, Tange, Flora, Sukari (above left), and Rosie (above right) have been spending the winter nights lying down sleeping in the heated barn (in their individual stalls)...a sign that they are becoming more relaxed and comfortable in their new home.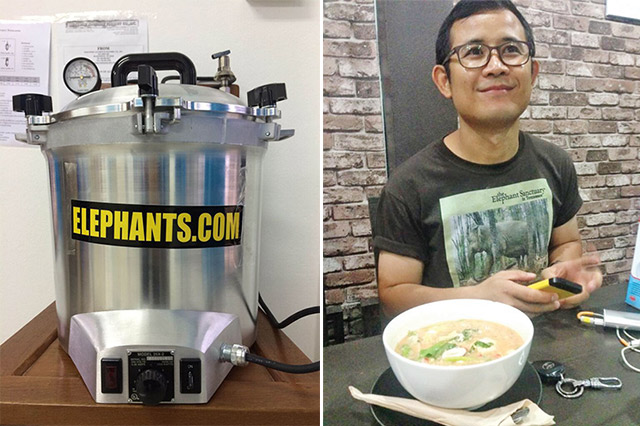 The Sanctuary provided funding for needed equipment (like the autoclave equipment sterilization unit) to the Southern Elephant Hospital of Thailand's National Elephant Institute, an organization that cares for over 1,000 elephants, many retired from the logging industry. Dr. Khajohnpat Boonprasert, Head Veterinarian, visited Sanctuary in 2014 to learn more about protected contact management from staff. Dr. Lydia Young, Sanctuary Associate Veterinarian, made a visit to the Elephant Hospital in July 2015.
DECEMBER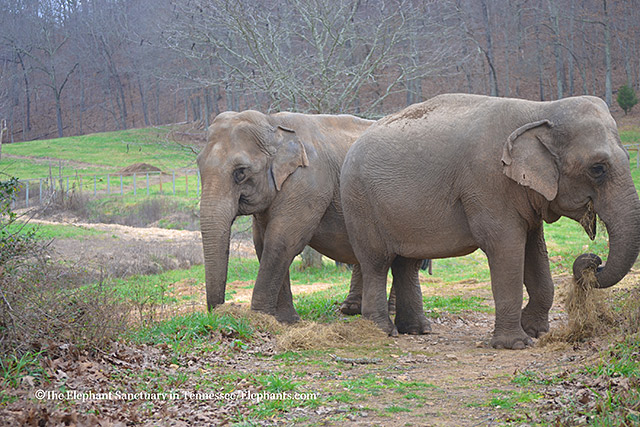 Billie (L) has been spending more time with Ronnie in the Q habitat following Liz's passing. Care Staff are working to help their relationship grow.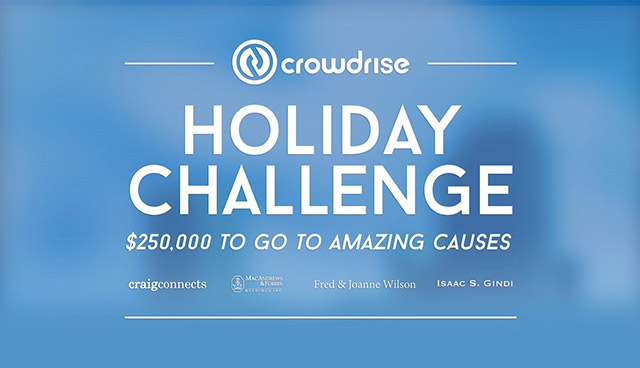 The Sanctuary is rounding out our 2015 by participating in the Crowdrise Giving Tower Holiday Challenge with the goal of raising money to provide new fencing to expand the Africa habitat for Tange, Flora, Sukari, Rosie, and Hadari. The Fundraiser ends on January 7th.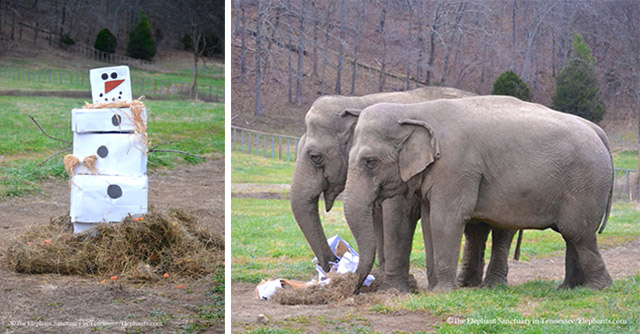 All of the elephants are making the most out of this unusually mild December, spending most of the day outside, only coming in at night. The Q elephants ended the year with some seasonally-appropriate enrichment items...in this case, a snowman made from boxes stuffed with hay, carrots, jelly beans, and other goodies.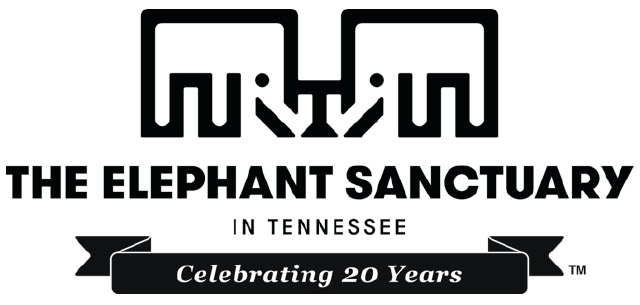 Thank you for making 2015, Sanctuary's 20th year, a year full of memories and celebrations. 2016 is now just around the corner.