December 9, 2011
By: The Elephant Sanctuary
December 9, 2011
Tarra really seemed to relish in her day spent with Misty and Dulary, the fun-loving girls of Asia, a few weeks ago. Their interactions encouraged Director of Elephant Husbandry Steve Smith and the Asia Caregivers to change their living arrangements for a while.

As a result, Misty, Dulary, Tarra, and Shirley have all been socializing and enjoying each other's company together since just before Thanksgiving, and Winkie and Sissy have been moved into new accommodations in the South Yard. The elephant transfers brought to the attention some gates and doors that needed to be worked on, and maintenance was on the ball to make sure everything was working properly. The swap also has allowed Winkie and Sissy to be moved to stalls that were recently fitted with PC protection, so Caregivers will be able to work on PC training with the two. Misty has been very cooperative with her PC training, allowing her Caregivers to perform nail trimming and footwork with ease. Tarra and Shirley have also begun PC training. Tarra, eager to participate, already knows all the behaviors; it's just a matter of figuring out which ones the Caregivers are asking her to do.

Dulary, possibly in part due to her background living with African elephants at the Philadelphia Zoo, tends to be more dominant in her behavior and has been asserting herself with her new herd members as everyone gets used to the new living arrangements. Sometimes, for example, Dulary demonstrates her dominance by making some quick steps towards Tarra while they are in the barn, and also every now and then when they are outside. Easygoing Tarra usually succeeds in appeasing Dulary by backing her great frame towards her in a sign of respect and vocalizing her "er er er's." Shirley, the respectable grand old dame, has tried to steer clear of any drama involving the new social scenes or excitement of the youngsters.

Misty and Tarra have had many calm, inquisitive and friendly encounters right from the start of the switch-up. Shirley, Tarra, and Misty have been observed contentedly standing side by side and close to one another, caressing each other as they touch heads, trunks, and bodies, enjoying sweet together time and trunk entwines. Tarra's behaviors indicate she is very content with her new roomies - her vocalizations are frequent, and she is responding with gusto to Misty and Shirley's affections. They are a companionable, warm, and attentive threesome.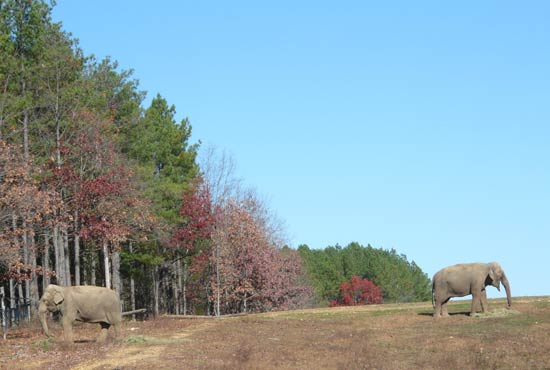 Winkie and Sissy exploring their new environment in the South Yard after the switch.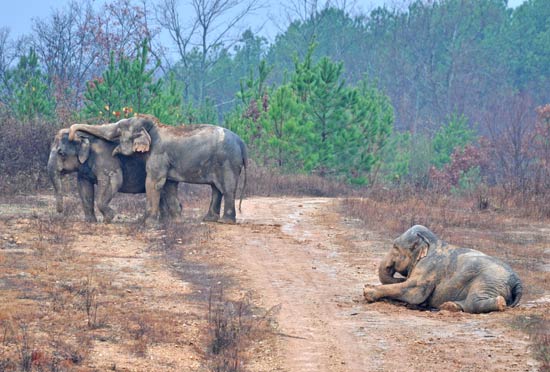 Dulary drapes her trunk over Tarra's head while Misty looks on from her mud bath.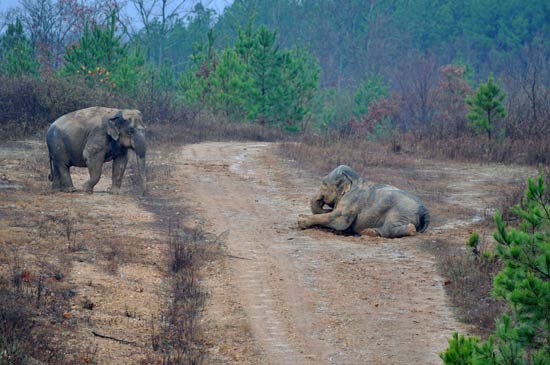 Tarra walks over to join Misty. Elephants love to roll and cover themselves in mud.
When it dries, the protective layer shields their skin from biting insects and sun exposure.