February 2, 2012
By: The Elephant Sanctuary
February 2, 2012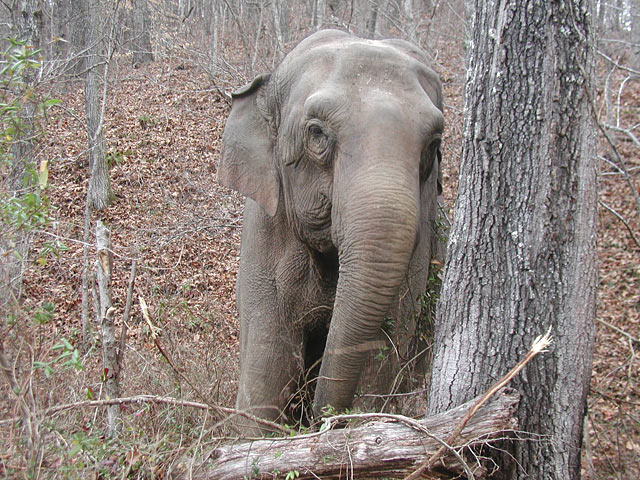 Queenie, no longer amidst crowds in the circus, instead surrounded by quiet woods in Sanctuary.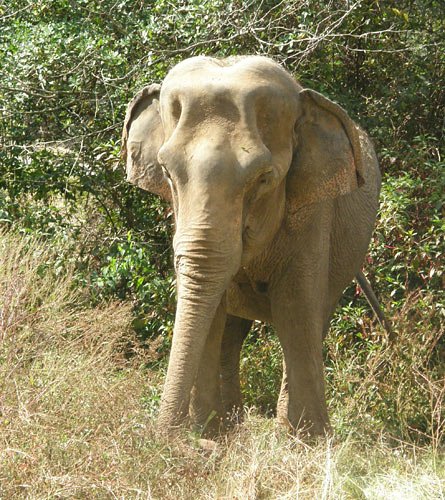 Liz and Queenie Found Sanctuary February 2, 2006
On this date in 2006,
Liz
and
Queenie
retired to Sanctuary after a life laboring together in the entertainment industry. They performed at Benson's Wild Animal Farm in New Hampshire, then spent nineteen years working in circuses for the Hawthorn Corporation. Liz and Queenie were the third and fourth elephants to arrive at The Elephant Sanctuary in the "Caravan to Freedom." All of the Girls in this historic rescue effort had been exposed to tuberculosis during their time at Hawthorn. Though Liz and Queenie arrived as a pair and spent many years working together, deeper friendships were forged and developed with other sister elephants once they arrived at Sanctuary. Liz formed a trio with Billie and Frieda, and Queenie's best friends were Minnie and Lottie.
Queenie left us unexpectedly in 2008, leaving behind a legacy of love. Liz has undergone one difficult round of treatment for TB, and has recently begun a second. For an update on Lizzie and her unwavering spark and valiant heart,
click here for the February 2 Asian Ele-Diary.

From our website:
Feb. 2, 2006 - Queenie and Liz arrived at the Sanctuary and off-loaded from the trailer into the barn without hesitation. Queenie was a bit reserved while Liz was fearless and investigated every inch of the barn. She crossed the chute and the scale and stood in the doorway leading out into the habitat. Minnie and Lottie joined them inside the barn and later led Queenie outside into the habitat. Liz followed later.