February 7, 2014
By: The Elephant Sanctuary
February 7, 2014
We have some great photos this week!
The Girls have been braving the unusually cold weather here with quick strolls from the barns outside…………………and our cameras have been ready!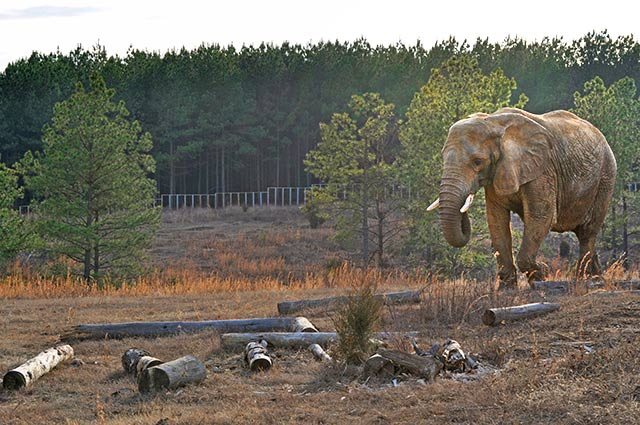 Tange steps out for a stroll.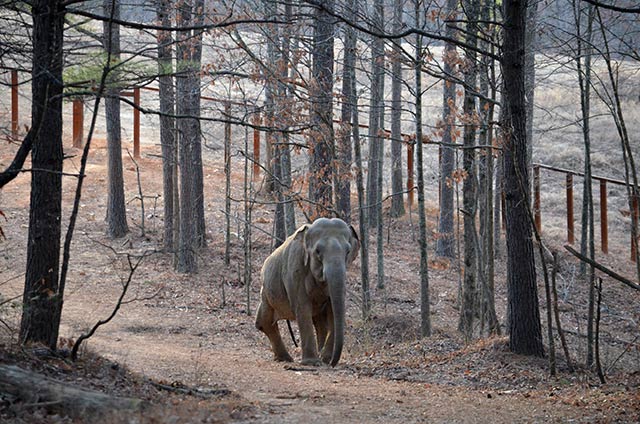 Shirley squeezes in a walk.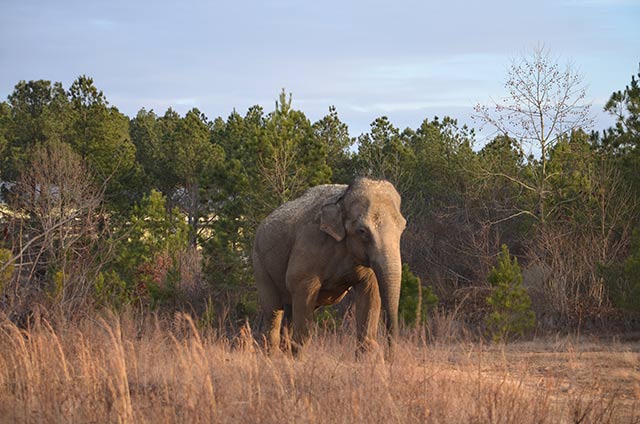 Winkie makes the most of the warm sun.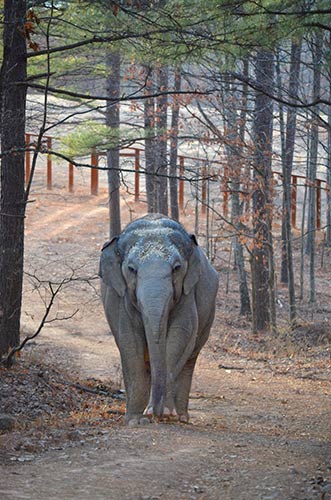 Tarra
Tarra turns 40 on February 14, and we are having a party in her honor at The Welcome Center the following day (Saturday)! Tarra will not be at the event, but we will be watching the Girls on camera, making Valentine craft presents for Tarra, and possibly enjoying some birthday cake. Elephant Sanctuary staff will be giving a presentation about Tarra's life at The Sanctuary starting at 2:30 PM.
Contact elephant@elephants.com for more info. The Welcome Center will be open from 11:00 AM to 4:00 PM.

We'll be sharing many more photos like these and updates in the upcoming edition of our Trunklines newsletter. Become a Sanctuary member and join the mailing list!

Anniversaries
It has been eight years to the day since Debbie and Ronnie arrived as part of the "Caravan to Freedom" from the Hawthorn Corporation. Best friends then, best friends now, we almost never see these two apart. They are often joined in the habitat by Minnie (whose arrival preceded theirs by one week). Such was the case one day late last Spring, when Caregivers recorded the trio making a stop by Minnie's pond:
Billie and Frieda arrived 2 days later, on February 9th, 2006; the last of the herd to make the trip. Billie, Frieda, and Liz are some of our most vocal elephants, sounding off at all times during the day. Listen for yourself here:

In Memory
Sunday also marks the anniversary of Lota's passing in 2005. Lota also came to The Sanctuary from the Hawthorn Corporation, but she came two years before the rest, arriving with Misty. Both were living with tuberculosis. Although Lota succumbed to the disease, Misty was successfully treated. We are thankful that Lota spent her final days in a natural habitat surrounded by those who loved her.

Visit Lota's Tribute page.