February 9, 2012
By: The Elephant Sanctuary
February 9, 2012
In Memory of Lota 1951 – 2/9/2005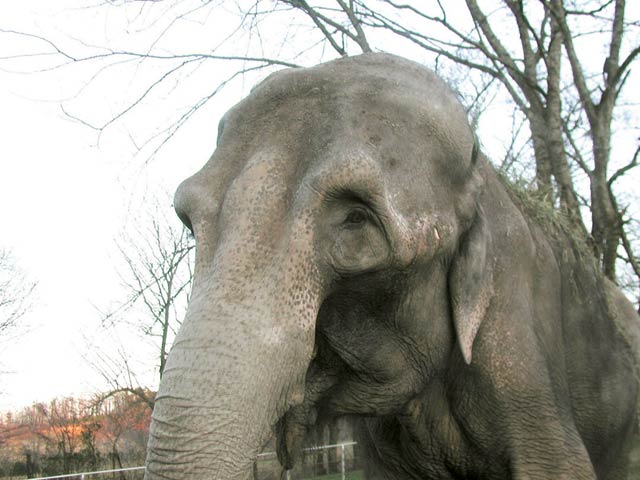 Remembering Lota – Reprinted from Fall 2011 Trunklines

Lota's life as a captive elephant was one of great struggles: struggles with misunderstanding, with abuse, with neglect, and ultimately with a terminal illness—tuberculosis. Born in India in 1951, Lota was captured as a baby and brought to the United States to be a zoo elephant. Yet, after 36 years on exhibit, and as a result of "behavior problems," in 1990 the Milwaukee County Zoo sold her for $1.00 into life as a circus performer. As if she foresaw the horrors this new life would bring, the move from zoo to circus was marked by a violent and painful transition. Her struggle against being loaded onto the trailer, recorded and televised, raised a hailstorm of public outcry. While her valiant effort was futile, it did succeed in raising both her profile and that of the plight of captive elephants everywhere. Her dramatic story opened a window for the public to watch through in horror, as years of circus life took their toll on her body.

In the mid-1990s, she was diagnosed with the human strain of tuberculosis, a disease that was prevalent in the Hawthorn herd where she then resided. Lota was chained and her untreated disease ravaged her body. In 2001 the US Department of Agriculture (USDA) inspected and cited Hawthorn Corporation for "failure to provide veterinary care to Lota, who was excessively thin, with a protruding spine and hip bones and sunken in eyes."

On a second inspection that year, the USDA reported that Lota was in a "perilously emaciated state, with a wound on her left hip." Later, the untreated wound had "expanded into a large, painful, fluid-filled abscess that extended down to her mid-thigh." It took another three years, but in March of 2004, the USDA took action to ensure that Lota and the other Hawthorn elephants would be sent to sanctuaries, where they were to receive the care and medical attention they desperately needed and deserved.

Lota was donated to The Elephant Sanctuary and arrived with Misty on November 17, 2004. While her Caregivers hoped she would find physical healing in her new home, Lota's struggle with TB had scarred her lungs irreparably—the disease had already taken an irreversible toll on her body. But what she found in her final days were the clear, crisp air of a mild Tennessee winter, the freedom to wander through pastures and to bask in the sun, until the morning hours of February 9, 2005 when her body gave way and she lay down one last time and, in peace and dignity, left us.

Even at the moment of death, her friend and companion, Misty, remained by Lota's side. Lota was The Sanctuary's first loss to tuberculosis, and she stands as a totem to all those elephants worldwide who suffer with it. In her honor and for the future of elephants everywhere, we are committed to fighting this brutal disease and providing the best quality of life possible for those who struggle with it. In honor of Lota and the precious few months she spent in Sanctuary, we are in the process of raising funds for a Veterinary Care Center at The Elephant Sanctuary in her name.

Lota's life struggles brought upon her an unexpected spotlight. Numerous journalists, such Jim Stingl from the Milwaukee Journal Sentinel, wrote compelling articles which increased public awareness of the terrible plight of elephants in a captive world.

Sadly, the long fight to free Lota meant her time in Sanctuary was all too short. Today we celebrate her strength and her life.

Milwaukee Journal Sentinel (Wisconsin)
June 8, 2003 Sunday FINAL EDITION

Time to Let Elephant Forget her Grim Past

JIM STINGL of the Journal Sentinel staff

When Lota the elephant looks back on her life and ponders her biggest regret,
I'm guessing it would be that she didn't run faster the first time
she encountered human beings in the wilds of India….


To read the rest of Jim's moving article imploring the public to support Lota's transfer to sanctuary - please visit Lota and Misty In the Media by clicking here.

To make a donation In Honor of Lota toward the Lota Veterinary Care Center, please indicate Lota Veterinary Care on your mail-in or online donation.