May 10, 2016
By: The Elephant Sanctuary
Happy Six Month Anniversary to Sukari and Rosie!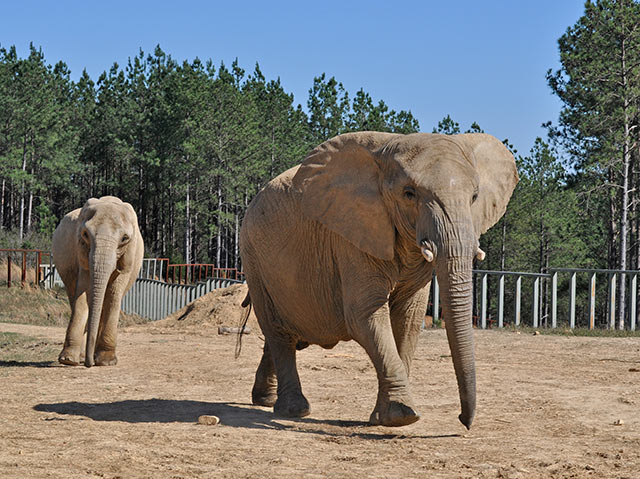 Rosie (L) and Sukari
Six months have passed since African elephants Sukari (age 31) and Rosie (age 46) retired to The Elephant Sanctuary from the Nashville Zoo at Grassmere in early November. (Read about their arrival here.) They have spent the first six months exploring their new habitats and getting to know Flora and Tange. Hadari, the pair's zoo-mate from Nashville, also retired last fall. She has access to an adjoining part of the habitat. The three were managed separately at the Nashville Zoo, and they have access to adjacent habitat areas at The Sanctuary while their social dynamic develops.

Sukari and Rosie share an area of the Africa habitat area known as the "Annex." This area is located between the North Yard where Tange and Flora spend most of their time, and the South Yard where Hadari has access. Staff have given Sukari opportunities to explore South Yard. Fencing renovations are underway to give all elephants access to larger parts of the habitat soon. The Africans, like all elephants at The Sanctuary, have access to heated barns for when they choose to spend time inside.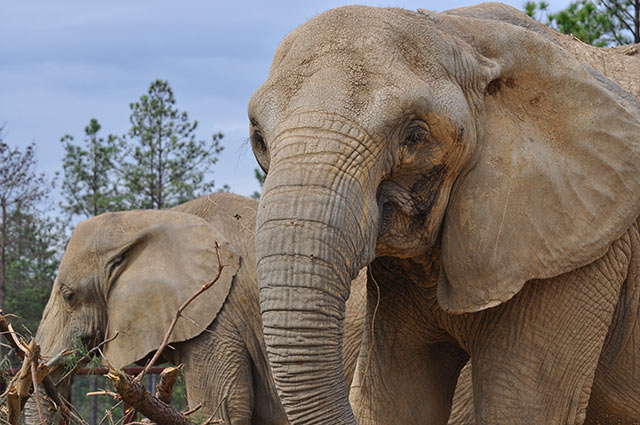 Sukari (L) and Rosie
At 46 years of age, Rosie is the African elephant requiring the most care and attention. She has a variety of health issues including lameness in her front right leg, thought to be the result of progressive arthritis. She is also being treated for abscesses in her toenails. These conditions are unfortunately common in aging captive elephants. The relative flatness of the Annex permits Rosie to walk and explore with her limited mobility. The Sanctuary's Facilities Team recently installed some unique features for her in the habitat. There are now dirt ramps to walk up and down and logs for her to step over and around…the new additions to the landscape giving Rosie the opportunity to exercise and build strength. Rosie has a sand stall in the barn that provides her with extra comfort when she chooses to remain indoors. Even with her physical limitations, Rosie approaches each day at The Sanctuary with vigor.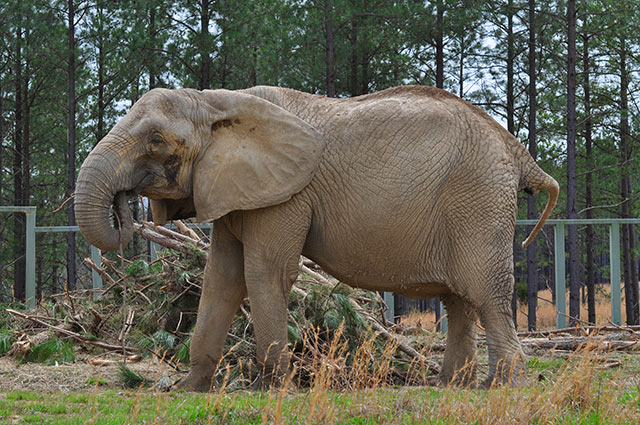 "Rosie is an amazing animal," says Africa Lead Caregiver Kristy Eaker. "She has quickly become a favorite among staff with her crooked tail constantly wagging and her big, soft eyes." Using The Sanctuary's Protected Contact, positive reinforcement management system, Rosie has learned how to present all four feet for treatment. Caregiver Kristy adds that "she is wonderful to work with, very intelligent and seemingly happy to participate provided her favorite treats (bamboo and Mazuri feed supplements) are provided." Although Rosie is considerably smaller than Sukari, she is clearly the "boss" of the pair.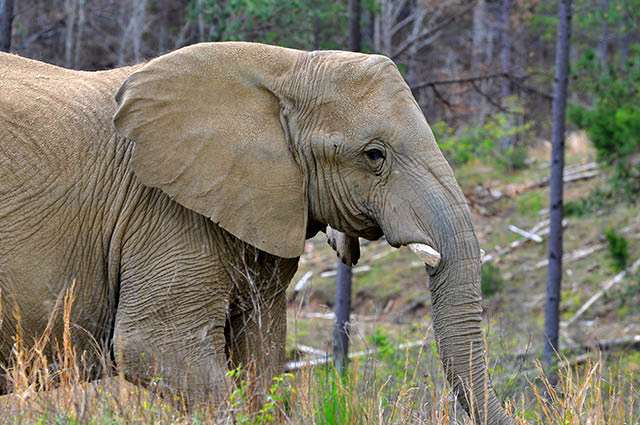 Sukari ("sugar" in Swahili) is The Sanctuary's youngest elephant at just 31. She is easily recognized by her unusually long trunk that sometimes drags the ground as she walks. Sukari (or "Suki") and Rosie are closely bonded to one another and have barely been apart since arriving. However, Caregivers have noticed that Sukari and long-time resident Tange seem very interested in one another. The two elephants have shared many positive interactions at the fence that separates their habitat areas. "They have similar personalities, and we think they may be ready for an introduction soon, sharing the same area of the habitat under the close watch of Caregivers," says Lead Caregiver Kristy.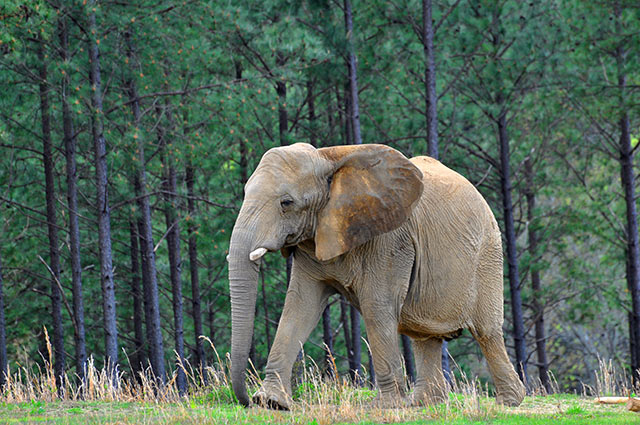 Recently, Sukari was given access to the "South Yard" – a larger area of the habitat with more hills and valleys– while Rosie stayed behind in the annex. Staff was curious to see how Sukari would react to a new area so different than what she was accustomed. All questions were answered when Sukari walked quickly, some might say confidently, through the gate and into the new area even bypassing the treats that Caregivers had placed in the habitat for her in favor of exploring. Sukari spent half the day there, walking along the fence line and the hills while Rosie browsed in the Annex.

Watch Sukari's walk through the South Yard as she and Rosie discover their new habitat in the video below.
"Sukari and Rosie seem to be adjusting very well," concludes Lead Caregiver Kristy, " we are very confident about the future of the African elephants at The Sanctuary."

To adopt Sukari, Rosie, or any elephant at The Sanctuary and help provide for their care, click here.