January 10, 2011
By: The Elephant Sanctuary
January 10, 2011
Minnie always enjoys every opportunity she has to go outside during the colder months. Cold temperatures don't seem to bother her. Last year, the thermometer would read in the teens…and Minnie would still be outside in the dark. If it's a very chilly day, with an hour or two in the afternoon when it warms up, Minnie is out of the barn like a flash.

Usually the nip in the air brings out Minnie's silly spells. She'll grab one of the large pieces of a trees lying about, leave one end pushed into the ground, and push the other end into her belly and shoulder. Next, she'll press one end against her forehead, and push the opposite end around in the dirt, as if she is using a push-broom. She'll run faster and faster, getting more excited by the second, until she tosses her stick in a fit of glee. This cycle usually repeats a few times before she tires of her game. Minnie's energy in boundless, and she can find entertainment in most everything her habitat has to offer.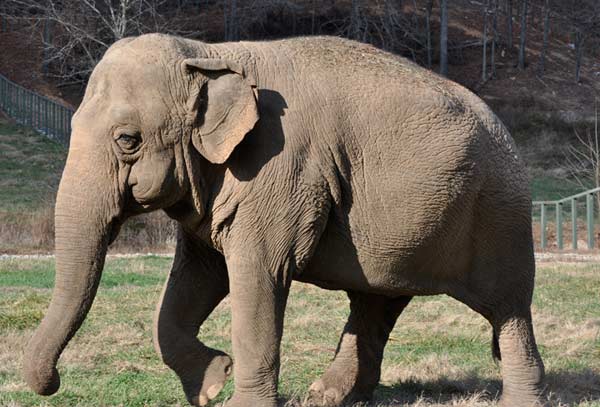 Minnie, always on the go!



On Tuesday, January 11 we remember Zula, who left us on this date in 2009. The Sanctuary would also like to extend its heartfelt condolences to PAWS on the sad news their beloved Rebecca has passed on. These gentle giants touch us all.